The Cel-Fi GO X Cell Phone Signal Booster Review
With hundreds of different cell phone signal booster models on the market, it is very hard to tell them apart. The most crucial point is that cellular connectivity has become even more critical, especially when working from home. A cell phone signal booster is able to solve most of the cell signal issues and give you reliable calls and faster data speeds, therefore making your time as you work from home simpler and more enjoyable. You might want to consider the Cel-Fi GO X cell phone signal booster.
Most boosters that are available in the market boost between 64 and 71dB of signal. Boosters help the most when you have weak, but not absolutely no signal. The Cel-Fi single-carrier booster is the only cell signal booster that gives you up to 100dB gain by boosting only the frequencies used by one wireless carrier at a time. It works as the best cell phone booster for the house or small office space. Here is why you should consider the Cel-Fi GO X cell phone booster.
Is it worth getting a cell signal booster?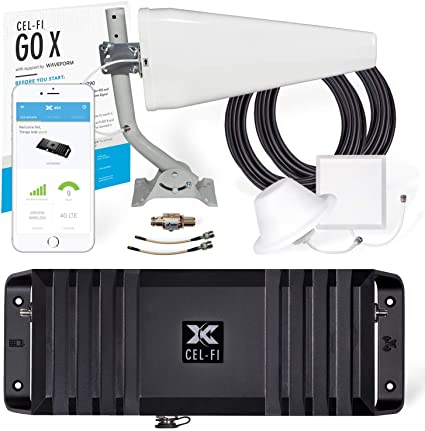 If you find yourself doubting whether to invest in a cell phone signal booster, then here is what you need to know about it. A cell phone signal booster will help you get rid of dropped calls, a problem that 72% of the people that own cell phones in America. A cell phone signal booster also gives you stronger signals that could be changed by building materials, the terrain, or weather.
A cell signal booster also extends the battery life of your device since, with stronger cell phone signals, less power is needed to send and receive data. This will especially work best in areas with poor coverage since the battery gets drained very quickly.
A signal booster is also an ideal solution to all your uploads, streaming, and downloads. Another important reason that would drive you to get this booster is that it is very simple to install and manage.
A weak signal can disrupt your sense of awareness and productivity; with a cell signal booster, you can enjoy seamless internet browsing.
PROS
15,000 sq ft wide coverage
Easy to install
Weather-proof outdoor amplifier
2-year equipment warranty
100dB max gain
CONS
It is a single-carrier
Not compatible with Sprint and Verizon
Cell-Fi GO X Booster reviews
1) Design ofCell-Fi Go X cell phone signal booster
The Cell-Fi Go X cell phone signal booster is a weather-resistant booster against dust, water, and dirt that is built to be able to be installed outdoors so as to ensure that you get maximum reception. The booster is a three-part cellular repeater system featuring an outside yagi antenna, an inside dome or panel antenna, and a +100 dB antenna.
Upon purchase, the Cel-Fi GO X unit comes with an AC power adapter, hardware to be used for mounting, and the user manual. Although it may have quite a number of tools and accessories in the packaging, the booster itself has a simple and non-bulky design that will give you a very easy mounting time. You are advised to read the instructions that are given in the quick start guide before you start with the installation.
2) Cell-Fi Go X cell phone signal booster Efficient, user-friendly app
The Cel-Fi WAVE app technology enables you to remotely monitor your GO X signal information. The app is compatible with both apple, and android mobile systems connect to your phone through Bluetooth.
The app also helps in registering, optimizing, and updating the Cel-Fi Hardware. You could switch carriers through this same app.
3) Cell-Fi Go X cell phone signal boosterNEMA 4 rated
The Cel-Fi GO X has a NEMA 4 rated amplifier enclosure, meaning that the amplifier can be installed outdoors since it is weather-proof. The fact that the amplifier can be installed outside also implies that you get a stronger signal.
4) Very easy to install of Cell-Fi Go X cell phone signal booster
The manual included in the packaging tells you everything that you need to know about installation. If you have basic knowledge of electronics, then this should not be a fuss to you.
Make sure that the amplifier is placed near a power outlet and is the distance between it and the outdoor antenna is as short as possible.
5) The Cell-Fi Go X cell phone signal booster 100 dB Max Gain
With up to 100dB max gain, the Cel-Fi cell signal booster makes it on top of the game, compared to the other boosters that have up to 70dB gain only. Although the booster only supports one network at a time, it can still support multiple users.
6) Technical Support ofCell-Fi Go X cell phone signal booster
Waveform offers free and unlimited technical support for its customers within the working hours. The team is very ready to serve you and answer all your queries in time to your satisfaction.
7) PerformanceCell-Fi Go X cell phone signal booster
The Cell-Fi GO X  is the best cell phone signal booster for small buildings. It boosts 3G and 4G LTE for any home or office and works well for all phones and cellular networks such as AT&T, Verizon, or T-Mobile. Unlike other signal boosters that are multi-carrier and a limit of 70dB, Cel-Fi is a single carrier that boosts signal up to 100dB, therefore giving you more power.
The Cel-Fi GO X also lets you enjoy more coverage for up to 15,000 sq ft. the Cel-Fi wave App also gives you the opportunity to use your booster in a stationary vehicle with additional accessories. With the Cel-Fi GO X boosting your signal, be sure that dropped calls and poor audio quality will no longer be a problem for you.
 Wrap up
I would recommend the Cel-Fi GO X to people that already have an existing weak signal. . The GO X will deliver better performance and more coverage than a multi-carrier system if your signal is at 2 out of 5 or 3 out of 5 bars when you are outside. Since GO X is a single-carrier system, it works better for small offices or families that use the same carrier. The WAVE app, however, allows you to switch to a different carrier in case you want to. The Cel-Fi GO X can serve as the best Cell Phone booster for remote areas. It is time to switch to quality!