The 10 Best Hearing Aids For Profound Hearing Loss
Not being able to participate in conversations because of hearing loss can be very devastating. However, with the advancement of technology, there came about hearing aids for helping such people. These hearing aids are somehow related to the best Telephones for hearing impaired, but the difference comes about in terms of portability. It is a battery-powered electronic device that generally improves your hearing.
If you have hearing problems and you don't have one, you need to start looking for one. This article aims to give you full details regarding some of the best hearing aids for profound hearing loss, how you can choose the best ones and in general how hearing aids work.
You also need to understand that an audiologist is a necessity if you have hearing problems. Don't go for devices like Verizon phones for hearing impaired if you do not know your level of profound hearing loss. If you are new to these terminologies, I will guide you through, and in the end, if you go to visit an Audiologist, he will be able to understand you.
How Do Hearing Aids Work?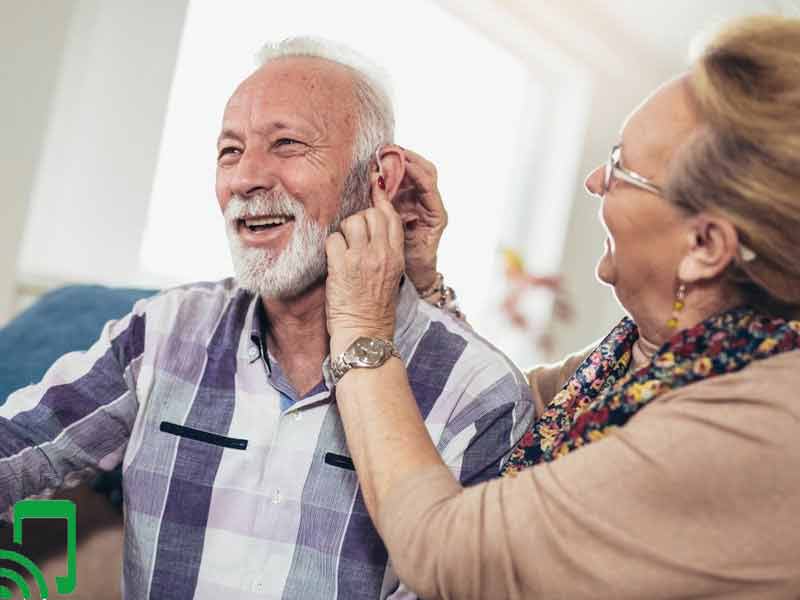 Hearing aids are essential since they improve the hearing and speech conception of hearing-impaired people. Hearing loss is caused by damage to the small sensory cells in the inner hair known as hair cells. It may occur as a result of disease, injury, excess noise, or aging.
AZs for the hearing aids, they magnify sound vibrations into the ear, and the surviving hair cells detect the more tremendous vibrations. After detection, the cells convert them to neural signals that are passed to the brain. So with that explanation, you will realize that the extent of damage of the hair cells is in line with the level of hearing loss.
What are the types of hearing loss?
There are four levels of hearing loss, and they entail the following:
Mild hearing loss- This is a hearing loss whereby the person cannot hear sounds that are quitter than 25 to 45 decibels. ASt6 this stage, normal hearing when it comes to conversations will still be very reliable.
Moderate hearing loss- This is a hearing loss whereby you cannot hear regular conversations very clearly. It applies for decibels ranging between 40 and 75.
Severe hearing loss- It is a condition in terms of hearing loss since you won't be able to hear conversations from the TV, phone rings, and other relatable sounds. In terms of decibels, you will not hear much below 75 to 90 dB.
Profound hearing loss- It is the worst condition of hearing loss. You will not hear anything below 90 dB. At this point, a hearing aid will be highly recommended
How do I choose the best hearing aid?
There are several factors to consider before going for a hearing aid device. If you go to Amazon or a drug store without knowing your hearing condition, you can buy a device and think it has a malfunction. Below are key things to consider:
Level of hearing loss- You need to consult an audiologist to determine the level of hearing loss. If it's profound, you can opt for the best hearing aids for profound hearing loss or other relatable hearing loss conditions.
Consult an audiologist- An audiologist will determine the level of hearing loss and will be able to recommend you the best hearing aid
Check for a warranty- Several hearing aids of warranty for up to 3 years. Choose a device that has a longer warranty; hence if it has any problems, you can return it to the manufacturer.
Cost of the device- Choose a hearing aid that is in line with your budget. This is because you will not get any financing since most companies do not offer it
Disregard misleading claims- There are several companies which will deceive people that hearing aid can restore your hearing capabilities. However, this is false, and you should avoid such companies since they will not offer any suitable hearing aid devices.
In what ways can I care for my hearing aid?
Below are some critical steps to have a long-lasting hearing aid:
Turn off the hearing aid if not in use since this will save on battery
Keep hearing aids away from water because they are not waterproof
Replace dead batteries at regular intervals
Avoid the use of sprays or hair gels while using the hearing aid
Store replacement batteries away from moisture and kids
Best Hearing Aids for Profound Hearing Loss
1) CSA50+ Bluetooth hearing aid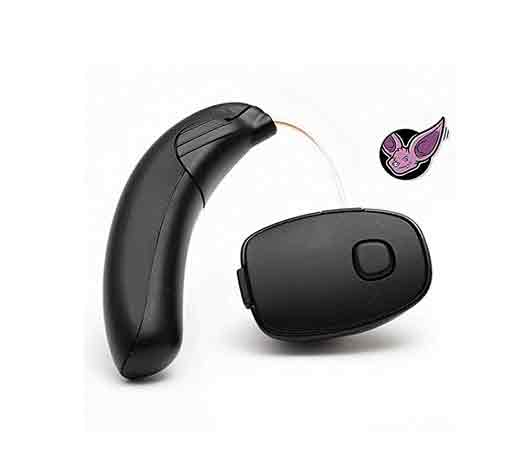 If you wish to get a hearing aid that has a long-lasting rechargeable battery, then look no further. People like this device since it can last for a long time without charging. Also, it has 3 built-in amplification presets. So if you have profound hearing loss, the sound will be easily transmitted to your brain.
You can also pair the CSA50 with any Android phone, Mac, PC, or Windows device. This is because it accepts Bluetooth connectivity making it very efficient.  The Bluetooth technology used is 4.90; hence, when it comes to clarity, you will never be disappointed.
This device is acknowledged to suit you in any situation with regards to watching movies, in noisy places because of the variety of modes present in it. You also get a phone app available both on Android and iPhone. This app allows you to customize the hearing aid to suit your case of profound hearing loss.
The other cool feature is that it can reduce background noise very smoothly. This is done through the app, whereby you can decrease and increase the frequencies to ease feedback. Also if you want to cancel ambient sound, click on the Restaurant mode button.
PROS
Uses Bluetooth 4.0 connectivity
Fast to connect through devices
You have customizable modes depending on your current situation
Fits into the ear comfortably
Long-lasting battery (12 hours)
CONS
The environmental settings are not very reliable
2) Britz Digital hearing amplifier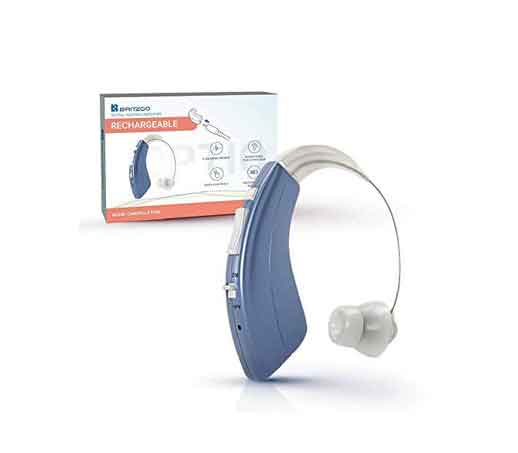 This model of hearing aid is known to have authentic sound customization, which is the essence of hearing aids. You can easily adjust the volume to an extent where you will listen to the sound. Britz has four preset modes which can be accessed by pressing the M button on the device.
The preset varies between Wide frequency, low frequency, High frequency, and medium frequency. When it comes to the battery, you get a battery that can last for over 20 hours at full charge. This is because it uses a P675 battery that does not require one to open the battery compartment so that the battery can last longer.
In terms of comfort, people say that it can easily fit in the ear and since it has a rotatable earpiece, you can use it in either of the ears. Also, remember to choose a dome that can fit easily into your canal, and when ordering from Amazon, you will be given that option. To know your dome, consult an audiologist for full details.
PROS
Long-lasting battery
Friendly user interface
Customizable frequency
It uses a reliable Bluetooth Technology
Comfortable earpiece when you choose the right dome
CONS
Takes some time to connect to other devices
3) Otofonix Apex Mini hearing aid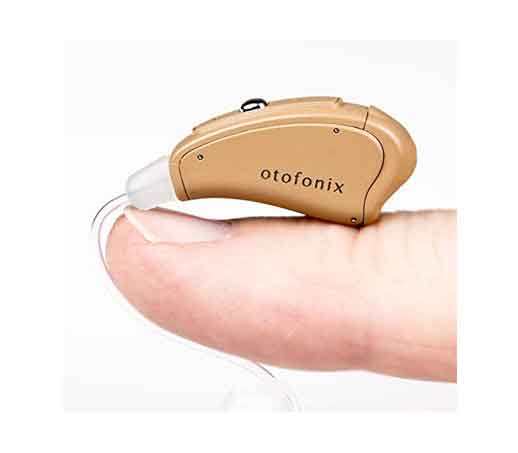 It is definitely among the best hearing aid for profound hearing loss due to their efficiency when it comes to bringing clarity to the human voice. The reason it is called mini is that once you wear it in your ear, the device fits in very perfectly. The hearing aid comes with great features regarding the customizable app. This app will do a great deal in terms of preset mode.
These preset modes are the best since they have a wider frequency gap compared to any other hearing aid in the market. The hearing aid allows active noise cancellation and feedback suppression. This is due to the presence of 7 volumes that fit your environment. In terms of battery, Otofonix gives you seven batteries and 2 sound tribes.
Also, the good thing is that the batteries are rechargeable despite wearing out after several charging sessions. In terms of comfort, you get three dome styles which you can decide from Amazon before getting the device. Inside the box is a cleaning brush for the ear domes and also a cleaning wire for the sound tubes. This will bring a lot of clarity, and your device will last longer.
PROS
Takes a short time to adapt
Has a customized app for both Android and iPhone devices
Long-lasting seven batteries offered
Takes a short time to boot up
Cleaning materials are provided
4) BLJ hearing amplifier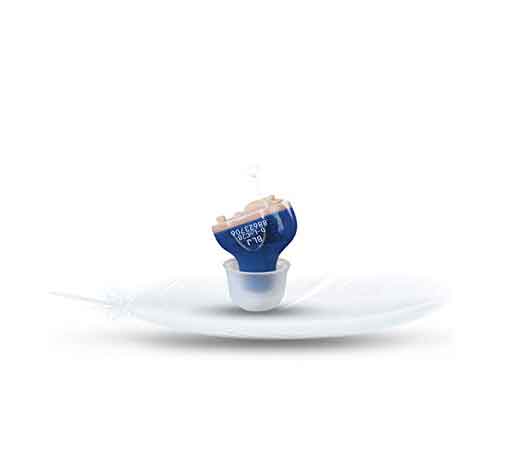 If you have a profound hearing loss, the BLJ is a hearing aid to watch out for. First, it is targeted for users with a peak gain of 43dB similar specs to profound hearing loss persons. What you will first like is the ability to recharge the batteries, something other hearing aids have not met.
It serves a total of three programs which are Moderate noise reduction, noisy environment mode, and Everyday mode. These modes can be customized manually through the buttons found at the device or through an app, which is very efficient. The sound tube is thick hence suitable for both ears with the adjustable length.
This tube is essential since it will function to conduct more sound. Also, you get 8 volume levels making sound flow very quickly to your ear. Once you purchase the device, you will get a gift inside the package which you can share with friends and family, or it might be beneficial to you.
Lastly, the device is very comfortable to wear, and with the three types of domes, you should have zero stress. Also, if you have any problems with the hearing aid, you can return it to the company within 45 days of purchase. Just like other devices. You will get cleaning materials which help to make the device last longer.
PROS
The battery is rechargeable
Simple to use
You get a gift box after purchase
A shockproof case is offered
A user-friendly app to customize the volumes
CONS
The price is relatively high
5) Otofonix Elite hearing amplifier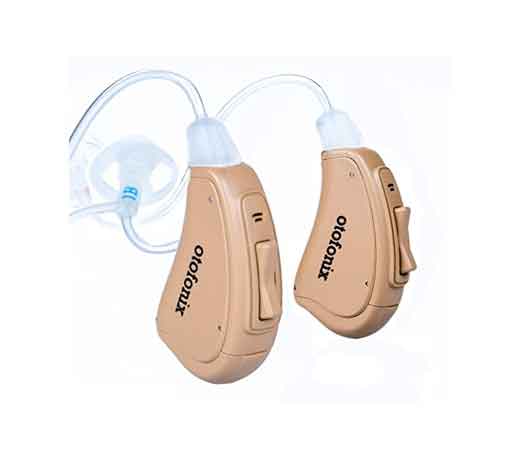 The device features quiet, reliable features like low battery indicator, pre-programmed digital circuit, etc. The first impression you get is compatibility and size. This hearing aid can easily fit in the ear. Also, it has 10 volume levels, which can be set up by the customized app available for Android and iPhone.
According to an audiologist, the device was designed for people who find it hard to hear over long distances, difficulty in hearing conversations, and also an obstacle in noisy environments. This is because of the Adaptive Layered Noise reduction feature. It has four types' four types of programs namely;
Normal setting whereby there is amplification across all frequencies, Noise setting to reduce background noises like wind, treble setting to reduce high pitch sound and Power setting which offers greater volume than the standard-setting.
PROS
It comes with 6 long-lasting batteries
A friendly customization app
Has 10 volume levels
Comes with cleaning materials
The dome ear tips come in different options
CONS
Batteries are not rechargeable
6) Coniler Hearing Amplifier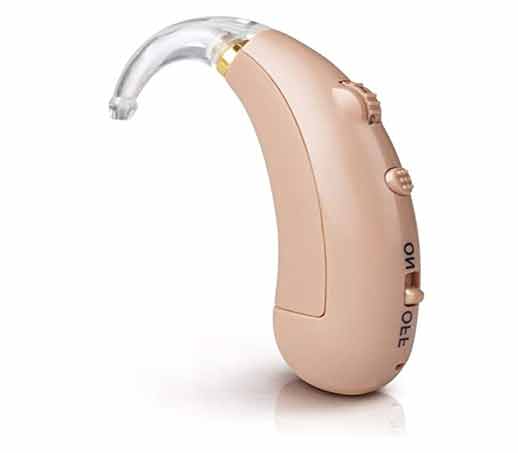 With this device, there are 6 volumes you can choose hence making it quite similar to the Clarity phones for hearing impaired. Also, it comes with an app through which you can use to set the audio quality. The Bluetooth network technology used is quite fast hence saves on time.
Once you purchase it, you will realize that its essential feature is whistling denial and noise reduction.  It has a speech noise synchronization detection, which is optimizable. The layered noise reduction reduces background and low-frequency noise; hence if you have profound hearing loss; this is very efficient for you.
It has 2 A13 batteries whose period is between 60 to 80 hours after which you can recharge them. This device uses high power to enable a person to clearly so if you get some noise distortion, it is due to the static sound. However, once you use the device continuously, you will not notice the static sound.
PROS
Rechargeable batteries
The battery lasts long
It has a friendly and easy to use app
The design is very efficient
The frequency response range is quite competent
7) Banglijian Hearing Amplifier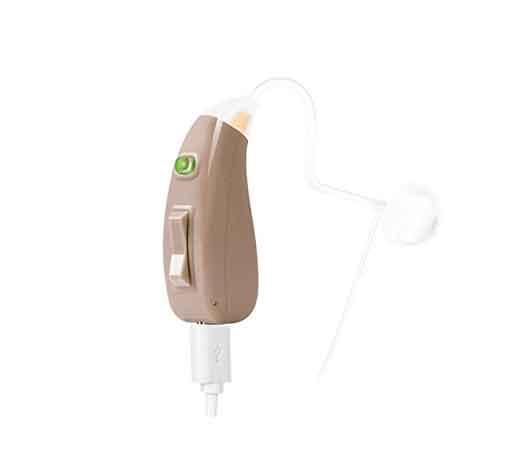 Banglijian is a brand which is trusted with many Americans in the hearing-over-the-counter hearing amplifiers. The device has the best enhanced digital technology for profound hearing loss users. It is quite small with just a height of 37mm.  You also get 24 hours of battery, and the batteries are also rechargeable.
It also delivers full digital tone with minimal distortion. This device also offers 38 dB in terms of hearing gain. The adjustable volume control allows you to easily set up the device according to your stage of hearing impairment. Also, if the hearing aid is bought from Amazon, you get a 30 day back guarantee if the device has any malfunctions.
However, there have been rare cases with regards to malfunctions since the device is an over-the-counter meaning audiologists have crafted it perfectly to help hearing-impaired people. It also has several modes, like restaurant mode and environmental mode. The Bluetooth technology is very fast hence to listen to audio from mobile devices.
PROS
User-friendly interface
The Bluetooth technology is up to date
The device is small enough to fit in the ear
Comes with an app to set-up the device
Long-lasting battery
CONS
The noise cancellation feature is not that reliable
8) LAIWEN Hearing amplifier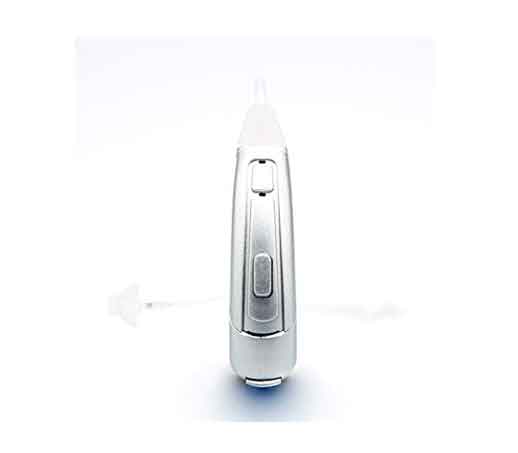 This device is beneficial and offers reliable services, just like the best phone for hearing impaired seniors. The first impression you get is the protective storage case that ensures the hearing aid is not spoilt either by being stepped on or water spilling on it.
It has a dependable body dimension to ensure it fits perfectly in the ear. You also get 3 sizes of open and closed dome hearing tips. LAIWEN offers long-lasting batteries that provide a period of about 24 hours. The batteries are also rechargeable hence you don't have to waste money getting new batteries.
The Rocket switch available controls 10 volume levels with regards to the different levels of proficient hearing loss. In the case is a simple manual guide and also some cleaning materials to prevent the device from running slow or clogging with wax.
PROS
You can adjust up to 10 volume levels
Long-lasting battery
Adjustable tone settings
It can work in several noisy environments
Uses an advanced Bluetooth technology
CONS
Noise cancellation in noisy places is not very efficient
9) TKING Rechargeable hearing Amplifier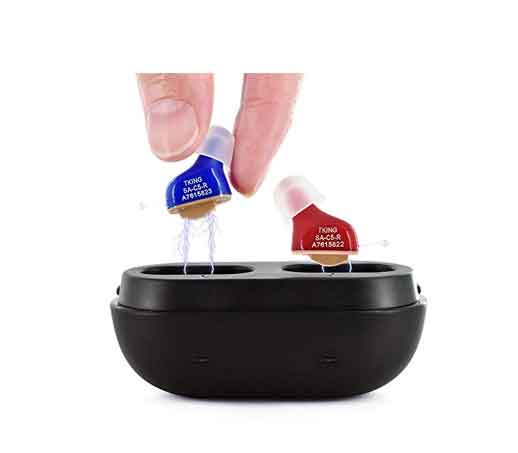 Designed with a lot of professionalism and recommended by many audiologists, the TKING is indeed a device to go for.  It comes fully equipped with adjustable volume control and also allows Bluetooth connectivity.
This is very important for linking up with the TKING app for customization purposes. The app will help in setting the sound features to suit your hearing decibels. The device is also equipped with digital circuitry to help in making conversations between people have clarity.
To get the best comfort in your ear, the device comes with a slim tube option, which is very efficient for people who wear glasses or prefer a discreet tubing system. Also, TKING has a good rating in several hearing aid reviews, making it very reliable to many people.
PROS
Batteries are rechargeable
A warranty from the manufacturer is offered
A friendly user interface through the app
Fits easily in the ear
The noise cancellation feature is very reliable
CONS
Harmonic distortion is not reliable
10) FDA Approved Digital hearing Amplifier Aid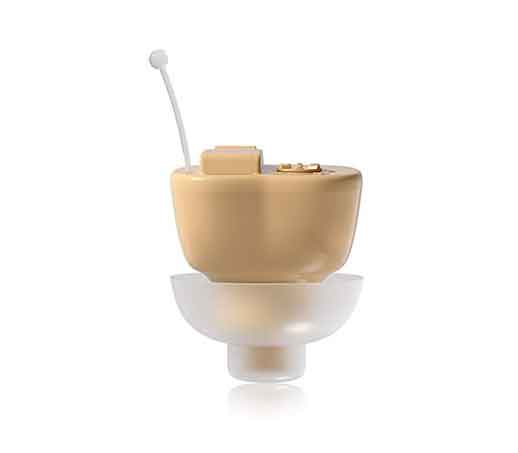 FDA approved has really fantastic features that hearing-impaired person will love. First thing you will notice is the ultra-light and sleek design. This device has a transparent tube, and the earplugs are made up of medical silicone, which is comfortable for a senior to use.
FDA hearing aid has a 37% noise and unwanted feedback reactions. With a variety of domes you can choose from, you can select the one to fit your ear, and it should not be too tight or loose. Also having the right dome will help you in getting better performance for the ear canal to receive accurate sound.
It also has a volume adjustment wheel which you can use to set up the right volume to use. It also has an anti-accidental button to ensure you don't mess up with the volume set.  The battery life is up to 9 hours, and you can recharge the battery for nine hours simultaneously.
Sadly you don't get an app to customize your hearing tone. Despite this, you can still use the adjustment knob to make the changes. Lastly, many audiologists recommend this device to both mild and profound hearing loss.
PROS
Anti-accidental button to avoid interrupting the settings
Rechargeable batteries
Easy to set up and use
You get the cleaning materials
Recommended by Audiologists
Bottom line
From this article, you now have a glimpse of what hearing aid is all about. Once you know the level of hearing loss, you can easily choose the company where you want to get your hearing aid. Also, these companies offer several discounted prices at designated times of the year just like the AARP cell phone discount Verizon.
So after doing tests and getting recommendation on the best hearing aid for profound hearing loss, you can visit Amazon and know more on the discounted prices. Lastly, take care of your hearing aid since it is a very delicate device, and it can quickly spoil when negatively disrupted.