The 8 Best Verizon Prepaid Flip Phones
Over the years, Verizon has proven to be one of the greatest service providers across the US due to its wide range of perks. The Verizon prepaid flip phone is one of their great products which is mostly aimed for seniors. The flip phones have also proven to work well for people of other age groups since they may use them as spare phones.
Flip phones were among the first modern devices that helped in creating a road map for the manufacturing of the current smartphones. In the past, flip phones could only be used for talk and text only and they relied on the basic GSM network technology. However, the recent models of flip phones can now accommodate up to 4G connectivity have ample storage and so much more great perks.
This article will give you the best deals when it comes to getting Verizon flip phones for seniors and so many more deals. We will also unravel on how to identify the best flip phone and the best plan to go for when you buy a flip phone.
Which is the best phone plan for a flip phone?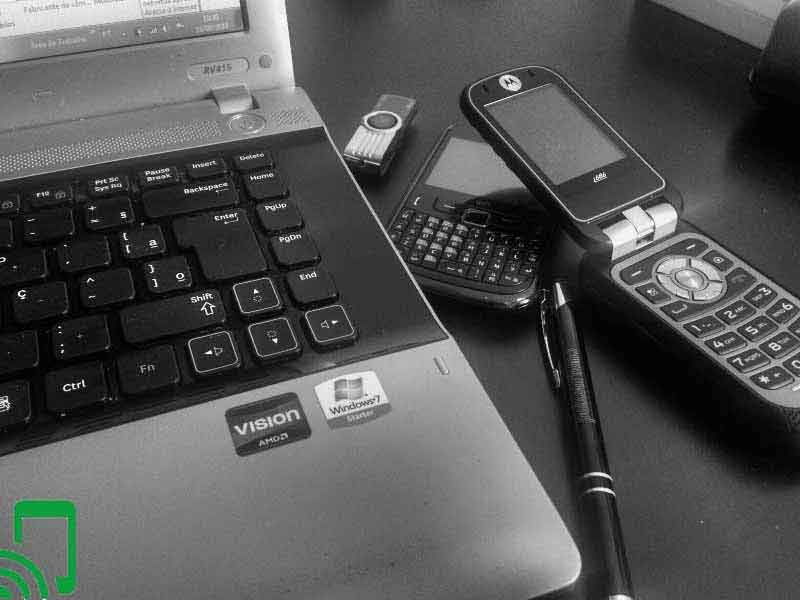 When compared to the past, flip phone plans have become quite obsolete with the inception of smartphones. However, you can still get flip phone plans at very amazing prices and in most cases, they come with the following perks:
Caller ID availability
Unlimited talks and messaging
Free 911 calling
Limited minutes on international calls but it may vary with the country you plan to call
You can get a Verizon prepaid phone plan under the basic plans tier. The plan costs $30/month and it offers:
Unlimited talk and text
Unlimited international messaging outside the US
500 MB of data
There are also MVNOs that use Verizon network towers and also offer phone plans at very affordable prices. Some of these MVNOs are GreatCall and it offers Jitterbug flip or Tracfone plans for basic phones.
What to consider before buying a Verizon prepaid plan?
Here are some tips to employ when looking for a flip phone.
i) Refurbished vs new
If you opt for a refurbished flip phone, be on the lookout for the manufacture date of the device. If the device was created in the early 2000s, then that may give you some issues. The best option when getting flip phones is to buy new ones like the Verizon 4G flip phones.
ii) Authorized dealer
Make sure you get the phone from an authorized dealer as with such you can get a warranty which will prove helpful in case your phone has some issues. Some of the well known authorized dealers include the service provider's official stores, amazon, Walmart, best buy, and wish.
iii) Internet access
Though not a priority, it can be a great option for those who want to adopt when it comes to using the internet and some are cell phone have without internet. You can get a Samsung flip phone that offers internet access and it can be a good option for seniors looking to get internet access.
iv) User interface
Get a flip phone that does not only have a basic design but also features a friendly user interface. This will promote effective usage of the device and easy navigation when it comes to calling or texting people.
v) Network technology
Most flip phones use GSM network technology which is very efficient and all the service providers in the US seem to use it. Make sure you get a device that does not use an indigenous network which may lead to poor network coverage especially if you tend to travel.
The 8 Best Verizon Prepaid Flip Phone
1) Nokia 2720 Flip 4G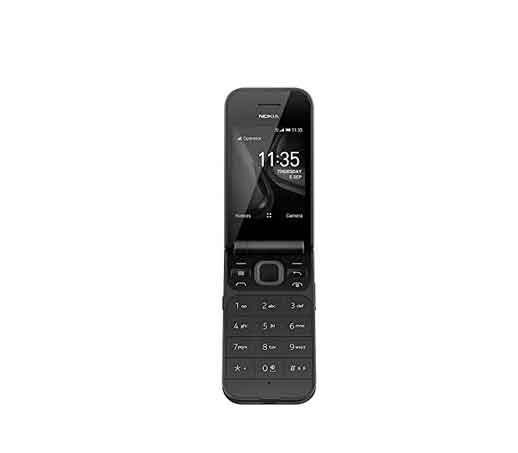 Nokia 2720 Flip 4G was made available on 5th September 2019. It has a great body dimension and design. The phone features a TFT 256k color screen of 2.8†with a resolution of 240 x 320 pixels. It uses the kaiOS as its operating system and has an Adreno 304 as the GPU.
The phone comes with an internal memory of 4 GB 512 MB RAM. The main camera is a single 2 MP which features an LED flash. It has a removable 1500 mAh battery that can last for up to 700 hours on standby.
PROS
Friendly user interface
It is simple to set-up
Great screen resolution
Sleek body design
CONS
Non-sufficient audio quality
2) Plum Ram 8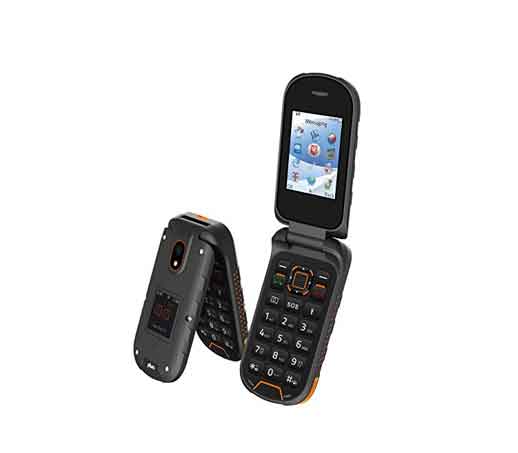 Plum RAM 8 was released in December 2018. it has a sleek body design and ambient body dimension. It features a TFT 256 k color screen of 2.4 in the resolution of 240 x 320 pixels. The Phone users are MediaTek mt6762 chipset and sadly the internal memory of 128 MB 64 MB RAM.
You also get a microSDHC slot for inserting a micro SD card. The phone features a 5 MP main camera which comes with an LED flash. It has a 1200 mAh battery with a standby time of up to 120 hours and talk's time of 8 hours.
PROS
Long battery life
Friendly user interface
Ambient loudspeakers
Comes in a variety of colors
CONS
3) Nokia 8810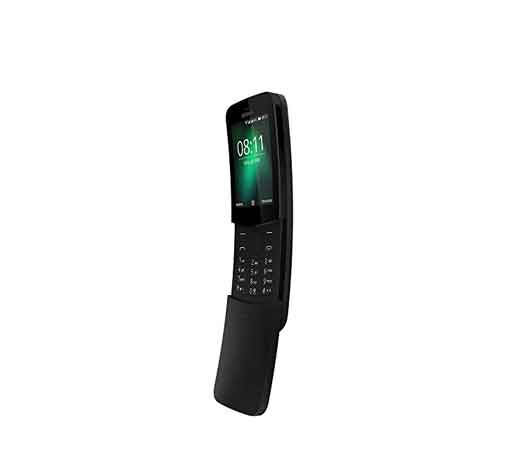 Nokia 8810 dropped on the market back in April 2018.  It has a stunning body dimension and great body design made of plastic and also has a plastic frame. The phone features a TFT screen with a resolution of 240 x 320 pixels. It uses KAIOS as it's an operating system and has a Qualcomm Snapdragon 205 chipset.
The Internal memory is 4GB 512 MB RAM and you can also expand the memory with a microSD dedicated slot. The Phone also features a long-lasting battery with a talk time of up to 11 hours and a standby time of up to 600 hours.
PROS
It has a cool body design
Friendly user interface
It uses a Qualcomm processor
Long battery life
CONS
4) Alcatel QUICKFLIP 4044C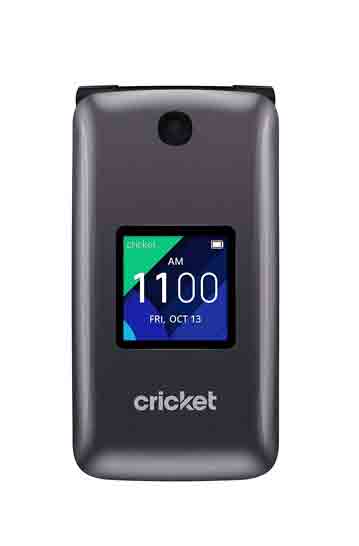 Alcatel quick-flip is a great flip phone to consider due to its simplicity. The phone has a 2.8-inch TFT screen of 320 x 240 pixels and a screen to body ratio of 43.6%. It uses a Qualcomm Snapdragon 210 as it's the chipset and has a quad-core processor.
The phone also comes with an Adreno 304 GPU. It Has internal storage of 4GB and 0.5 GB RAM. You can also expand on memory with a microSD card of up to 32GB. The device has a single 2 MP main camera. The battery capacity is 1350 mAh.
PROS
Friendly user interface
Powerful chipset
Fast processing speeds
Loud stereo speakers
CONS
5) ALCATEL SMARTFLIP 4052R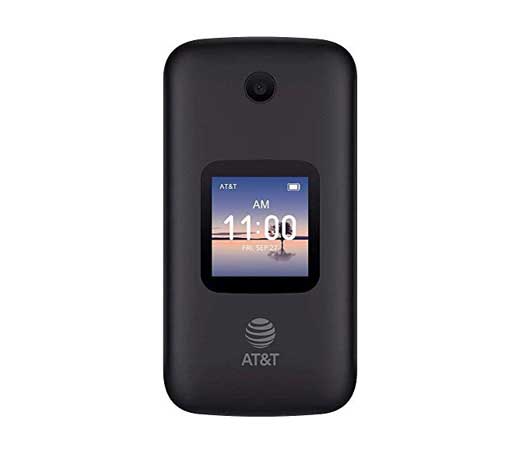 The phone was released in September 2019 depicting it to be among the Verizon 4G flip phones. It has a 2.8-inch display of 320 x 240 pixels. Smartflip uses a Qualcomm snapdragon 210 chipset and has an Adreno 304 GPU. The phone features a 2 MP main camera that can take HD quality photos and videos.  It also comes with a 1350 mAh battery life.
PROS
It has a friendly user interface
Ambient screen resolution
Fast processing speeds
Powerful processor and chipset
CONS
The camera lacks an LED flash
6) DORO Flip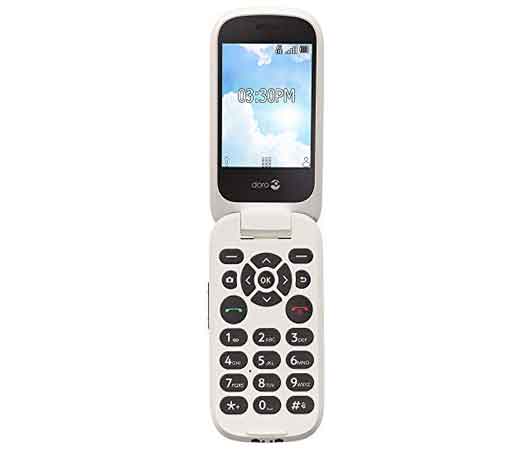 Doro flip brings modernity when it comes to flip phones. The phone features a 2.8†screen with a stunning resolution. It has a dual-core processor and an internal memory of 4 GB and you can expand up to 64 GB with an SD card. Doro flip features a 2 MP main camera. It has a sleek body design and dimension.
PROS
Ambient memory capacity
Friendly user interface
Fast processing speeds
Great camera quality
CONS
The phone is carrier locked to Tracfone
7) GreatCall Lively Flip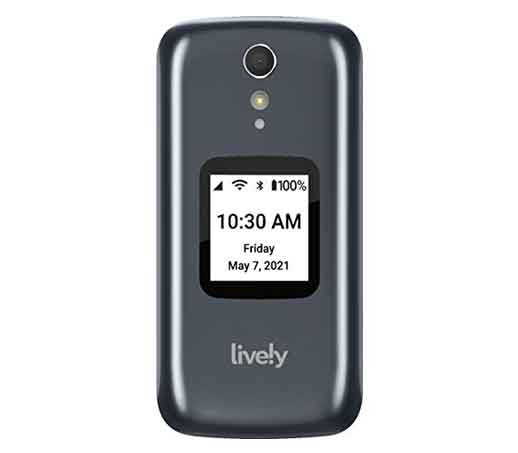 GreatCall Lively Flip is known to offer a lot of simplicity in terms of usage. The device has a stunning 3.2†HVGA TFT internal display and a 1.44†color display. The phone features a 2.0 MP camera with flash. It has an internal storage of 1 GB. GreatCall Lively Flip uses a Lithium-ion 1780 mAh battery that has a talk-tie of up to 8 hours. It also qualifies to be a hearing compatible phone with its MT4/T4 rating.
PROS
Great screen resolution
Hearing aid capabilities
Stunning body design
GPS and emergency buttons are available
CONS
Charging with the dock is slow
8) USHINING 3G UNlocked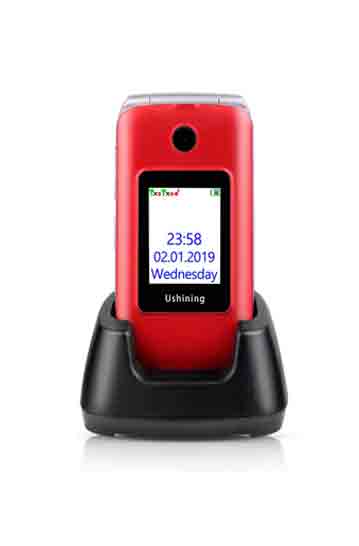 USHINING is a great option for seniors due to its simplicity and also a wide range of perks. The phone comes with a stunning 2.8†HD screen of high resolution. It has ambient memory capacity and you can expand on it with the help of a Micro SD card.
The phone features a 1200 mAh battery of 6 hours talk time and 200 hours of standby time. Additional features include the MP3/MP4 player and also Bluetooth 3.0. The phone also has big buttons hence an easier navigation process.
PROS
Excellent battery life
Sleek body design
Ambient loudspeakers
Stunning memory capacity
CONS
Bottom Line
Despite the rise in use for smartphones, flip phones seem to continue playing a major role when it comes to communications. Make sure to buy an original device from an authorized retail store like Amazon. You should also leave a review on the product as this will help people wishing to get a Verizon prepaid flip phone.