Sprint Plans for Seniors | Is This Really Frankly Deals
Hello there! Are you looking for the best cell phone plan for seniors, but there hasn't been much success? If that is the case, then I am here for you. Many carriers claim to offer the best plan aimed for seniors. Some are very affordable but have a downfall of inadequate network coverage. Others are costly, but the network coverage is good. There are also other carriers that are bad at everything, and they will rip you off if you don't have the right information. This is whereby Sprint plans for seniors steps in to neutralize such a state.
Sprint has been in the service providers' top list for over a decade. They are not only known to offer the best plans for seniors but also cell phone plans for kids, unlimited mobile plans, and many more. They also offer a wide range of smartphones in all their retail stores countrywide. When we come to the senior's plan, they offer a very unique plan compared to the rest of the companies. The plans for seniors are very affordable and come with unlimited everything! You also get dedicated customer services who work around the clock to assist you in any needs.
Sprint has one of the well-established network coverage across the country. This is with regards to whether you live in a rural area or not, the network bar will always be full. As of March 2019, Sprint mobile was serving a total of 54 million customers. This means that many people find it to be an outstanding service provider. Continue reading to learn more.
What phones does Sprint mobile offer to seniors?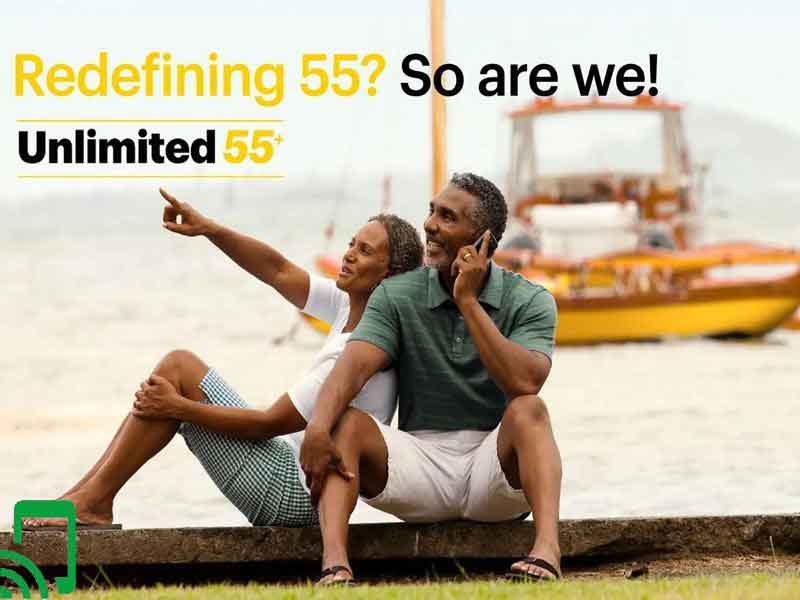 Before opting for Sprint cell phone plans, you need to consider on what phones are compatible with Sprint. You may have been on Amazon's website to buy a phone, and before buying a phone, you see a prompt saying, "This phone will not work on Sprint and Verizon wireless." This is because of the network technology being used.
Sprint and Verizon Wireless use CDMA network technology, which is rather not very good as of the 21st century. Many service providers use GSM network technology, which is more advanced. However, the good thing is that some phones are compatible with both network technologies, so you don't have to worry.
The phones can be purchased in third party retail stores like Amazon or at a Sprint retail store. You can also check out their online store to get fantastic offers on phones. Some of the phones currently available for seniors include the following;
Apple phones
All Samsung phones like the A-series, J-series and the stunning Note series
Motorola phones
ZTE smartphones
LG smartphones
Huawei phones and many more
You can also opt for bring your own phone program. As long as your old phone is compatible with Sprint's network, you are good to bring the phone. The phone will also work in its network if it is unlocked. You can check out the best unlocked cell phone deals if you are looking to get one.
Do you pay an activation fee for a senior's plan?
No fee is charged for those who wish to apply for this plan. The moment you show interest in the plan, you are good to go for it. Once you enroll for the plan, be rest assured that there will also be no hidden fees or taxes incorporated into your monthly billing.
The price displayed includes the entire total amount you are supposed to pay, and no other costs will come to your doorstep. If you are an existing customer for Sprint, you cannot apply for this plan. They have a policy set whereby only new members can apply for this plan. However, you can check out the best sprint deals for existing customers to get more benefits.
How to enroll for a senior's plan at Sprint
The procedure for enrolling in sprint plans for seniors is just similar to all the typical plans. The enrollment process is very simple, and you don't have to show a lot of documents to qualify for the unlimited 55+ plan. Here is a simple step-by-step guide on how you can apply;
Step 1: Create an account on their website
You can start by creating an account on their website. The process is very simple, and it will not consume much of your plan. All you have to do is follow the on-screen instructions, and the application process will be done
Step 2: Choose a cell phone plan
Once you are done with registration, you need to choose the cell phone plan for seniors. Since we are focusing on the unlimited 55+ plan, then you should click on that and follow the on-screen instructions.
Step 3: Pay for the plan
Once you are done with choosing the plan, you can buy lines and then check out to finalize the payment. This plan allows you only to get 2 lines at the maximum. The line can be bought in a retail store, or you can buy it online, and it will be shipped to your doorstep. You can activate the sim card on Sprint's official website, and you will be good to go.
What plans are available for seniors at Sprint?
There is only one plan available for seniors. The plan is popularly known as the unlimited 55+ plan, and it entails the following;
1. Unlimited talk, text, and data
This is something  rare to find in other service providers at a cheap price. Sprint offers you unlimited everything throughout the month. You don't have to worry about having data caps in case you reach a certain amount of data peak.
2. Unlimited video streaming
The senior is also able to stream videos in DVD-quality. You can stream a lot of YouTube watch a movie on any online platform for an unlimited time. Sadly you cannot upgrade to an HD viewing option. Despite this, it is still a good offer because not many service providers have this
3. Global roaming
With global roaming, you have the opportunity to talk, text, and data units across any country from Sprint's list. Moreover, if you want to visit Canada and Mexico, you get unlimited everything. You also get coverage to over 185 countries nationwide.
4. Unlimited mobile hotspot
This plan offers you unlimited mobile hotspot and at 4G LTE speeds. Most service providers will limit your rates to 3G; however, for Sprint you get faster speeds. The hotspot can be shared with numerous devices which the number depends on the type of phone you have and how you have modified your settings
This plan is very affordable, and it all depends on the number of lines you want. Currently, there is an offer whereby you get 2 lines at $35 per month for each line. This is a very affordable offer for sprint phones and plans which you can ever get.
If you are below 55, there are other sprint plans which you can choose from. The other plans are also very affordable and convenient too. If you an existing member of AARP Cell Phone Plans for Seniors, Sprint has you covered. You will enjoy the normal discounts as per their terms which can be found on their website.
Does Sprint have a reliable customer care service?
Yes! With Sprint, you are assured of dedicated 24/7 customer care. They are very proficient in English, and they can help you with things like;
Phone replacement
Line registration
Choosing a cell phone plan
You can call them through their toll-free number, which is 000 1 817-698-4199, for any assistance.
Does Sprint offer nationwide coverage?
Sprint is among the best standard service providers, so you should be sure of getting the best network coverage. They cover the whole of the United States, and whether you live in a rural area or not, you are still covered. You can also contact customer care to learn more about the network coverage in the exact place you are in.
In case the signal may not be stable, you still have an option to buy the best signal boosters for home, and they will help you greatly. The booster can be bought at any retail store, or you can buy them from Amazon.
Bottom Line
So, with this prior knowledge, you don't have to stress choosing a plan again. Sprint serves many people, and from their reviews, you will realize that there are fewer disappointments, and most of them have been solved. Remember that this unlimited 55+ is only for new members, so you can rush now to their website and start applying.
Remember that you need to verify you are 55 and above, so ensure to have the necessary requested documents. If you are under AARP, you get the obliged discounts normally. However, if you are still an existing member and you are over 55+ years old, you cannot apply for this plan.
Also, if you choose the autopay option, you get a $5 discount on your monthly plans, just like the other plans. What are you waiting for! Visit Sprints website to apply and learn more on this unlimited 55+ plan.