The Simplisafe Monitoring Plans & Reviews 2021
SimpliSafe was established in 2006 and is one of the leading DIY home security companies. The company now serves more than 3 million customers, making it one of the popular home protection companies. Interestingly, the SimpliSafe monitoring plans are relatively inexpensive; hence it's affordable for the average user to install the monitoring devices. You also don't have to engage in a long-term contract providing more flexibility for most homeowners looking for a cheap way of manning their premises.
However, whether you own or rent a dwelling unit, you will indeed find a package that matches your needs. When you have a SimpliSafe surveillance system, you will get useful features such as intrusion detection, home automation, video surveillance, and more. The monitoring prices start from $14.99 per month to $24.90 per month.  The combination of the pricing and features makes SimpliSafe a suitable choice for users on a tight budget and renters.
When it comes to the products, the starter package costs $229. The components include a base station, one entry sensor, a wireless keypad, and one motion sensor. The services offered are every month, and there's no long-term signing contract. Besides, the standard monthly plan involves professional monitoring but excludes some features that might be useful. Those features include using your mobile tool to turn your system on and off and get security alerts. On the other hand, the Interactive plan entails all the former features.
What Are The Simplisafe Monitoring Plans?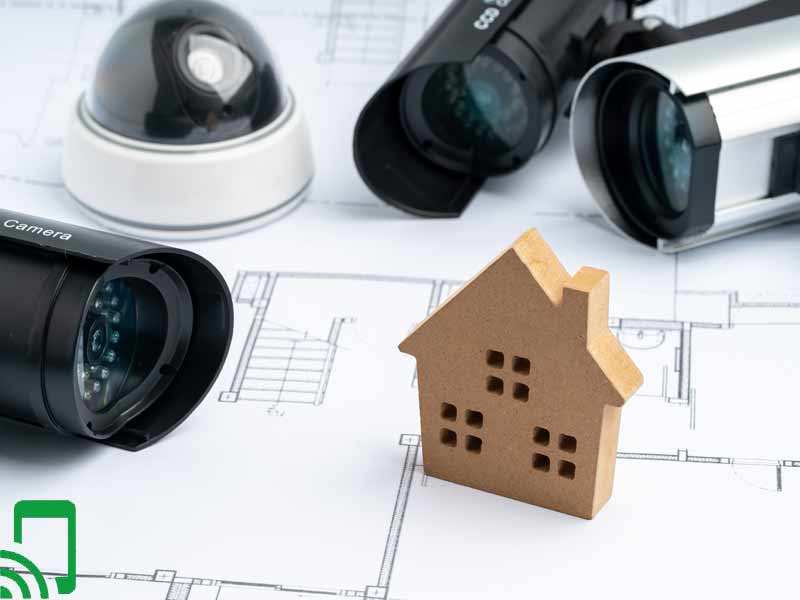 SimpliSafe features two monitoring options: the Standard plan and the Interactive plan. The installation involves DIY home security systems with no monthly fee. The Standard plan is the most common and involves 24/7 surveillance through a network connection. An Interactive plan is an advanced option that comprises text notifications and the ability to control and watch over the system remotely. Besides, you can also purchase equipment without an expert monitoring plan if you wish to self-monitor.
Additionally, the monthly costs for monitoring include $14.99 per month with Simplisafe's Standard plan. This plan contains professional sirens and environmental surveillance 24/7 through a cellular network and lives video from up to 10 cameras.
However, it lacks remote features. The SimpliSafe Interactive plan costs a monthly fee of $24.99 and includes all the Standard plan offerings and mobile app support.
With the phone app's help, you can remotely switch on and off the system and get alerts, including confidential alerts that you don't need the monitoring unit to know about. Also, you can get an on-demand video recording and several other features.
Is The Simplisafe Home Security System Right For Me?
Suppose you are a user who fears being locked into a contract, or you are a homeowner who wants to receive alerts that the monitoring personnel doesn't know about. In that case, SimpliSafe home security units are the right choice for you. 
Amazingly, there are affordable monitoring options and a diverse array of plans, plus plenty of customization options. The simple and easy self-installation kits mean you won't waste a day setting up your system or employ a technical expert to get the job done.
In other words, if you are searching for a reliable security system that doesn't cost an arm and a leg, SimpliSafe is the best bet. SimpliSafe surveillance systems are also the best if you need a flexible alarm system that doesn't entail a lot of home self-regulation support.
However, the system is recommended for people who need to pay the lowest possible monthly monitoring price, but not for those finding extensive combinations with home self-programmed devices.
Review of the Simplisafe Monitoring Plans and Prices Chart
1) Monitoring Plans Standard SimpliSafe Standard
If you go with the Standard plan that costs $14.99 per month, you'll receive SimpliSafe's real-time professional monitoring, Invasion protection, nationwide cellular connection, and surroundings monitoring.
Most importantly, SimpliSafe's environmental surveillance can sense water/floods, smoke, heat, and frozen pipes. However, you will need to buy these sensors independently. The items are pretty affordable, but it's an additional cost to consider if you need a heightened home protection level.
2) Monitoring Plans Interactive SimpliSafe Interactive
The Interactive plan comes with everything featured in the Standard option and some lovely extras, as highlighted below. This Simplisafe mentioned plan comes with a monthly fee of $24.99.
SimpliSafe Interactive Features Include:
Intrusion protection
24/7 professional monitoring
Environmental monitoring
Nationwide cellular connection
Unlimited camera recording
Alarm verification for priority dispatch (SimpliCam required)
SimpliSafe app with mobile alerts
Remote arming and disarming
Alexa and Google Assistant voice control
| Feature | Interactive Monitoring Plan | Standard Monitoring Plan |
| --- | --- | --- |
| 24/7 surveillance | Yes | Yes |
| 24/7 fire monitoring | Yes | Yes |
| Unlimited video recording | Yes | No |
| On-demand camera recording | Yes | No |
| Surroundings monitoring | Yes | No |
| Visual alarm notifications | Yes | No |
| Smart device compatibility | Yes | No |
Simplisafe Monitoring Plans Pros & Cons
PROS
Optional monthly subscriptions
No contract required
Low-cost monitoring packages
Easy to install on your own
Can control the system from your phone, Amazon Alexa, Apple Watch, etc
CONS
Remote control and alarm notification options are only provided with more expensive monitoring
Plans Summary Comparison Table
| Monitoring Plans | Standard | Interactive |
| --- | --- | --- |
| Protection Level | Basic Intrusion + Environmental | Intrusion + Environmental + Home Automation + Video |
| Connection Type | Wi-Fi + Cellular Backup | Wi-Fi + Cellular Backup |
| Contract | No Contract | No Contract |
| Price | $14.99 per month | $24.99 per month |
What Is The Benefit Of Simplisafe Monitoring Plans?
1) Total home security
SimpliSafe surveillance offers you a peaceful state of mind concerning your home's security. If your system gets interfered with, the siren will raise a sound alarm, and the Base Station will reach out to the monitoring service team to report the disturbance. SimpliSafe's monitoring unit personnel will then inform you and any other person you've submitted as next of kin. However, if you don't respond to the alarm, the operator directs the relevant authorities to your home.
2) No contract
If you choose SimpliSafe, you are not restricted to a monthly payment, and you can have an expert monitoring service only if you need it. This means that if you require extra protection during vacation, you can add monitoring fees for that duration and then terminate when you get back with no penalties or other charges.
SimpliSafe move to eliminate annual contracts that may accrue surprise fees, intrusive installations, and costly go-betweens to control unexpected charges posted on customers by some companies. The good thing about Simplisafe is that they sell to you directly through an online platform. They do not involve intermediaries; hence the price they quote is the price you end up paying for your equipment and other charges.
However, what happens with many security companies is that they have absolutely huge unnoticeable hidden fees. They advertise their alarms, let's say from $99, and then they have you sign a contract for over $1,000. Until you clear the deal, you can't part with them for at least 3 years. Luckily, SimpliSafe alarms have transparent costs with no hidden charges.
4) Best option to choose the right monitoring plan for you
You are free to choose from two monitoring plans that are the Standard plan at $14. 99 a month and the Interactive plan at $24.99 per month. Besides, they have affordable self-monitored home security systems with cameras that feature remote control via the smartphone app, private alerts, video alarm verification, cellphone app alerts, recordings from up to 10 cameras, and smart home combinations.
5) Lowest cost
Through the elimination of the middlemen, you will receive extra security for fewer coins with no contract. Simplisafe sells its equipment for less than half of what most traditional companies charge.
Does Simplisafe Cost Affordable For Me?
Compared to other home security companies, SimpliSafe is quite affordable, with equipment starting from around $200 to a maximum of $500. You can get over 10 packages available on the provider's website, and you can purchase your equipment, either upfront or finance, through a legit credit card.
Moreover, having a basic plan at just $14.99 a month, which is half the price offered by some of its competitors, SimpliSafe is among the cheapest home security package you can get.
Which Plan Will Give You The Most Comfort?
It's highly recommendable to opt for the Interactive monitoring plan if you are in a position to finance it. This entity has advantageous features desirable by any user wishing to have the best surveillance unit. You will have remote control over your system through a mobile app.
Besides, you will get provided with 24/7 protection from break-ins and environmental damages such as fires and floods. There are also offers on convenient app-based controls plus video support. Ultimately, SimpliSafe functions well with Alexa and Google Assistant if only you select the Interactive subscription.
Other Superior Packages Of The Simplisafe
1. Offers everything in the interactive package
SimpliSafe doesn't offer many flashy features, but you do get environmental monitoring (water leaks, temperature, smoke, and carbon monoxide) with the necessary monitoring package.
Inexpensive environmental monitoring doesn't sound that exciting. But it's actually an excellent feature because it protects your home and your family against threats like water damage, frozen pipes, and fires.
Moreover, SimpliSafe delivers all-around protection while the combined apps make extensive system control accessible from anywhere. The uninterrupted 24/7 alarm monitoring gets availed without the long-term contracts and sky-rocketed prices of traditional home security firms.
2. Free professional installation
The Simplisafe system setting is totally hassle-free, and it is one of the no monthly fee home security systems you can ever get in the market. You don't need to pay a technician for installation to put everything where it belongs. SimpliSafe installation is 100% DIY, and it's straightforward.
There is no drilling or punching holes in your walls, which is very convenient for renters. Additionally, the equipment comprises adhesive strips; hence you just remove off the cover and stick the sensors where they fit.
3. 0% off new products
You can get 0% off new products through home insurance companies. Interestingly, you can save up to 5% to 20% on your insurance premiums when you safeguard your home using SimpliSafe monitoring. With such huge savings, your professional alarm monitoring can pay for itself. As a matter of fact, over 100,000 SimpliSafe customers are saving money using the insurance premiums.
4. VIP customer service
In case your equipment gets faulty, SimpliSafe offers a 3-year warranty for its equipment. Also, it gives a 60-day money-back assurance if you're unsatisfied with their service. Additionally, based on customer experience, Simplisafe has an A+ for customer support and straightforward business practices, according to the Better Business Bureau (BBB). However, as with many security firms, it has received most complaints about delayed customer service and issues with processing refunds.
5. Medical alerts
You'll also receive security notifications in the form of medical alerts via email or text message if a member of your family is unwell or in case of a sickness emergency when you choose the more advanced surveillance package. With the help of private alerts, you can secretly keep an eye on your medicine cabinets, closets through a silent alarm.
Bottom line
SimpliSafe is an ideal home security option for renters and homeowners hunting for budget-friendly, easy-to-install DIY home security. You can choose from any of the above-discussed plans that suit your budget and needs.
SimpliSafe is a suitable home safety option for renters and small homeowners who want an affordable system and plans. However, it is not the best option if you need a security system to match up with a more extensive smart home setup.