The Netgear AC810 Review and Buying Guide
Netgear AC810 is a hotspot device that you can use to share internet connections among many devices. You can connect with desktop computers, laptops, tablets, and smartphones. Other devices that need a WiFi connection may also benefit from the device. This device can achieve high download speeds of up to 600MPs. It is thus very reliable in many areas especially in cyber cafes and in offices.
Netgear is a reputable company when it comes to the manufacturing of network devices. The multinational computer networking company is based in San Jose, California. It has offices in several other countries in the world. It produces networking equipment for all kinds of users including the service providers. Apart from being a retailer for various networking devices, it is a service provider.
What are the features of Netgear AC810?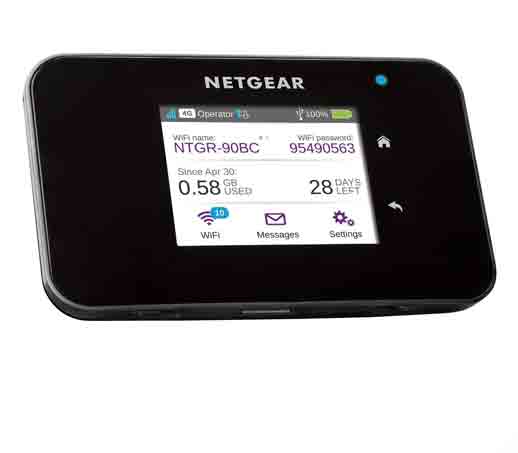 The device has the following mind-blowing features that enable you to enjoy great internet connectivities.
PROS
Strong network connection
Connects many devices
Adapts well to environmental temperatures
Has a long-lasting battery
Has high-security details
A touch screen for easy operation
1) 802.11ac wireless networking standard
This wireless networking standard has higher performance as compared to the 802.11n. It has reduced interference and higher speeds that make it suitable for home, office, and school WiFi among others. In fact, the 802.11ac standard can reach up to 1300 megabits per second (Mbps) data speeds.
2) Multiple devices connection
Netgear AC810 connects up to 15 WiFi devices at the same time while maintaining high internet speeds. It is an excellent device to use with unlimited mobile hotspot plans from service providers such as Verizon, AT&T, T-Mobile, and others. Although smartphones support hotspot, the connection slows with the number of devices connected, thus the need to have a hotspot device.
3) Long-lasting battery
Never worry even when power is not around as this machine has a durable battery and will still connect you for long hours even since it has a long-lasting removable battery that lasts up to 11 hours (260 hours on standby). Your work will never stop at any given time with such an elegant device.
Additionally, the device can work as a power bank. You can jump boost your smartphone to keep it charged and avoid going offline. Therefore, there is no need to buy a separate power bank for your phone.
4) 2.4†touchscreen
The device comes with a 2.4†touchscreen with a data usage meter so that you can know how much data you have used per given time. This helps you to regulate your data usage thus saving a lot of money. It is also a way of accounting for your data usage.
5) 4G LTE Cat 11
4G helps the device to deliver astonishing speeds for downloads and uploads. You can download items at speeds of up to 600MB per second. Furthermore, the 4G LTE connectivities will ensure that you make the most consistent video calls ever. This makes it one of the best machines to establish the best mobile hotspot for gaming.
6) Remote control
You do not have to be around to keep the device working as you can use the mobile app to control it from anywhere. Manage how your data is used by workers or people at home when not around.
What are the technical specifications of Netgear AC810?
The following specifications make the device very reliable.
i) Design
The device weighs 132 g. The weight includes the battery. It measures 112 mm (L) x 68.6 mm (W) x 15.45 mm (H). It is a small and light device that is easy to move with from place to place.
ii) Network Technology
The device supports LTE-Advanced, 3-band Carrier Aggregation (up to 60MHz), LTE Category 9 (configuration 1), LTE Category 11 (configuration 2), and 3G. This explains why the network is always strong when using strong network service providers. If you use it with T-Mobile wifi hotspot plans or any other strong network service provider, you will forever stick to the machine.
iii) Wi-Fi Features
The device is Wi-Fi 802.11ac, 2×2 MIMO, Multiple SSID/Guest WiFi, and WPS (WiFi Protected Setup) enabled.
iv) Device Display
Netgear AC810 has a 2.4-inch QVGA capacitive LCD touchscreen for easy operation of the device.
v) Battery
The device has a 2930 mAh removable lithium-ion battery that can go up to 11 hours when on continuous usage. It can go up to 260 hours when on standby. This makes it one of the best wifi hotspot devices which provide unlimited data due to its long connection time.
vi) Security
Netgear AC810 has various security details that make it secure to use in any scenario. These are;
WiFi Protected Setup (WPS) to keep away hackers and other online threats.
WiFi security encryption so that no one can access your device WiFi details for unauthorized use.
VPN pass-through to allow you to connect to virtual private networks for security purposes.
Multiple SSID/Guest WiFi support to temporarily allow people to use your network to a certain extent.
NAT firewall
View & block connected devices from the touchscreen. This feature helps you to eliminate unwanted devices from your network.
Password-protected Web UI. This allows only you to manipulate the machine when the need arises.
vii) Ports
The machine has various ports which include two TS-9 external 4G/3G antenna ports and one micro USB port.
viii) Environmental adaptation
Netgear AC810 is RoHS compliant. Its operating temperature is 0 to 35° C while the storage temperature ranges from10 to 60°C. You can see that it can work well in various places in the world and this makes it very convenient in terms of location.
ix) SIM card
It supports the 3FF format (microSIM). Looking at the above specifications, the device can make an excellent whole-home wi-fi system for use by family members due to the large number of devices it can connect as well as the high-security details.
Does the device come with a warranty?
The device comes with a two-year warranty as indicated in the manual. You have to fill in the manufacturer's warranty card and send it to the specified address. Also, you benefit from the basic technical support for 90 days from the date of purchase as long as you purchase from an authorized retailer.
Bottom line
Mobile hotspot devices are convenient, reliable, and secure in terms of network connection. Netgear AC810 is an amazing hotspot device that can be of great help in offices and homes as it has high-speed connectivities. Furthermore, the security details built into this device are all that you need to carry out sensitive online tasks. Above all, it adapts well to different environmental temperatures.