The Samsung Galaxy A51 Review
Samsung is bolstering with some of its A-series new models like Galaxy A51 and others. The new Samsung Galaxy A51 has brought out to revitalize the A-series line up again. It comes with some repetitive updates with a view to maintain the series active and relevant. 
The Samsung Galaxy A51 is the first phone in the series, having an Infinity-O display and a macro camera. Except for these particular features, it has some specifications matching with its previous A-series phones. This smartphone is formed by best camera phone and an AMOLED display and aesthetic design.
Specifications of Samsung Galaxy A51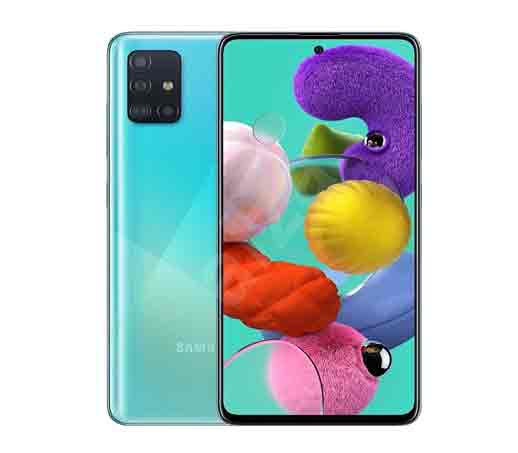 1) Design & Display
The Samsung Galaxy A51 simply looks good and measures (6.24×2.9×0.31) inches. Without any big issue, it's just narrow and dazzling enough to hold and anyone can easily use it in one hand. The front side of A51 comes in a bezel-less 6.5-inch AMOLED display with an aspect ratio of 20:9.
The resolution display of this phone is 2400×1080 pixels at 405 pixel-per-inch density. The default color is vivid and warm. You can customize it according to your choice in the settings. The display itself is so crisp and bright that you will face no problem seeing it in daylight.
The in-display visual fingerprint sensor doesn't work so well. Very possibly, it works appropriately for almost 40 percent of the time of everyday use. I'll tell you to pick out facial recognition feature to unlock alternatively if you are not too much concerned about the security system.
You will get a wide quad camera on the phone's backside. The back panel of the Galaxy A51 is made of strong plastic with a similar glass finish. You perhaps wouldn't realize that it is plastic except looking from close. The top side of the phone is bare where there are a speaker, a headphone jack and a USB-C port. You will get power and volume buttons on the right side and on the left side, there is a microSD/SIM card slot.
PROS
Super AMOLED display
Solid cameras
Dedicated card slot
3.5mm headphone jack
Good battery life
CONS
Fast charging isn't so fast
Mediocre chipset
2) Durability
Without any damage, the plastic back panel probably can stand against sudden drops as the display is formed of Gorilla Glass 3. This display is older and more fragile hardened glass which has enough ability to stand against scratches, but not so much for hard drops. It will be best to set the phone in a good case.
3) Camera
If you look at the Galaxy A51, it has an equitably good camera stack. You will get four sensors on the backside of the phone. These are – a 48-megapixel wide angel-lens with an aperture of f/2.0, a 12-megapixel ultrawide lens with an aperture of f/2.2, a 5-megapixel depth lens with an aperture of f/2.2 and one more 5-megapixel macro lens with an aperture of f/2.4.
Almost all of our daylight shots looked crisp and they have fantastic depth of field. Colors are a little bit cleaned over the board on this phone. While close observation, there was minor edge distortion in the ultrawide lens. In low light, the Galaxy A51 also provides dependable performance.
The photos of both wide and ultra-wide sensors show fantastic depth of field, although there were some minor loss and edge noise. On the front side, you'll get a 32-megapixel wide-angle lens with an aperture of f/2.2. For any lighting scene, the selfie camera is good. With excellent color accuracy, the test shots of good light looked crisp.
4) Audio Quality
The audio quality is adoptable. The maximum volume of 88dB is loud enough to fulfill a room. Treble is spotty and bass is non-existent. Briefly, it's suitable for a conference call or to scroll the TikTok videos. If you plan to include a Netflix binge, you can take the facility of the 3.5mm headphone jack.
5) Call & Network Quality
Call quality is great. The maximum earpiece volume reaches 89dB, which is quite loud to hear on the busier streets. Call testing was clear and noise cancellation worked too good. In the noisy construction area, the phone calls also were clear.
Network speeds are dependable. When testing the phone in several carriers, it shows the average speeds of 76.9 Mbps down and 14.6 Mbps up. The smartphone provides Bluetooth 5.0 and dual-band Wi-Fi connection. For mobile payments and boarding passes, there's also NFC.
6) Software
The Samsung Galaxy A51 comes with the version of Android 10, including Samsung's One UI 2. Though many manufacturers are gradually leaning towards a near-stock Android experience, Samsung's UI stands heavy-handed. It means that there's a little difference of everything from the navigation bar to settings.
While purchasing the A51 unlocked version, the productivity apps come preloaded. As Android already has the same apps formed in, the apps seem illogical. The latest OTA update of One UI 2.1 and the security patch of April 2020 brings Music Share, AR Emoji and Quick Share, also Samsung keyboard and updated Gallery.
7) Performance
The Galaxy A51 comes with a chipset of Samsung Exynos 9611 and 4GB RAM. There is internal storage of 128GB; from there 105GB is available. You can use a maximum of 512GB additional storage via a microSD card.
Apps and websites take a little bit long time to load than your expectation. Though a Game Booster helps to speed up a little, Gaming is also disappointing here. The phone crashed twice when testing long load time for PUBG and Asphalt 9. The Galaxy A51 will suits finely if you play Candy Crush or Bejeweled.
8) Battery Life
The A51 is powered by a battery of 4000mAh by which you can easily pass the day. You can stream HD video in Wi-Fi connection at full brightness. The phone lasted till 11 hours and 29 minutes, which is a result of battery-draining test. You can activate the fast charging mode with the 15W charger.
Buying Guide
You will indeed feel relaxed using the Galaxy A51 for its aesthetic design, smaller display and healthy battery life. As its processor isn't faster, some people might not want to buy this phone. You can purchase this phone if your budget is within $400.
If you prefer battery life and aesthetic design, you can absolutely go for this phone. I will tell you not to buy if you want wireless charging and faster processor speed.
Final Thought
Pricing at $400, the Samsung Galaxy A51 is a perfect phone for most users. It contains a big and crisp AMOLED display, has sharp cameras and long battery life. This phone would be an unbelievable one if it had a faster processor. You can surely buy this phone if you are not a diehard fan of Android and don't mind getting a small display.