5 Best Metro By T-Mobile Prepaid Plans in 2022 (MetroPCS)
Prepaid plans are known to be the best option if you wish to cut the cost on monthly bills for your phone. The Metro by T-Mobile prepaid plans have been ranked as the best option for people who wish to achieve this goal. As you may know, Metro is one of the biggest MVNO operating in the US and they are known to offer very affordable services.
Metro offers a wide range of products like the MetroPCS compatible phones and accessories which can be found in their online store or their retail stores located in strategic places across the country. MetroPCS is a subsidiary of T-Mobile and T-Mobile offers one 4 of the most reliable network coverage in the US. By MetroPCS being an MVNO, it uses T-Mobile's network to provide connectivity to people, but the big difference is it will be at a lesser price.
From most reviews written by existing customers, they seem to like Metro by T-Mobile because of numerous factors. Metro offers reliable customer care services that are always available 24/7. During promotion plans, you may get yourself the MetroPCS phones and plans for low-income families if you are eligible. Their plans also come with very cool giveaways since they have partnered with several organizations to achieve this. To learn more about the Metro prepaid plans, continue to read ahead!
Why you go for Metro by T-Mobile prepaid plans?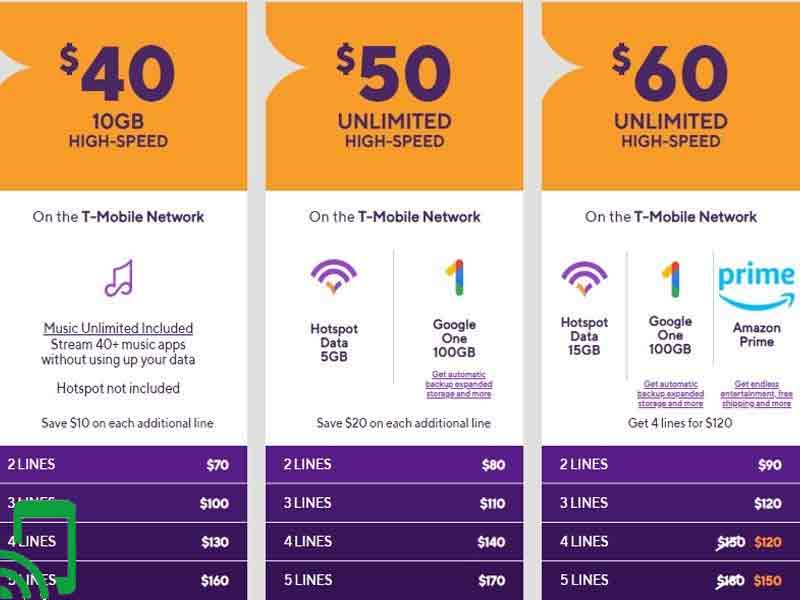 There are many companies offering prepaid plans at very affordable prices. Some will convince you with getting a free phone when you switch while others will give you some nice incentives to lure you to join them and you may end up being disappointed by their services.
However, when it comes to Metro by T-Mobile, they offer genuine deals for everyone. Here are some valid reasons on why you should enroll for the Metro prepaid plans;
i) No credit checks at all
For prepaid plans, you are not being bound to a contract so at no point will there be any credit checks.
ii) Reliable customer care
Metro has a 24/7 team ready to help or guide you with whatever needs you to have.
iii) There is a wide range of phone compatibility
MetroPCS uses T-Mobiles networks to deliver connectivity. As for T-Mobile, they use the GSM network technology. So, if your phone is compatible with the network, you can easily bring it to Metro. Also, if your phone allows LTE connectivity or rather 4G networks, you can also bring it and check for compatibility
iv) No activation fees
No activation fees will be charged for the sim cards. All you must do is choose a plan and the sim card will be activated once you pay for the plan
v) No extra fees or taxes
At Metro by T-Mobile, you are assured of honesty on the cost of the prepaid plans. You will only pay as per the displayed price of the plan. These are some of the major benefits of the Metro prepaid plans. The next step is to learn more about the five plans available.
The 5 best Metro By T-Mobile prepaid plans
Below are the five best-prepaid plans under MetroPCS. If you are a senior, I have also mentioned about the Magenta plan by T-Mobile which will work perfectly for you;
1. $40 per month plan
First on our list is this $40 per month plan. The plan offers a variety of good deals that will work perfectly for teenagers, kids, and even parents. The good thing with this plan is that you get to save $10 with each additional line you buy. For each line you add you get the following prices;
2 lines at $70
3 lines at $100
4 lines at $130
5 lines at $160
As for the plan you get the following features;
Unlimited talk and text
Unlimited music streaming without depletion of data
10GB of high-speed data
The only con with this plan is that you do not get unlimited data. So, if you want to stream movies or other services that require large amounts of data, check out the next option.
2. $50 Unlimited plan
For those looking for unlimited everything, this is the plan for you. The plan starts at $50 per month and it may go down depending on MetroPCS promotions times. You also get a discount on multiple lines for up to $20. For each line you add you get the following prices;
2 lines cost $80
3 lines for $110
4 lines for $140
5 lines for $170
The good thing with this is that you get unlimited everything in each line, unlike other situations where your data, talk and text units are distributed across all the lines. For this plan, you get the following;
5GB of mobile hotspot data
100 GB of Google 1 storage- With this you can store songs, documents and even you can expand the memory.
Unlimited data at high speeds
Unlimited talk and text
Sadly, for this plan, streaming is limited up to 480p. However, you can increase the quality but if you exceed 35GB which is the data cap, you will be throttled for the rest of your monthly billing.
3. $60 unlimited plan
This is the most expensive and yet the most enticing offer at Metrobyt-mobile. It comes with a wide set of offers, unlike the other MetroPCS prepaid plans.  You also get discounts on buying multiple lines and the company assures you of no extra charges on your credit or debit card. The cost of adding other sim cards are as follows;
2 lines cost $90 per month
3 lines cost $120
4 lines cost $120
5 lines cost $150
So, the more sim cards you buy, the more discounts you are likely to receive. Currently, this $60 unlimited $60 plan gives you the following perks;
15GB of mobile hotspot data
100GB of Google One
Amazon Prime (for both new and existing members)
Unlimited talk and text.
All these features make this plan be ranked among the best Prepaid Cell Phone Plans Unlimited due to the versatility of these options.
4. $30 plan
This is a plan available on a limited time offer and it may not be ranked among the major plans I mentioned above. The plan is very basic since there are no multi-line discounts or any extra discounts you are likely to get. However, other factors like no credit checks, no extra charges or fees remain constant. The plan gives you the following features.
Unlimited talk and text
2GB of high-speed data
Caller-ID
Call waiting and many more
Check out Metro by t-mobile to learn more.
5. Plan for seniors
Currently, there are no exclusive Metro prepaid plans for seniors. However, since Metro is owned by T-Mobile, you can go for a senior plan offered by them and it is popularly known as the unlimited 55+ plan. The cost of 1 line is $50 per month but if you go for 2 lines, you only pay $70 per month. This plan comes with the following;
Unlimited text, talk, and data
In-flight WIFI
Unlimited talk, text, and data
5GB of data plus unlimited talk and text across Mexico and Canada
Roaming in selected countries is allowed
Mobile hotspot is available
This is the best option to go for regarding cell phone plans for seniors.
Where to purchase the Metro by T-Mobile prepaid plan
You can buy these plans directly from their website. The process is very simple if you have an account with them. If you don't you can follow the on-screen instructions for how to open an account. Once that is done login after choosing the plan you want. If you wish to get more accessories like EarPods, chargers and many more, you can add them to cart as you proceed to check out. Finish off at the checkout and everything will be done.
What phones are allowed on BYOP?
Metro by T-Mobile has very strict measures or simple guidelines regarding BYOP. The most important of all is that your phones should be unlocked. Remember, if the phone is locked, it will not work with Metro since it is tied down to another carrier.
They also have an IMEI checker system on their website which aids as a compatibility checker. This makes it easy for people to enroll to MetroPCS because you do not need to go to a retail store to check on phone compatibility. Other conditions can be found on their website.
Bottom Line
I hope this article has offered you some good and reliable knowledge of the Metro by T-Mobile prepaid plans. You do not have to worry about any commitments or contracts. Also, if you plan to buy a phone, you should check out their online store. They offer phones to everyone; the phones range from mid-range, low-range to high-budget smartphones.
They also offer fast shipping of the phones and within 3 or 2 days, the phone will be shipped in your designated address. So, in general, joining Metro would one of the best options to make when it comes to choosing a service provider.