The 8 Best Laptop for Programming and Gaming
Gaming and programming are demanding activities that require quality specs from a laptop. Some of the features for the best laptop for programming and gaming, that should be of priority includes RAM, storage, graphics card, processor, and display. If you get a laptop with most of all of these features, there is a guarantee that you will run even the demanding games and computer programs with no issues.
However, if you a pro gamer you have to invest your money wisely as some laptops can't handle the level of your gaming and programming complexity. This article will guide on the best laptop in the market money can buy without breaking a bank. The baseline specification to look for before you dig deep into your pocket is a powerful GPU, at least 8GB RAM, and a powerful processor core i5 or core i7 among other factors as highlighted below.
On the other hand, laptops are not only useful for gamers and programmers, but they are a great learning tool for online studies. The emerging role of technology in higher education necessitates the need for computer-like devices. However, you can check on the best laptops for graduate students to understand what your prospective institution offers since the technology programs differ from one institution to the other.
What Factors Do You Consider The Best Laptops For Programming And Gaming?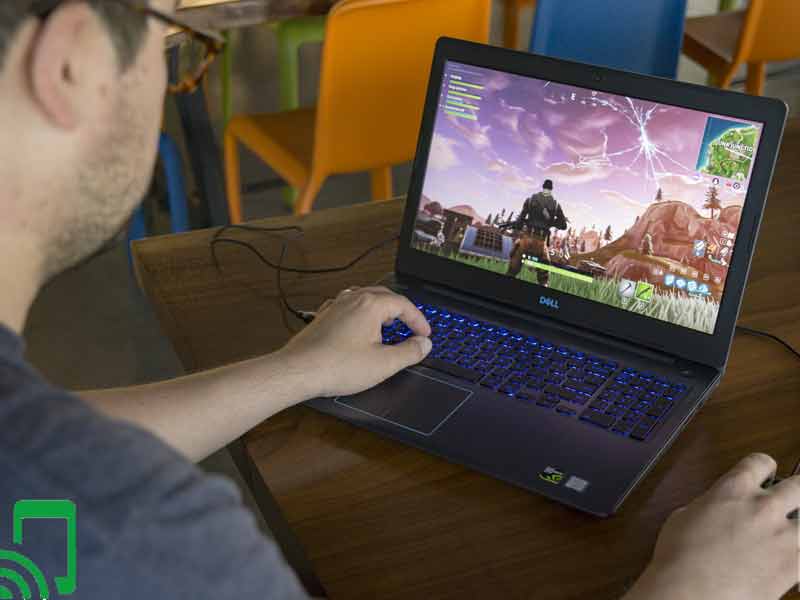 i) Screen Quality and Size
A quality screen is good for your eyes, as programmers and gamers have to use laptops for hours and hours in a day. You can choose a laptop with (1920×1080) resolution or above. Additionally, a laptop featuring a 15-inch display offers you a better environment and a 17-inch laptop is a better choice in terms of screen size but it's not portable enough. If portability is a concern for you, a 14-inch laptop is recommendable.
ii) Price Range/ Budget
A mid-range laptop is recommended for programming since it can meet almost all your demands without paying so much. However, if you are a college student, then you should consider low-budget laptops as well. There are best laptops for college students under $500 you can settle with and make your learning encounter resourceful. If you are comfortable with expensive laptops, they are wonderful in terms of performance, but this guide focuses on and features mid-range laptops.
How Do You Choose The Right Laptop For Colleges?
It is crucial to select the right laptop for your online tertiary studies. Some online colleges that offer free laptops provide detailed guidelines about what type of laptops you will require for their online programs.
Besides, students should consider all specifications of a laptop before purchasing. There are numerous categories of laptops and tablets in the market such as MacBooks, Chromebook, Microsoft Surface, and Windows laptops. Whichever choice you pick, ensure that it fits your needs.
Who Offers Free Laptops For Students?
It can be quite difficult to afford a laptop or a computer especially if you are under a tight budget or you come from low-income families. Apart from colleges offering free laptops to their incoming students, the government has programs where they offer you a free laptop or for a very cheap price.
To qualify for the free government internet and laptop, there are certain eligibility criteria that you must meet to apply for a free laptop. For instance, certain programs provided for low-income families or those affected by natural disasters qualifies for a free laptop.
Several government-sponsored programs enable members to receive aids from the government. Most importantly, not all the programs have the same provisions. We have several programs that offer low-income computer assistance programs such as free laptops with food stamps. Students qualifying for free lunch at school are eligible for this program.
What is the 8 Best Laptop for Programming and Gaming?
1) Asus TUF Gaming Laptop FX504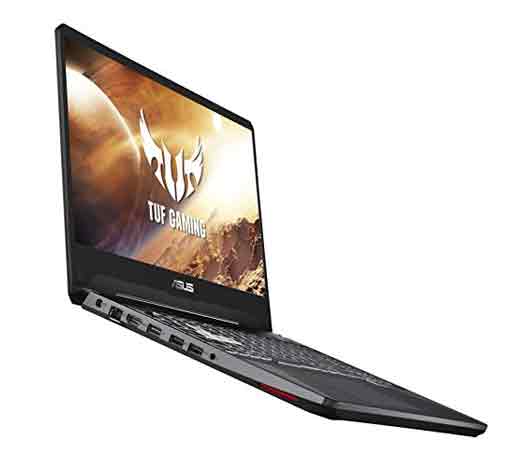 ASUS TUF Gaming FX504 features powerful Intel Core i5-8300H processor, GeForce GTX 1050 2GB graphics, 8GB DDR4 high-frequency 2666MHz RAM, and 256GB M. 2 Solid State Drive efficient memory technologies, plus other quality specs at an affordable price. You can stream your favorite movies in high-resolution or play online with friends in the latest games.
Additionally, featuring 8th-gen Intel Core processors and GTX 10-Series graphics, this laptop can handle modern AAA games while providing reliability and stability, with anti-dust cooling and a 20-million keystroke-durability backlit keyboard. Besides, Dual fans with anti-dust technology significantly prolong FX504's lifespan and provide stable performance for graphics-intensive gaming.
PROS
Durable and lightweight
Dual fans with anti cooling technology
Affordable
Big memory status
Nice, and soft keyboard
2) MSI GS75 Stealth 10SF-609 17.3″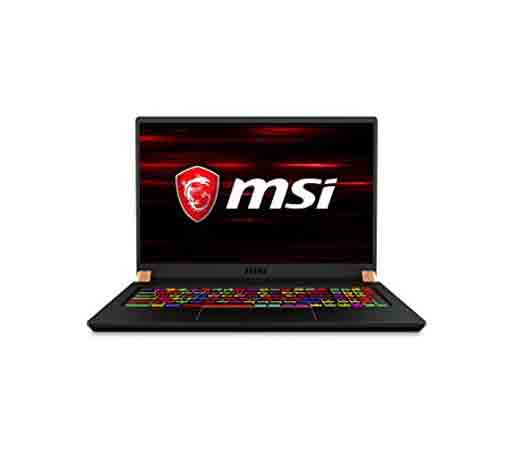 If you are looking for a machine that's going to take you through intensive programming works and gaming, MSI GS75 is a perfect choice. This device features MSI exclusive cooler boost technology that ensures effective heat dissipation. However, with the world's thinnest 0.1mm sharp-edged fan blade design, the new cooler boosts trinity enhances the fan airflow and delivers the best gaming experience.
Moreover, the battery supports more than 7hours enabling maximum productivity, and entertainment. The 17.3″ full HD screen with a resolution of (1920×1080) allows you to immerse yourself fully and view content without interaction. Besides, the high-resolution audio enables you to enjoy the premium sound quality. Other notable features include, Intel Core i7-10875H processor, 32GB (16G x 2) DDR4 3200MHz RAM, and Windows 10pro operating system.
PROS
Speedy operating system
Solid quality build
Amazing battery life
Powerful Thunderbolt 3
Advanced cooling technology
3) Acer Aspire 7 Casual Gaming Laptop, 15.6″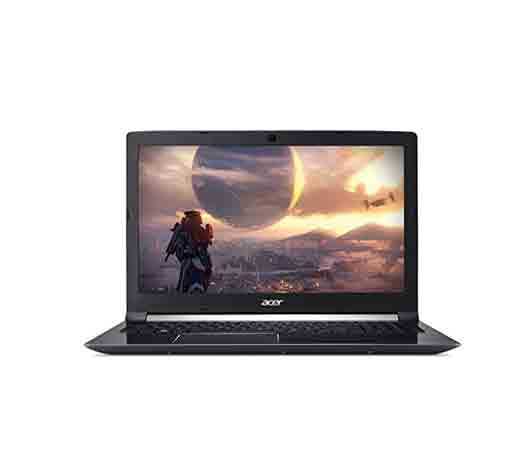 The Aspire 7 offers you the versatility to power through the toughest tasks, whether you're gaming or catching up on schoolwork. This device packs the latest powerful 8th Gen Intel Core i7 processor and high-performance NVIDIA GeForce GTX 1050 Ti graphics to provide you enough support for your work. Besides, it features a beautiful 15.6 inch Full HD IPS screen that delivers epic imagery, performance, and an immersive viewing experience.
Moreover, you can enjoy clearer calls with friends and family using the onboard dual digital microphone system with background noise reduction technology. With 8GB DDR4 2400MHz memory, 128GB SSD, and 1TB 5400RPM SATA Hard Drive, plus 4 GB of dedicated GDDR5 VRAM, you can easily multitask and store as many files as possible. Interesting, the portable design is easy to place in a backpack.
PROS
Support faster data transfer and content streaming
Easily upgradeable memory
Produces rich and powerful sound
Fingerprint biometric unlock
Delivers a powerful performance
4) Acer Predator Helios 300 Gaming Laptop, PH315-53-72XD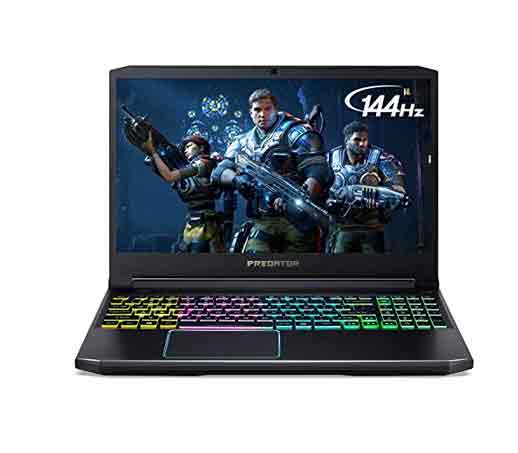 The above gaming tool comes with incredible features including overclockable NVIDIA GeForce RTX 2060 with 6 GB of dedicated GDDR6 VRAM, 10th Generation Intel Core i7-10750H 6-Core Processor (Up to 5.0 GHz) with Windows 10 Home 64 Bit operating system for a lag-free performance, supporting the most demanding tasks. However, keep the performance up and the heat down using the 4th generation AeroBlade 3D fan technology.
Moreover, you can enhance and empower what you hear. DTS X Ultra produces a high-end 360° surround sound system helping you experience favorite games with real-world sound. Besides, you can enjoy an incredibly fast 144Hz refresh rate and 3ms Overdrive response time in 15.6″ Full HD for frames that are crisp and clear for high-octane gameplay. The 1920 x 1080 resolution is the ultimate gaming display for enthusiast gamers.
PROS
Powerful built-in stereo speakers
Support Bluetooth and Wifi wireless technology
High-resolution display
Handles AAA games comfortably
Equipped with noise-canceling technology
5) Razer Blade 15 Base Gaming Laptop 2020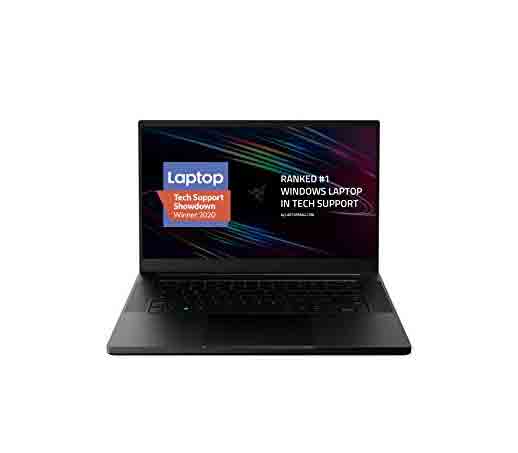 Razer Blade 15 CNC aluminum unibody frame houses incredible performance in the most compact footprint possible, while remaining remarkably durable and just 0.78″ thin. Besides, it features the 10th Gen Intel Core i7-10750H processor that provides the ultimate level of performance with up to 5.0 GHz max turbo and 6 cores. The incredible performance paired with the fast 144Hz 15. 6″ full HD thin-bezel display helps to view more vivid and seamless.
Moreover, you can easily connect using various options including Wi-Fi 6, Gigabit Ethernet, Thunderbolt 3, USB type-A and type-C ports, and HDMI, for a desktop-class experience. This device has an expandable 16GB 2933MHz dual-channel memory and 256GB PCle solid-state drive for maximum performance.
PROS
Thin and compact design
Versatile connection options
Gorgeous keyboard
Support expandable memory and storage
Immersive full HD display
6) New Apple MacBook Pro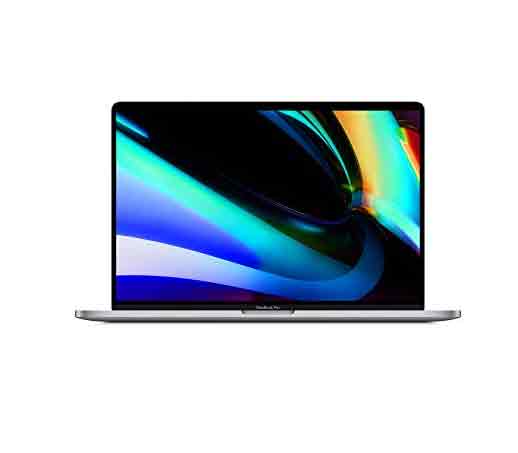 This laptop has top-notch features that make it a suitable option for pro gamers and serious programmers. It comes with both a touch bar and touch ID, for secure authentication. Besides, the 16.0-inch LED-backlit display with IPS technology and a 3072×1920 native resolution at 226 pixels per inch with support for millions of colors provides an outstanding viewing experience.
Additionally, the graphics feature AMD Radeon Pro 5300M with 4GB of GDDR6 memory with automatic graphics switching, Intel UHD Graphics 630 that offers a powerhouse performance. The ninth-generation 6-Core Intel Core i7 Processor delivers lag-free performance. Besides, the four Thunderbolt 3 (USB-C) ports support for charging, DisplayPort, Thunderbolt (up to 40 Gbps), and USB 3.1 Gen 2 (up to 10 Gbps).
PROS
Ultrafast solid-state drive
Massive storage
Long hours of battery life
Stunning Retina display
Wifi and Bluetooth compatible
7) ASUS ROG G531GT-BI7N6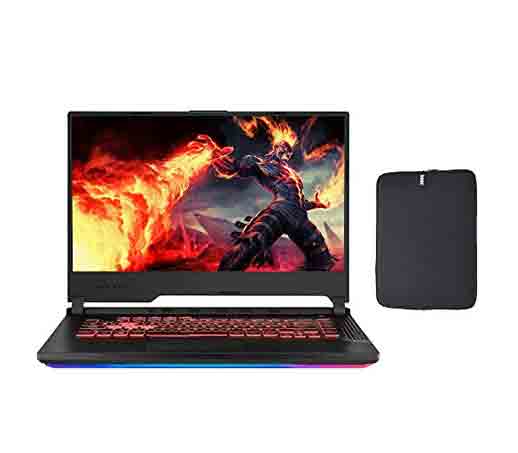 Game like a pro thanks to ASUS laptop. This machine packs a powerful Intel Core i7 9th generation processor and NVIDIA GeForce GTX 1650 4GB graphics card that delivers staggering performance, while the Overstroke technology with n-key rollover protects you from typos. Interestingly, the improved thermal design of this ASUS laptop keeps things cool even during heated gaming sessions.
Additionally, this budget laptop for photoshop enables you to store more with the 8GB memory; and 512GB solid-state drive. The 15. 6″ display lets you enjoy cinematic-quality visuals that seem true to life. With Bluetooth and wifi wireless connectivity, you can share and transfer content easily.
PROS
High storage volume
Impressive build quality
Affordable
Great keyboard
Powerful processor
8) HP Pavilion Gaming Laptop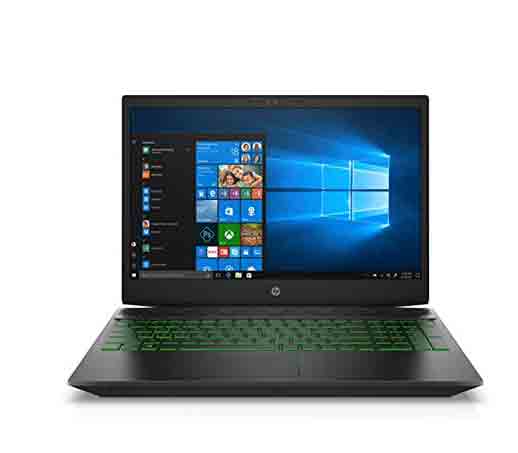 If you're searching for a laptop with a robust performance at an affordable price, the HP Pavilion is the ideal laptop for you. This is a gaming and entertainment machine, that can take on the latest games and upgrade your entertainment with NVIDIA GeForce GTX graphics. With a high resolution 1920 x 1080 display, you can enjoy an immersive gaming experience.
Moreover, experience improved performance with up to 32GB of upgradable, speedy high-bandwidth DDR4 RAM. You can boot up and load games faster with a full array of storage with up to 512GB of SSD storage. HP gaming laptop features the best intel Core i5-8300H processor and graphics, with an optimal cooling system, to deliver the best mobile gaming experience.
PROS
Runs cool and quiet
Support multitasking
Great battery life
Powerful processors
Impressive graphics
Bottom line
Take your gaming and programming creativity to the next level by investing in any of the above laptops. By visiting the provided link you can get information on prices as well as discrete information on the features and specifications. Whether you are a student or any other user you can get the best laptop that suits your need.