The Kyocera DuraXV Extreme E4810 Reviews
Kyocera DuraXV Extreme E4810 is a phone from Kyocera Corporation, a Japanese multinational ceramics, and electronics company that was founded as Kyoto Ceramic Company, Limited in 1959 by Kazuo Inamori. It is headquartered in Kyoto, Japan. It is known for making high-quality photocopy machines, printers, and phones among other products.
The phone is one of the best flip phones you can get in the market since it has a double display whereby you can check time and caller without opening the bigger screen. In fact, it is a wonderful phone that can suit ages beginning with children to seniors.
Among the Verizon flip phones for seniors. Kyocera DuraXV Extreme E4810 is one of them, and according to reviews by various customers, this phone is great in terms of usability. It does not have complicated features. Are you interested to know more about the phone? Then come with me.
What are the specifications of Kyocera DuraXV Extreme E4810?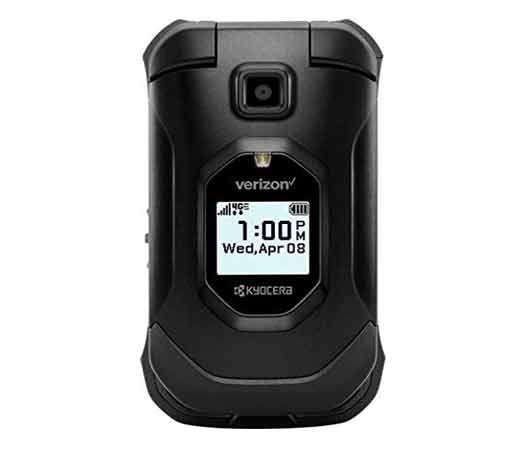 Let us see the phone's specifications so that we can be sure that the phone is as good as we think.
PROS
It is resistant to various weather elements
It is tough
Soft keys
4G connectivity
Has GPS
CONS
1) Design
Kyocera DuraXV Extreme E4810 is a rugged phone. It is made with Military Standard 810G for dust, vibration, shock, extreme temperatures, low pressure, rain, solar radiation, and icing/freezing rain among other weather elements. Since it is rugged, the phone is drop-proof up to. 1.5m o concrete. It is IP68 dustproof, and waterproof up to 2 m to duration of 30 minutes
Moreover, the phone measures 110, 8 x 56, 4 x 27, 3 mm. Also, it is a bit heavy as it weighs 193 g. It has a standard keypad. Also, it features a notification light, a numeric keypad with soft keys. Generally, the phone is made of plastic materials. It is black in color.
2) Network
Kyocera DuraXV Extreme E4810 has an excellent communication system. It has several bands which include 2(1900), 4(AWS-1), 5(850), 12(700 a), and 13(700 c). The UMTS are 850, 1900, and 2100 MHz while the data speeds are LTE Cat 4 (150/50 Mbit/s), HSPA, and HSUPA.
No wonder the phone is one of the best 4G flip phones at Verizon. Such connections will always be the best for people who need constant communication. The phone has HD voice output.
3) Display
Amazingly, Kyocera DuraXV Extreme E481 has a screen size of 2.6 inches. Although the screen is not as big as that of smartphones, it is worthy as far as the phone is concerned. Icons are clear as well as contacts and messages.
The screen has a resolution of 320 x 240 pixels with 154 PPI. This makes all items on the screen properly visible with unaided eyes. The display technology for the phone is TFT while the screen to body ratio is 33.52 %.
4) Communication
I found out that the phone has various communication features. It has Bluetooth version 4.2 for faster sharing of data. It also features WiFi connectivity with 802.11 a, b, g, n, dual-band, and Hotspot. Share your internet with other users while you also enjoy the internet connection.
The phone also has USB type-C which is reversible. It helps you charge the phone fast as compared to other traditional chargers that were very slow. Additionally, the feature phone has GPS. It is rare to see a feature phone with GPS. You will never get lost with this phone as long as you understand how to utilize the GPS features.
Interestingly, the device is hearing aid compatible and can work with M4 and T4. It is thus suitable for people with hearing problems. The excellent communication system makes it one of the best Boost Mobile flip phones.
5) Storage
This is a feature phone and you do not expect it to have large memories like smartphones. It has a RAM of 2 GB. To get a feature phone with 2 GB RAM is not easy and thus this is a wonderful gadget to own.
Use the 16 GB storage memory to save as many files as possible such as music, videos, and photos. It can accommodate a microSDXC of up to 512 GB.
6) Platform
The phone works with Qualcomm 215 as the system Chip. Furthermore, it has a Quad-core (1200 MHz, Arm Cortex-A53, 64-bit, 28 nm) processor. Moreover, the phone operates on Adreno 308.
7) Camera
The phone has a single camera of 5MP located at the back. It can record videos of 1280×720 (HD) and it has an autofocus feature. Although the phone is not that great, it can take wonderful photos and videos for future reference. Therefore, it is not just a cell phone that only makes calls but that which can save your memories.
8) Sound
It is pleasing to see that the phone supports headphones. It has a 3.5mm jack where you can insert your earphones to listen to music as well as to answer calls. Its speaker system features an earpiece and multiple speakers. The phone also has an FM radio so that you can listen to your favorite channels on the move. You can even play the radio on a loudspeaker for louder sounds.
9) Battery
Although not as powerful as that of smartphones, the phone has a Li-Ion, user-replaceable battery with a charge capacity of 1770 mAh. When fully charged, it can take you the whole day since as a feature phone; it does not consume a lot of power when on standby mode.
Is Kyocera DuraXV Extreme E4810 suitable for the elderly?
The phone is good for the elderly since it has a SOS button so that the users can call for help when in need. Furthermore, the keys are big and soft so that it is easy for the elderly to operate them. Additionally, it supports hearing aids which are essential components to most elderly people.
Bottom line
Kyocera DuraXV Extreme E4810 is an amazing phone that is suitable for all ages. The elderly can find it very useful since it has features such as SOS and hearing aid support. Again, it is a durable phone that cannot be easily damaged due to its toughness. Above all, it resists various weather elements and this makes it a good phone to own.