The Consumer Cellular Plans and Prices
With most network providers today heavily targeting young clients, Consumer Cellular stands out for focusing on a different demographic. John Marick started Consumer Cellular in 1995 to provide service to casual cell phone users of all ages, focusing on users who are over 50 years old. As of 2021, Consumer Cellular boasts approximately 4 million subscribers, a testament to the need for such a subscriber. Consumer Cellular plans and prices have played a huge role in attracting this wide and varied market.
Consumer Cellular is an MVNO (Mobile Virtual Network Operator). It provides wireless service to its subscribers using the network infrastructure of AT&T and T-Mobile- two of the largest providers in the country. They also do wholesale reselling of AT&T services to other virtual operators. This means that Consumer Cellular does not own the infrastructure through which they provide service; rather, they purchase services in bulk from the Mobile Network Operators (MNOs) at wholesale rates and then retail the network service to their consumers. Subscribing to an MVNO will, therefore, cost you less than getting the same service from an MNO.
This helps you get the best cell phone plans from a national provider at a price you can afford. Consumer Cellular partnered with AARP in 2008 to become the select network services provider for its subscribers. This partnership meant that the Consumer Cellular plan for seniors was the first that was directly marketed to the over 50 population.
Why select Consumer Cellular?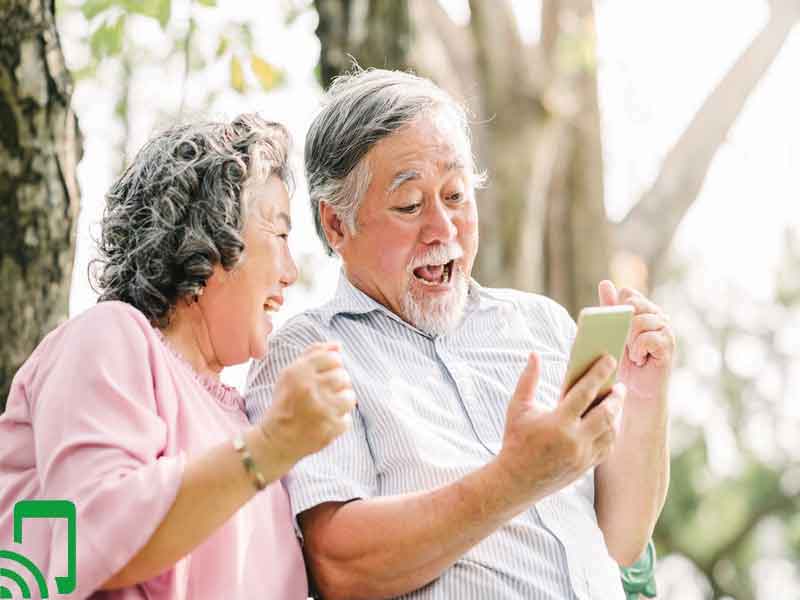 1. Network Coverage
Consumer Cellular provides network service using the network infrastructure from AT&T and T-Mobile, two of the biggest network providers in the U.S. You can be sure to get strong national coverage and dependable service. You will get the use of either AT&T or T-Mobile, not both. Based on the coverage in your area, you will be connected to the best choice for you. You can also choose a specific network by getting their sim card from a retail store.
2. Cost
Being an MVNO, Consumer Cellular offers lower charges for the same strong coverage and plans than you would get from an MNO. This is especially true for AARP cell phone plans for seniors.
3. Great customer service
Consumer Cellular has always focused on users who are over the age of 50; customer service is crucial to this target market and any person who is not that tech-savvy. If you have any issue or query regarding use, you can reach consumer cellular either by chatting with their representatives online or speaking to them over the phone. The representatives are friendly and ready to help.
4. No contract
Consumer cellular is an excellent selection if you do not want to get tied up in a commitment by your network provider, with a likelihood of serious fees for breaking that commitment. This does not mean that Consumer Cellular provides prepaid services. It is a postpaid carrier where you get your bills when you finish your billing cycle. You pay after you have already used the service.
When you reach the end of your plan, you will receive a usage alert and get upgraded to the next plan if you happen to exceed your plan's limit. You will not be charged with overage charges. You will then be able to go back to your original plan in the next month.
What are the Special features offered by Consumer Cellular?
1. AARP benefits
AARP is an interest group based in the U.S. that focuses on issues that affect persons over the age of 50 years and has approximately 38 million subscribers. If you are one of AARP members, Consumer Cellular plans AARP allows you a discount of 5% on all monthly fees and charges. You will also receive a discount of 30% on certain products and a money-back guarantee of 45 days, extended from the normal 30 days.
2. Referral rewards
If you refer your friend or family to sign up with Consumer Cellular, you get a $10 invoice credit applicable to yourself and the person you referred. There is no limit to the number of people you can refer.
3. Risk-free guarantee
If after 30 days of activating your Consumer Cellular account you are not satisfied with the level of service, you can cancel your service without paying any fees. This is extended to 45 days for AARP members.
4. CC Go
Consumer Cellular has a partnership with Left, the ride-sharing company that provides reliable transportation services for seniors who can no longer drive but still need to move around to run errands and get to appointments.
5. International travel
Consumer Cellular gives its customers an international roaming rate to use your phone whenever you travel abroad. The rates are $0.30 per minute and $0.10 per text message.
What phones can be used on Consumer Cellular?
Consumer Cellular stocks a wide variety of phones on their website that you can choose to purchase. You are guaranteed to find a device that suits your needs, from high-end appliances to mid-range and low-price devices.
If you don't have the full amount required to finance the phone, you can pay an upfront fee then spread the rest of your payments out monthly with Easypay. You will need credit approval though there will be neither charges nor additional fees.
If you do not want to spend money on a new phone, you can carry over your previous device to Consumer Cellular as long as it is compatible. You will also get a free SIM card for your phone when choosing a plan. When bringing your phone, make sure it is GSM unlocked.
Alternatively, a T-Mobile or AT&T device will work with Consumer Cellular. Consumer Cellular also offers Lifeline discounts to low-income citizens, and you may be able to get free cell phones for seniors and disabled citizens.
Consumer cellular plans and prices
Consumer Cellular offers plans that can be tailored to meet yours and your family's needs. A great benefit from Consumer Cellular is the ability to share your plan. You can add an extra line to your account at the cost of $15 per line.
You can add up to 3 extra lines. However, all of them will draw from the same pool of talk, text, and/or data. An advantage of plan sharing is that all calls between phones on the same account are free, and you can talk with any friend or family for as long as you like.
Consumer Cellular's talk only plans offer two options
$15 monthly for 250 minutes of talk time
$20 monthly for unlimited talk minutes
The data, text, and talk plans offered by Consumer Cellular are:
1. $20 monthly plan
In this plan, you get 250 minutes for talk time, unlimited text, and 500MB of data monthly
2. $25 per monthly plan
With this plan, you will receive 250 minutes of talk time, unlimited texts, and 3GB of data
3. $25 monthly plan
Alternatively, you can choose another $25 plan that gives unlimited text and talk and 500 MB of data
4. $30 monthly plan
This plan offers unlimited talk and text and 3GB of data
5. $35 monthly plan
If you choose this plan, you will receive 250 mins of talk time, unlimited text, and 10GB of data
6. $40 monthly plan
You get unlimited talk and text, as well as 10GB of data.
7. $45 monthly plan
Customers who choose this plan get 250 minutes of talk time, unlimited text, and 15GB of data.
8. $50 monthly plan
With this plan, you get unlimited text and talk, and 15GB of data.
9. $55 monthly plan
This plan gives you 250 minutes of talking time, unlimited text, and 25GB of data.
10. $60 monthly plan
The premium plan from Consumer cellular offers unlimited data, text and talk. However, your data speeds may be throttled once you use 35 G.B. of data.
All the above plan prices exclude phone costs (you can apply for the best free government smartphones through Lifeline) and are the charges for only one line. Such varied plans help you choose a tailored plan to your specific needs, depending on whether you need more talk time, texts, or additional data.
Consumer Cellular plans have a unique and attractive quality of giving you the option to change your plan in the middle of your billing cycle. If you cannot use all the talk, text, and data you chose, you can select a lower tier. If what you chose is not going to be enough, you can upgrade to a higher package.
Bottom line
Seven times in a row now, Consumer Cellular has been ranked as number 1 in customer service among wireless providers that provide no-contract services by J.D. Power. Though this is just an award, it is a clear indication of the level and high-quality of service you can expect to get as a Consumer Cellular customer.
Consumer Cellular phones for seniors and other casual cellphone users, among other benefits, is why the company has been on every Inc 5000s fastest-growing companies every year without fail since 2009.