The 7 Best Cell Phone With Limited Numbers to Call
There are many types of cell phones being manufactured across the Globe. The most common ones are smartphones like the iPhone 11, or the S10 from Samsung. Despite these phones being awed by many, they are not efficient phones for kids or seniors who are trying to use a phone for basic function like talk and text only. That's why the cell phone with limited numbers to call are available to bridge this gap.
These type of devices are able to program a few numbers which by a press of a keypad, you can contact them directly. Most of these cell phones come without internet capabilities but they are efficient for basic functions. Cell phones with limited numbers to call do not have strange designs but rather resemble the flip phone or the key pad type of phones. Most people who buy these devices are seniors or parents for their kids.
Their main function according to many people is for emergency services and rather not for use to access social media services. From this article, you will get precise information on the best devices to go for with limited numbers to call. The article also features the type of networks likely to be used under the devices. So, read ahead to learn more.
Which network does these cell phones use?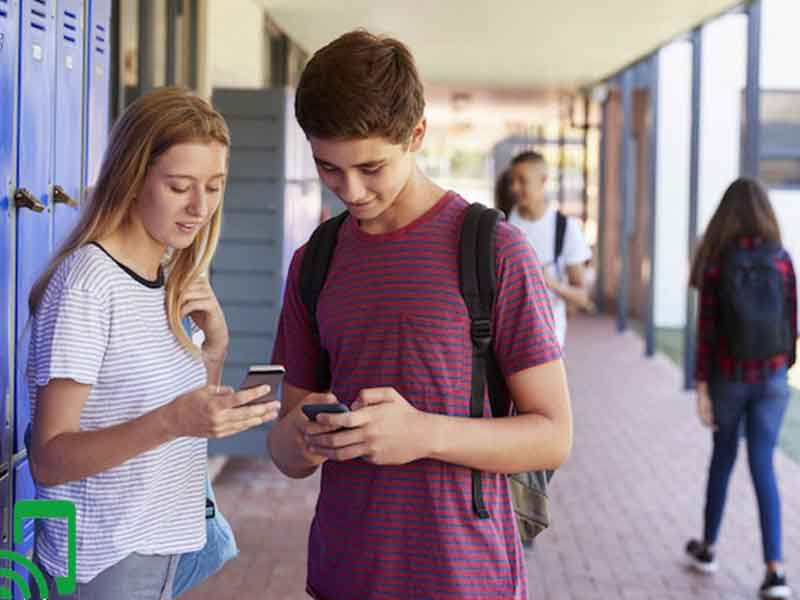 Most of these phones work under GSM network technologies. The GSM network is quite common Globally and its known best for its ability to store network data in sim cards.
Also, there are many MVNOs under the GSM network compared to the CDMA networks. This helps you to filter out the best network providers among the ones available. To choose the best network provider, always consider the following;
They should have good network coverage within your area of residence and also if possible nationwide coverage
The plans should be affordable- Most people opting for the cell [phones with limited numbers to call opt for getting talk and text only services. So, if a plan costs more than $30 per month, then that's a rip off.
Recommendation Articles:
The 20 Best Free Government Smartphones 2020
How to Replace A Qlink Wireless Lost Phone
Top 5 Consumer Cellular Phones for seniors
Below are some of the service providers you can consider;
1. AT&T
Under this network, you can consider MVNOs like; Air voice wireless, FreedomPop, H20 Wireless, Cricket wireless, TracFone, RedPocket and many more.
2. T-Mobile
The MVNOs for this network include; Mint mobile, Ultra Mobile, MetroPCS, Google FI, US mobile, Eco Mobile, Consumer cellular, Republic wireless etc.
The 7 Best Cell Phone With Limited Numbers to Call
1. Snapfon ezTWO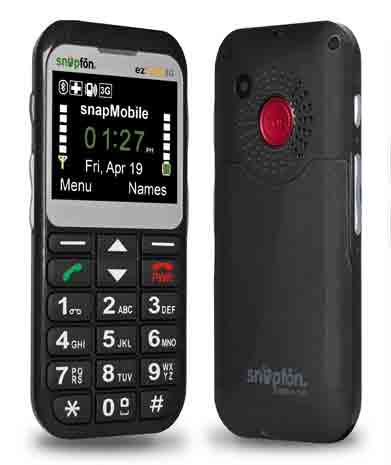 Snapfon is among the top notch manufactures for cell phone for seniors and kids. As for the Snapfon ezTWO, it comes with great perks compared to its predecessor. Its body is made of metal and enhanced with silver Bezel which gives the phone a flashy look.
The phone only weighs 2.3 oz with the battery included. The display is 2.4 inch with 480p resolution. At the back of the phone is an SOS button which if you press and hold for 5 seconds, you can contact the emergency services easily.
You can also program 6 phone numbers for direct contact with in case of emergency services. The device also features a 1000 mAh battery that can last for 3-5 hours and has a stand-by time of 4-7 days.
PROS
It offers a good quality camera
The user interface is amicable
Processing speed is fast
Emergency button is responsive
CONS
Battery makes the phone heavy
2. GreatCall Lively Flip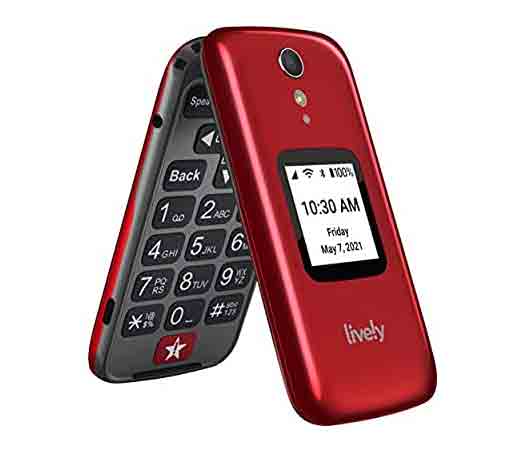 Jitterbug flip is not a ne2 name to many people especially seniors. This is among the few flip phones that work under CDMA network hence a great advantage. It is distributed by GreatCall Inc. The device has a dimension of 4.3X2.2X0.7 inches and weighs only 4.7 ounces.
The front display is 1.77 inches with 128X128 pixels while the main screen is 3.2 inches with a resolution of 480X320 pixels. It also features a 2 MP camera that is quite decent and can take quality images in varying environments.
The device runs on Qualcomm snapdragon 210 processor which is quite powerful for a flip phone. At the bottom of the device is a 5-star button which if you press you get direct contact with a customer care for emergency services.
The plans are quite affordable and costs around $14.99 per month. The storage space is 4GB and you can expand on that with a 32 GB SD card.
PROS
User friendly interface
The buttons are huge and easy to navigate
You get a dedicated 5-star emergency button
Speaker quality is high
CONS
Only works under GreatCall Inc
3. Jethro [SC490] 4G/LTE Unlocked Bar Style Cell Phone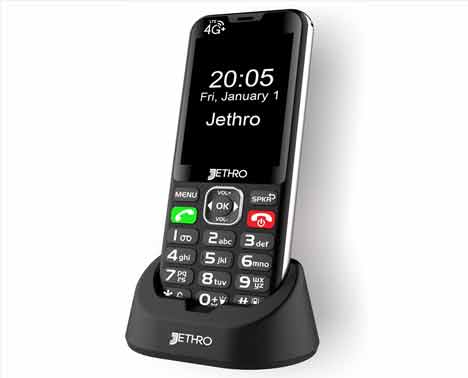 First on our list is this stunning Jethro phone with a 4-star rating in the market place. The first impression you get is a stunning simple design which is better compared to some devices. When you unbox the device, it comes with a charging dock which is very efficient to charge your device quickly.
Jethro has a 2.8-inch display with a 480p resolution which is somehow close to the HD standard. For functionality, the device can program up to 6 numbers hence the purpose which meets the standards of cell phones with limited numbers to call.
For wireless connectivity, you get Bluetooth 2.1 and EDR capabilities. For internet, you et 4G, 3G and 2G connectivity and it only works for AT&T and T-Mobile since they use GSM network technology.
PROS
Its affordable
The battery lasts longer
It has a 2.8-inch display
The device can program up to 6 numbers
CONS
Takes a long time to connect to the internet
4. BLU JOY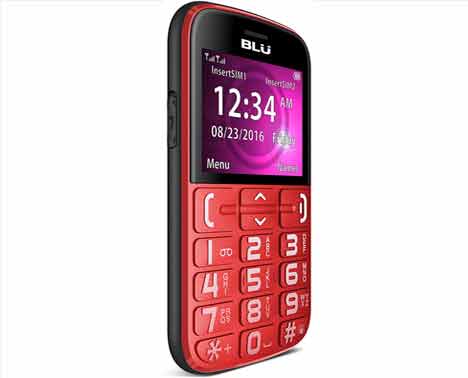 BLU JOY is a stunning simple device with amazing perks. It has a 3.5-star rating on Amazon with close to 200 reviews. The phone has a simple design and it made from sturdy plastic which prevents it from getting damaged.
The device allows 2 sim cards under the GSM network. With a built-in SOS button, the user can easily call for emergency services with a press of a button. BLU JOY has a 2.4-inch display with a friendly interface that a kid or a senior can navigate through.
It supports MP3, VGA and MP4 media services which is a great perk. The batter capacity is 1900 mAh which can last up to 8 hours under optimization. The device has a stunning camera and also a flashlight that allows you to see in the dark.
Read our related article on the Most Powerful Blu Phone. We put the top Blue phones to the test and here's what we discovered!
PROS
The user interface is amicable
Internet connectivity is fast
The display is bright
Battery lasts for a long time
CONS
Keypad spacing is not friendly
5. CPR 3G Unlocked Phone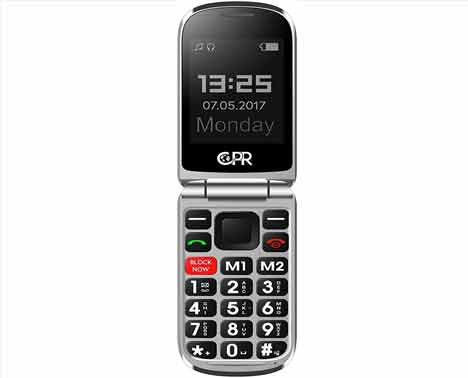 If you are looking for a secure cell phone without internet capability and has the ability to limit numbers, then this is the device for you. The phone has a flip design and it is quite sleek and light. It features a call blocking technology hence the user is safe from stalkers.
The device also features a camera with LED flash suitable for taking pictures both during the day and at night. You can also play your favorite media services like MP3 and MP4. It features a dual screen; the front 1.77-inch screen is used for notifications while the 2.4 main screen is used for calling.
It features a 1000 mAh battery that can last for 6 hours. The device works under T-Mobile and the MVNOs but does not work under Verizon networks.
PROS
It has a friendly user interface
Processing speed is quite fast
The screen resolution is high
Long lasting battery
It has reliable security features
CONS
Does not work with CDMA carriers
6. Easyfone Prime A1 Unlocked Phone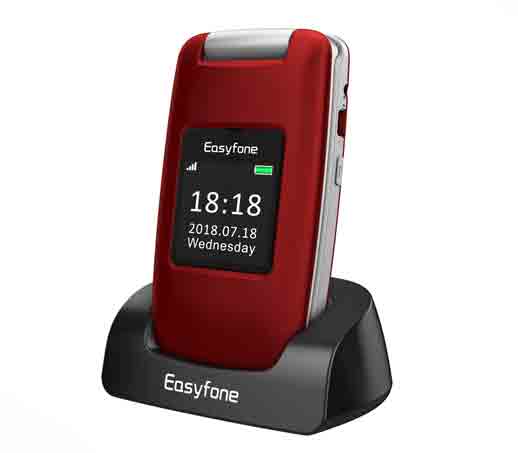 Easyfone prime A1 comes with great perks ranging from the design to the user-interface. It resembles the Jitterbug flip phone in outward appearance. The device was released in the second quarter of 2018 and received a good market response.
The device has a 2.4-inch main display with quality resolution while the outer display is 1.44 inch and its used for basic features like notifications and picking up calls. The device only weighs 3.36 ounces and has a thickness of 0.8 inches.
Inside the box is a charging dock which is way better compared to charging the device using a  It also features a 2 MP camera with LED flash that enhances the clarity of images in the dark. For memory, you get a micro Sd card slot to expand on the internal memory.
The phone has an 800 mAh battery that can last for up to 5 hours. It supports several media formats like MP3, MP4 and VGA. The device also has a SOS button for emergency services
PROS
SOS button is very responsive
It has an amicable UI
Easy to navigate through
Affordable
CONS
Only works with GSM networks
7. Mosthink Unlocked Cell Phone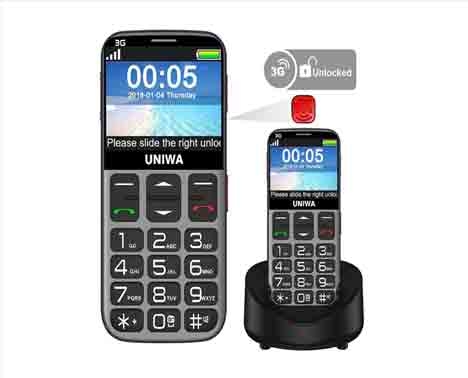 Mosthink is a stunning device with a wide range of perks. It has a 3.2-star rating on Amazon which is quite efficient for such a device. The phone has an impressive outward appearance with regards to the weight, design and shape.
The buttons are quite big and well-spaced hence it's easy for one to dial up. You also get a stunning S0S button with 5-seconds long press response. It also features a 1400 mAh battery that offers 6 hours talk time and 10 hours stand-by time.
The phone comes with a charging dock which is fast compared to charging the device with cable. For network, the device only works with GSM network technology and it allows internet services under 3G networks. So, if you plan to use Sprint on Verizon, you will not get any network services.
PROS
SOS button is responsive
It's easy to use
The display has a high resolution
It's very affordable
CONS
Camera quality is low
Bottom line
Cell phones with limited numbers to call are great devices for kids, seniors and even anybody who wishes to get the phone. The devices mentioned above have a good rating in various market places and they are very affordable too.
The only great con is that most of them work under GSM networks hence it may be hard for you if you plan to use the device in Verizon or Sprint networks. However, the plans are very affordable and start at around $10 in various service providers.