Best 10 Cell Phone Signal Boosters For Home
Globally almost half of the population has access to phones. However, at one point, people have experienced slow internet, Unclear audio during calls, or even delayed messages. Due to this, Boosters came about to help in such a situation. The main aim of this booster is to help increase the network bars of your phone.
It is widely used in Rural and also in urban areas. The device comes with great features; however; this may vary with the device you are going for. Most devices are best cell phone signal boosters for Home but can be used in offices too.
This article will help you in understanding the best signal boosters and also some of the best ways to get a cellphone booster and what you should really look. Many companies have scammed people their money by deceiving them. This is because they sell fake devices which do not boost the connectivity. Below are some of the key things you should consider when getting a signal booster
Factors To Consider When Getting A Signal Booster
1) Cable length
The cable length which connects the antennae to the device inside your house is very important.  You need to choose a cable which is short and can be stable even in harsh weather conditions. When the cable is short, the signal strength will be very high compared when it is quite long. This makes it very efficient, even in rural areas.
2) Antenna type
Antennas may vary with the type of situation you are in. There are small antennas to be used in cars and also at your Home there is a different antenna which you can use. An Omni-directional antenna is the best since it will get signals from several boosters without any hustle. So if you wish to set up a signal booster for your Home or office, then the best option is to go for the Omni-directional Antenna.
3) The network coverage area
As a signal Booster user, you may have issues with your network in the rural areas or even in some urban places. So it is best to get a device which will be very flexible in terms of area. Currently, the best signals Boosters for Home have a maximum gain of 72 dB. The range also applies in an office situation. The boosters vary a lot since you can even get a device to cover your desk only.
Recommended Articles:
The Best Telephones For Hearing Impaired
How To Replace A Qlink Wireless Lost Phone
Top Consumer Cellular Phones and Plans
4) Installation set-up
The installation set-up really matters a lot. If it is very complex, an illiterate person cannot purchase it. However, many companies are making it very easy to set up, and the only complex part is fixing the Antenna. However, once that is done, you can easily enjoy the services of the signal Booster without a hustle.
The 10 Best Cellphone Signal Boosters for Home
1. WeBoost Home 4G Cellphone Booster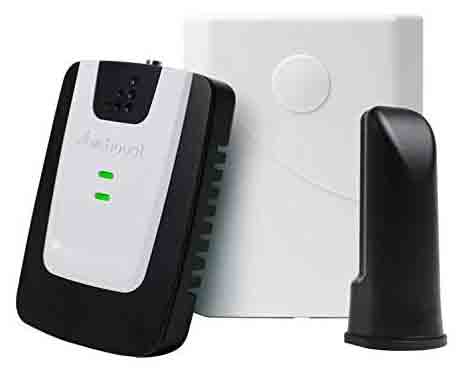 This is the best device to use both in your Home and your office. As mentioned earlier, cellphone boosters are very essential, especially if you are using a carrier in a location where the network connectivity is not reliable. First, it has a signal boost of a range of 1500 square feet.  It simply amplifies your normal cell bars to more bars. This maintains more data stability, and even calling will work efficiently.
Currently, it works with all US carriers, which can be between CDMA and GSM.  As for installation, the package comes with everything you need to install with. They give you an option to place it on the surface or mount it on a wall.  With the power of AI, this device automatically detects the signal condition of the area and boosts it to a stable condition and also of high capacity speeds.
Pros
It has a two-year warranty
The device uses artificial intelligence widely
It can be mounted or placed on a surface
The package comes with the installation material
It is quite easy to set up
Cons
The device is not quite efficient in rural areas
2. Cel-Fi GO X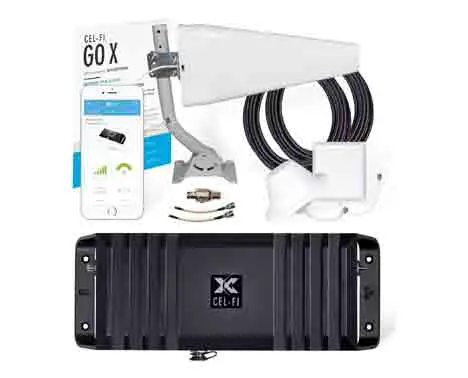 First, the Cel-Fi Go X comes with a full package which has an installation kit. Also from the package, you get extra stuff like antenna mount and lightning surge protector. The surge protector is very efficient in places affected by lighting during winter hence making it very efficient. Cel-Fi has a reliable customer care service that will always help you when you are not sure what to do.
The signal booster can cover up to 10,000 sq. Feet on an open space. In an office at your Home, if you live in a single floor, the Cel-Fi can cover up to 1,500 sq. Ft. Lastly, it is compatible with every carrier in the US; hence, you can use it anywhere. The set-up is very easy, and if you feel stuck, Cel-Fi can always connect you to someone who can help very easily.
Pros
Can cover up to 10000 sq. ft. in an open area
Efficient for rural areas
It has an amazing design
Boost the network up to 4G
The stability is quite high
Comes with a 1-year warranty
Cons
The set-up may be complicated for a senior
3. Directional Antenna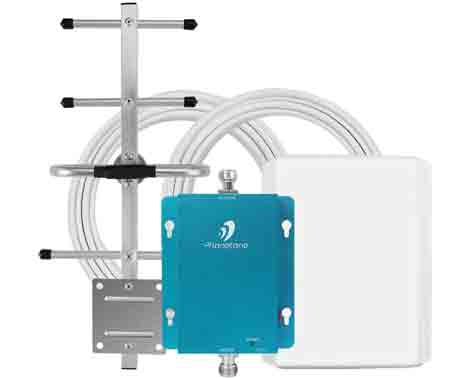 Directional Antenna is quite the best and one of the oldest signal boosters in the market. First, it is very compatible with most networks in the US. This makes it efficient to be used if you move to a rural area. It works on AT&T, Verizon wireless, consumer cellular, Cricket wireless, etc. Also, the booster supports any smartphone device ranging from Samsung, iPhone, Xiaomi, and many more.
It has coverage of up to 4500 sq. Feet at your Home. When you purchase the device from Amazon, you get all the installation stuffed in the package. It includes the mounting screw kit and the manual for installation.  As for the set-up box, you can have the option of placing it on a desk or mounting it on the wall. The company gives you a one year warranty for the product, so you don't have to worry incase it has malfunctioned.
Pros
Efficient for old manufactured smartphones and the latest ones
The package comes with installation kit
It is very easy to set-up
The response is swift and reliable
It comes with a lightning protector
Cons
Boosts up to 3G networks only
4. WeBoost Drive 3G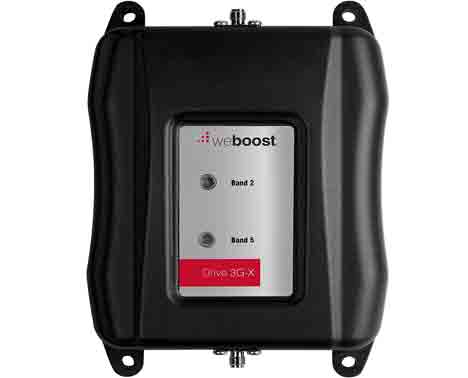 The WeBoost drive is known across the US as one for the best Signal boosters for Home. First, it is very compatible with all the US carriers like AT&T mobile, Straight Talk, US Cellular, Cricket wireless, and many more. The WeBoost can enhance your signal up to 32X. In a single floor area, the device can cover up to a range of 1500 sq. Ft.
Also in the one area, like a construction site or a field, the device can cover a maximum of 10, 000 sq. Ft.  You also get less dropped calls with this device, and most of all, it improves the download and upload speed of your devices. As for installation, it is quite stressed free. The purchased package comes with full installation kit and a manual to guide you through. You can also call the customer care who will help you in that sector.
Pros
Easy to use and set-up
The signal boost is quite reliable
It has a sleek design
Installation kit comes for free
It has a lightning arrestor
Cons
Boost connectivity up to 3G coverage
5. HiBoost 4K Smart Link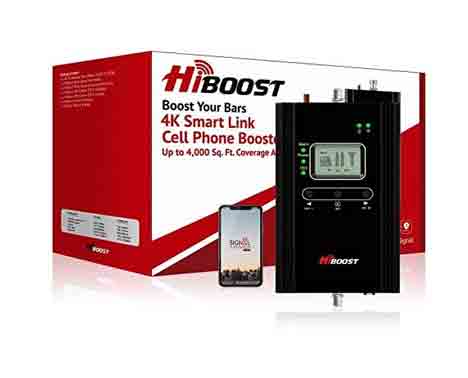 HiBoost is quite unique from other signal Boosters since it comes with an App and LED display. Due to this, people find it easy to install and set-up the device. Also, its boosting capability is very efficient despite being in a rural or urban place. As for the devices compatible, HiBoost supports GSM, CDMA, EVDO, EDGE types of phones, and many more.
As the 4K name suggests, this device boosts network signals up to 4 G LTE, and with 4G you can easily stream videos up to 4G without any trouble. In terms of coverage, HiBoost covers 4000 sq. Ft. At the maximum in a single floor building; it may cover around 1000 sq. Ft.  For any company, customer care services are very vital, and as for HiBoost 4k, this is no exception. In their website, they have the chat option and also you can reach them via phone very easily.
Pros
It is easy to set-up and use
Covers 4000 square feet
Fast and reliable internet connection
The customer care services are very reliable
Cons
Slow connectivity for rural areas
6. weBoost Drive Reach RV (470354) Cell Phone Signal Booster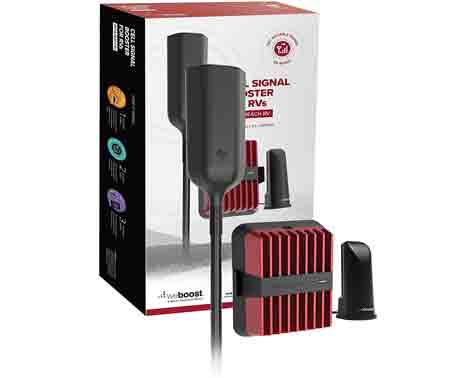 WeBoost is the best device to use if you are a mobile person. By mobile, you may be traveling to rural areas like Utah, where the network is very bad. WeBoost can boost your 3G and 4G connectivity up to 32X. This limits the amount of dropped calls, improves the audio quality, and most of all, you get faster uploads and download speeds. As for the set-up, it is quite easy and readily available. The other fascinating part is the ability is the coverage.
This device can cover up to 4000 sq. Ft. and the network bars on your phone will be very high. The installation package comes with the device; hence, you will not have problems when mounting the device. Also, if there is a problem with it, customer service is readily available to assist you in any way.  In conclusion, this device is very affordable, and it has amazing features. Feel free to check the amazon link below.
Pros
Boosts downloads and uploads speed
It is very easy to set-up and use
The signal booster works very well in rural areas
Installation tools are quite easy to use
Cons
Lacks an app to guide you in installing the device
7. zBoost ZB575-V TRIO SOHO Tri Band Verizon 4G Cell Phone Signal Booster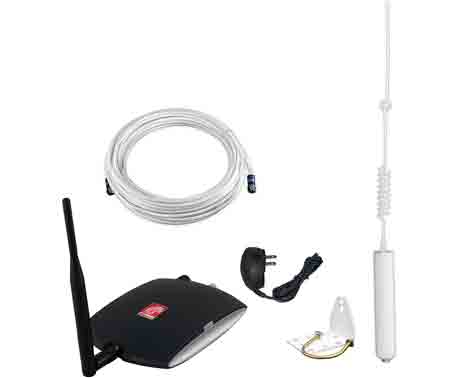 The Zb5454 can be compared to some of the best flagship devices in the market due to its exemplary performance. First, the device resembles a rooter; hence, you have the option to mount it on a wall or place it on a flat surface. Also, it can boost the signal up to 32X, and the coverage is up to 2500 sq. Ft. With that boost and coverage, there are minimal drop calls, Fast upload and download speeds are also available. The package comes with an installation kit hence you don't have to purchase one.
Also, it is compatible with most carriers in the US like Verizon Wireless, Sprint, AT&T, and much more. As for Sprint, ZBoost allows some network frequency to be used efficiently, making it one of the best signal Boosters for Home. Also, it has the Omnidirectional antenna feature whereby the device receives several signals from multiple cell towers within its proximity.
Pros
It has the Omni-directional antenna feature
Comes with an installation kit
It is quite easy to use and operate
It has a sleek design
Can be used anywhere even in rural areas
Cons
Requires some computer literacy when installing it
8. SureCall Fusion4Home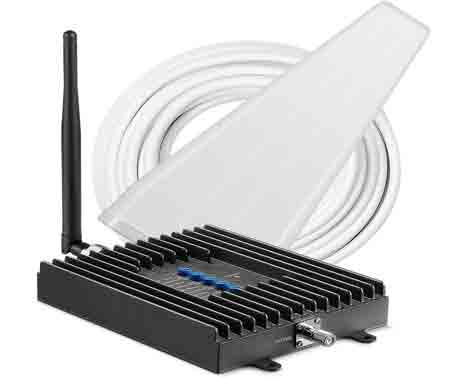 SureCall is a device which is very efficient for many people since it is used in both Canada and America. However, for efficiency and reliability, the device is more reliable in the North of the US compared to other countries.  As for the network supported standards, this device supports several network standards making them very efficient. This means that you can use both Verizon wireless and Sprint efficiently. Also, it suits a home of many people because it supports many users (up to 8 at the maximum).
The device gives you 5 network bars at a range of 5000 sq. Ft. The indoor network coverage may vary with regards to where the booster has been placed.  SureCall assures you of reduced drop calls which is very true according to some reviews.
Pros
Comes with an installation kit
Easy to set-up and Install
The technology used is first class
The booster coverage is reliable
Connectivity will always be constant
Cons
Takes some time to set-up
9. WeBoost Connect 4G 470103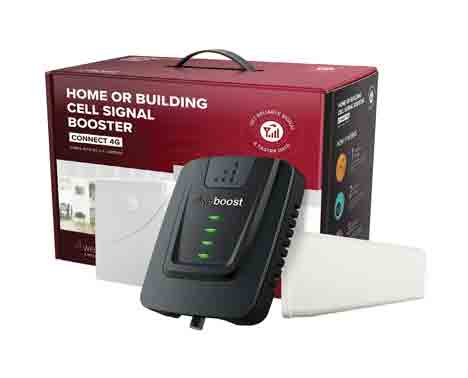 WeBoost is a very reliable device except for Sprint users. However, it is able to boost connectivity for Sprint Mobile, but it cannot exceed the frequency issued by the government. With this device, you can use it across your Home and office efficiently since it covers up to 5, 000 sq. Ft. If you are using a phone with 4G capabilities, the drop calls, slow uploads and downloads speeds you are likely to get will be very limited. Also, the device uses the Omni-directional Antenna.
This enhances boosting because it obtains network from various transmitters.  The set-up is very easy, but it applies to most people with literacy. Also, the package comes fully with an installation kit to enhance its efficiency.  If you are finding problems with the installation, you can contact the Customer care who will always avail themselves to help you set-up the device.
Pros
You get installation kit for free
Automatic signal Boosting
Easy set-up options
It can connect up to 10 devices
Cons
The set-up manual has not been clearly detailed
10. SolidRF 4Band Cell Phone Booster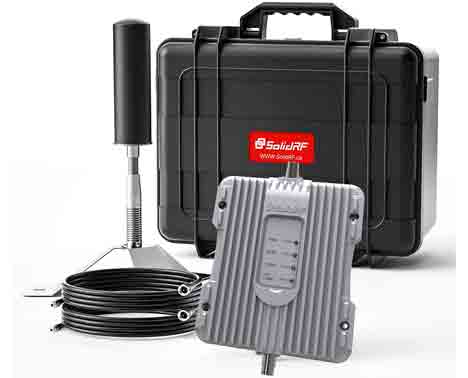 Just as the name says "Solid," SolidRF assures you of stable 4G LTE internet in any place in the US. Also, the device has a simple design which resembles a router. This means you can mount it on a wall or place it on a desk.  The device is compatible with several network connectivity depending on the phone you have. As for the carriers, the device can support all the carriers in the US, but it is not very reliable for Sprint mobile. Despite this, Sprint mobile is still a good carrier, and even without the booster, you can still use it.
The device runs on the latest technology, especially when getting a network from the transmitters. SolidRF covers about 3000 sq. Ft. within your Home or office. However, in outdoor places, the booster may vary with coverage.  SolidRF assures you of a reliable customer care service; hence if you have any issues, they will be ready to help you.
Pros
SolidRF has a simple set-up
Its signal boost works in all carriers
It comes with an installation package for free
The coverage of the device is quite wide
It has an amazing and simple design
Cons
Can only connect to a maximum of 10 people
Bottom line
In conclusion, we have seen some of the best devices for cell phone boosters. All you have to do is to choose the device of your choice and remember to check out some reviews. The good thing is that all of them come with an installation kit absolutely for free.  If you live in a rural or urban area, the devices mentioned will work for you. Lastly, if you think you cannot install the Antenna or you are having trouble installing it, contact customer care. They will help you get someone who will come to install the device.