The 8 Best Capture Cards For Laptop
Contrary to popular opinion, capture cards are not only used to record gameplay footage though that is the popular use. They have a wide array of functions in today's world. If you are doing anything intensive in both recording and streaming, a capture card will work wonders for you. For modern gamers, the games themselves and on top of that the simultaneous recording and streaming can put some serious strain on your computer. Capture cards for laptops will help to reduce the strain on your processor considerably.
Video capture is the process of converting an analog video signalto a digital video signal and sending it to local storage or external storage devices. A capture card is an expansion card that allows you to capture and transmit output images. They act as passthrough devices between your PC or game console and your video display device. You can decide to have either an external or internal capture card based on your preference. If you are on a tight budget, you can find some best budget capture cards to use.
While using a capture card, the workload of processing is taken from your processor allowing it to run your games and other functions at higher settings. Since their inception, capture cards are continually getting better with most of today's cards being able to record in HDR and 4K. Choosing one of the best capture cards under $100 will be the best decision you made for your PC and your pocket.
Internal vs External capture cards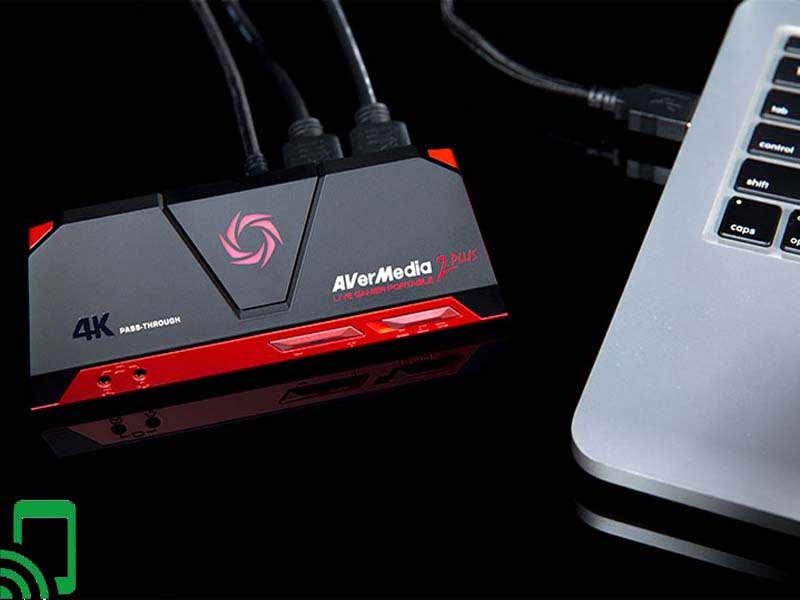 Capture cards come in two major types; external and internal. External capture cards connect to your computer using USB or any other interface. They use their internal storage or a memory card to record footage. External capture cards are portable and you can take them with you from place to place
Internal capture cards on the other hand are installed into a PCIe slot on your computer's motherboard. They are mainly for intensive use and help to reduce the load on your computer's hardware. You will need an open PCI Express slot, though, to install an internal capture card.
The ultimate guide on choosing the best capture card
Here are some of the major factors you should consider before buying a capture card.
i) Encoding
While capturing footage in 4K or even Full HD is amazing, you will need some serious processing power. A built-in hardware encoder will go a long way in compressing large file sizes and reducing the load on your computer's processor.
ii) Flashback recording
This doesn't seem like a very important feature, but flashback recording helps you record gameplay footage retroactively, so you never have a missed moment.
iii) HDR and 4K
The best capture card for PC will allow you to record in HDR which enhances visual fidelity and a wider range of colors. If you want the best resolution possible, look to invest in a capture card that can record in 4K.
Best 8 Capture Cards for Laptops
1) Elgato Game Capture HD60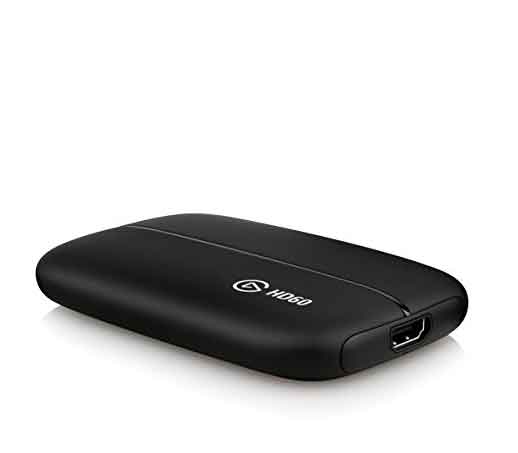 The Elgato Game Capture HD60 allows you to record your Xbox, PlayStation, or Nintendo gameplay in flawless 1080p quality at a 60fps capture rate, which is clear and Full HD despite not being 4K. This game capture card offers unlimited recording for hours and with their editing software, you can easily edit the video and upload it to your social app.
It also offers powerful performance with the cutting-edge H.264 encoder that will help in reducing the load to your processor with another great advantage being that it works with both PC and Mac.
PROS
Flashback recording
Works with both PC and Mac
1080p 60ps capture
Built-in H.264 encoder
Built-in live recording
CONS
No 4K support
Only supports HDMI inputs
2) Elgato Game Capture HD60 Pro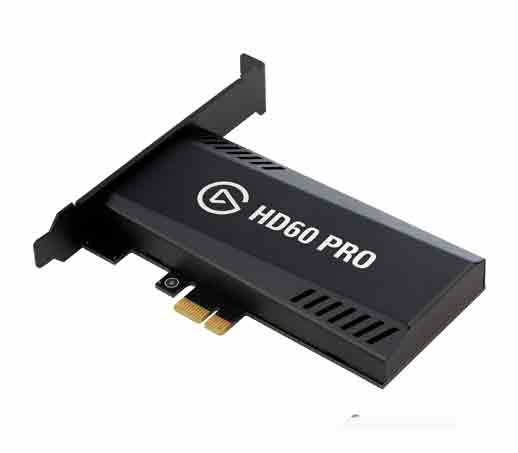 The Elgato HD60 Pro is a game capture card that can stream and record your game footage, simultaneous if you wish, in stunning Full HD 1080p 60fps with the superior low latency technology. The built-in H.264 encoding reduces the large storage that 1080p uses and keeps the file size small while reducing the load on your computer's processors. With the built-in live streaming to popular sites, you can easily show off your superior gaming skills.
PROS
Built-in H.264 hardware encoding
1080p Full HD capture
Built-in live streaming
Low latency technology
Simultaneous recording while streaming enabled
CONS
No 4K support
No HDR support
3) MYPIN HDMI 1080p Game Capture Card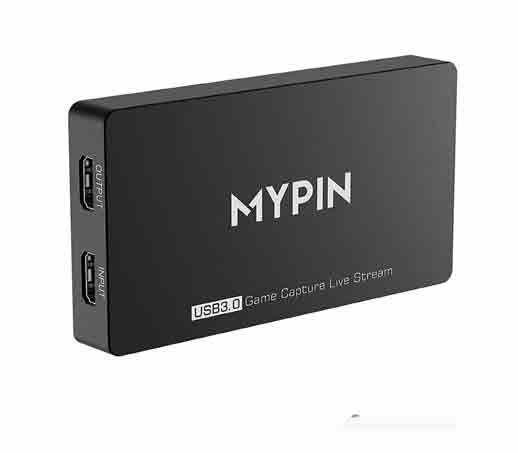 This capture card from Mypin captures gameplay from devices with HDMI outputs which are under HDCP1.4. the maximum recording resolution for this device is 1080p which you can then save to a USB flash drive or external HDD.
The installation and set up process for this capture card are extremely easy and so is its operation. It has a microphone input which you can use to add commentary whenever you are playing a game and is compatible with most HDMI outputs.
PROS
East to install and set up
Has a microphone input
Compatible with most HDMI outputs
1080p 60fps capture resolution
You can save the video to a USB device from the capture card
CONS
Doesn't support live streaming
Works only with HDMI devices under HDCP1.4
4) Elgato Game Capture 4K60 Pro MK.2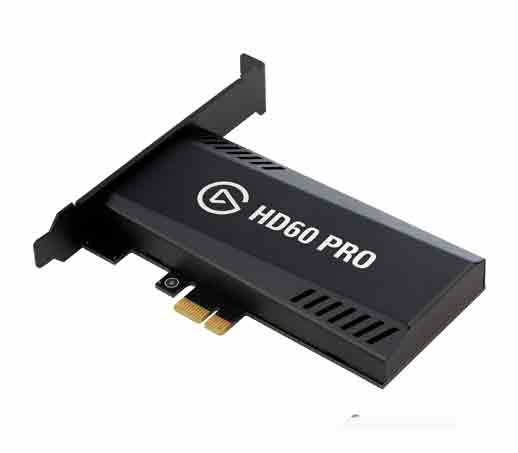 The Elgato game capture 4K60 Pro MK.2 is an improvement on the 4K60 Pro. With the Elgato capture card, you can easily capture video in 4K at 60fps and it also allows HR10 capture and passthrough. You can also simultaneously capture 4K video and stream to popular networks in 1080p.
Among the greatest you will enjoy a 240Hz passthrough on your dual PC setup and with the flashback recording you can record and save gameplay retroactively if you missed your chance.
PROS
HDR 10 capture and pass-through
Flashback recording
Low latency technology for instant game view
4K video capture
Record unlimited footage
CONS
Works best with computers with powerful processors
5) Y&H HDMI Game Capture Card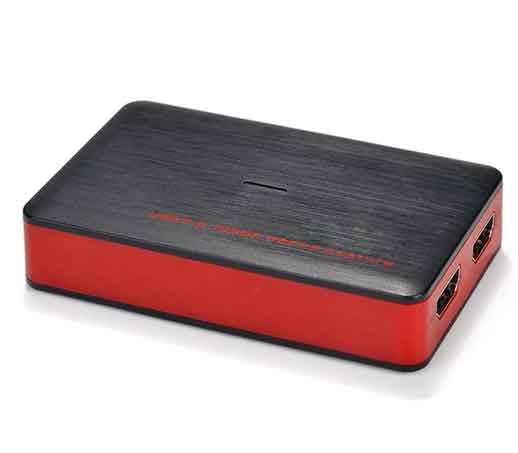 This capture card from Mypin is an upgrade from the previous devices with higher compatibility and performance. It is suitable for devices with an HDMI output and you can record your gameplay with Full HD 1080p 60fps game capture.
The included ezcap HD capture software is convenient to use and compatible with popular streaming software and services. This device is a plug and play with no driver or external power supply required to use this device.
PROS
4K support
Live streaming capability
1080p 60fps game capture
Screen share feature
Easy to set up and use
CONS
Doesn't work for HDCP2.2 devices
Doesn't support mic-in for commentary
6) Elgato Game Capture Card HD60 S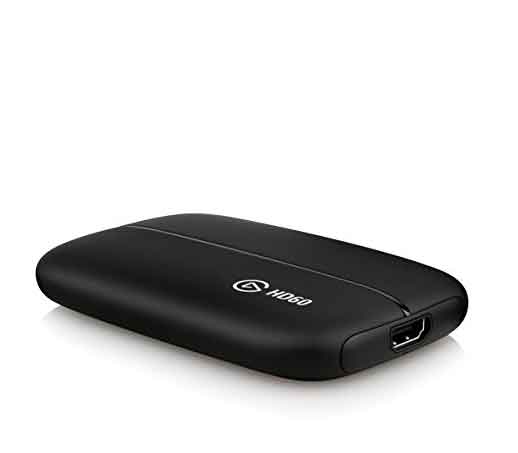 The Elgato brand is associated with the best thunderbolt 3 dock which was introduced in 2014. The HD60 is an external capture card from Elgato that offers unlimited capture to your PC. The features of this device are 1080p capture at 60fps, built-in live streaming at 60fps, low latency technology, and a built-in live commentary feature.
You can download the different software packages from their website for free so you can use the basic video editing tool and share your finest gaming moments with the world.
PROS
1080p video capture
Built-in live commentary
Built-in live streaming
Low latency technology
Flashback recording
CONS
No 4K recording
No HDR support
7) AVerMedia Live Gamer Portable 2 Plus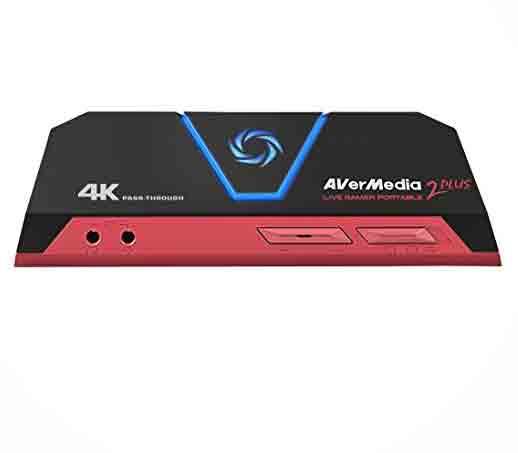 This is a capture card from AverMedia which allows you to record video in 1080p 60fps. Though it cannot record in 4K, it allows 4K and HDR passthrough for the ultimate watching experience. It also has a built-in H.264 encoder to reduce the load on your processor.
The PC free mode allows you to record without a PC by simply connecting the USB connection into power, plugging in the HDMI, and ensuring you have a microSD.
PROS
4K passthrough
HDR passthrough
Easy to set up and use
PC free mode allows you to record without a computer
Live streaming
CONS
You need to buy a microSD
No 4K recording
8) AVerMedia Live Gamer GC573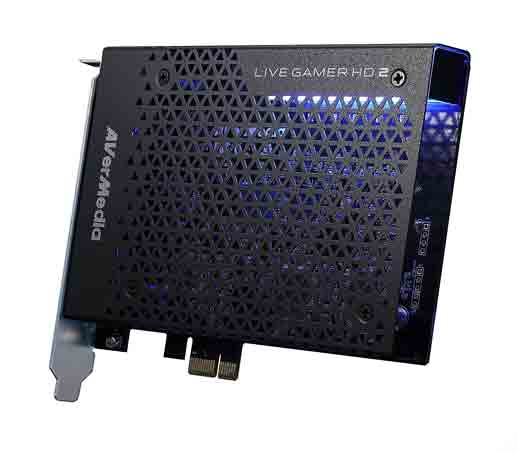 The GC573 is a future-proofed video capture device and the latest from AverMedia. This device allows for maximum recording resolution of 4K at 60fps on HDR. The HDR (High Dynamic Recording) feature is also another great plus for this device as it gives you an even better video.
The capture frame rate for this capture card is also exceptionally high with the ability to capture up to 240fps and you can play uncompressed video on your PC monitor with no lag.  The PC-free recording mode allows you to use this device with a microSD card without a PC giving it a wide array of functions.
PROS
4K support
Easy installation
A high frame rate of up to 240fps
HDR support
PC free recording mode
CONS
No online support from the manufacturer
PC free recording mode may be a little hard to use in situations which are not straightforward
Final Thoughts
Video capture devices have carved an important niche for themselves in today's world. Apart from recording amazing gameplay footage, they can be used to record from a multitude of other devices.
They can also be used to live stream your killerplays to your favorite social platform so that they are set in stone and even make some money in the process.