How to Get Absolutely Free Cell Phones without Contract
If you have ever got tied on lengthy monthly phone repayment contract, you can affirmatively concur by the fact that absolutely free cell phones without contracts are the best phone deal ever. You not only get peace of mind but, also you can reduce your monthly budget obligations. However, if you are in dire need of a free phone, the services can be found in either one of the smaller or large carriers.
Usually, many carriers, especially the mobile virtual network operators ( MNVO), will offer you a free phone when you switch for a service with them. For instance, Cricket Wireless, Boost Mobile, Metro by T-Mobile, and other renowned MVNOs have free cell phone deals for Motorola, Samsung, LG. and Apple devices right now. Additionally, you'll save tons of money on by choosing one of these prepaid carriers on your monthly cell phone plan compared to the major one.
Free cell phones sometimes happen in the form of instant refunds credited toward the full price of the phone. Besides, some phone deals are intermittent, like when getting a free second phone when you simultaneously purchase another. On the other hand, there are cell phone plans with free phones that get offered by signing up for a new plan by a specific carrier. This category of free cell phones results through the bill credits applicable to your monthly service plan.
What Are The Ways You Can Get a Free Cell Phone With No Contract?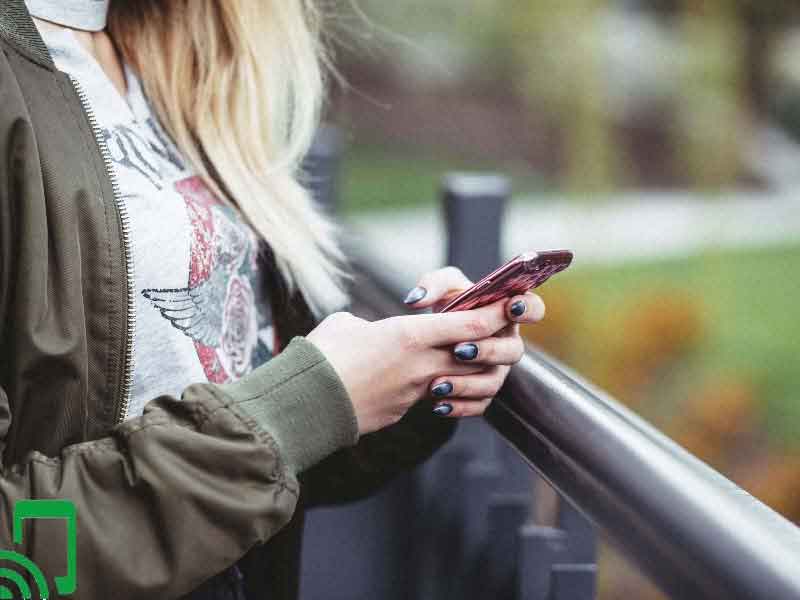 You can either benefit from a free phone for any of the following scenarios.
When you bring your current phone number over to your new phone
By switching to a carrier and activate a new account
When you trade-in for a carrier eligible device
Through buy one gets one free policy.
When you buy a promotional plan from a carrier
However, you're not tied to carriers when it comes to pursuing a free cell phone. The U.S. government runs a program known as Lifeline Assistance that helps low-income Americans to access to free government smartphones and less expensive cell phone plans.
To qualify for the program, the member needs to meet any aid program and income-based criteria. Moreover, several carriers participate in free phones and low-cost services through Lifeline, such as Safelink Wireless and QLink.
What Are The 7 Best Carriers Who Offer Entirely Free Cell Phones Without Contract?
1) T- Mobile
Mobile has a fantastic set of cell phone plans with its Magenta and Magenta Plus packages. With these plans, you can target some of the top phones on the market, and often with great deals. The most common T-Mobile deals include;
Trade-in deals
Buy-one-get-one free
Discounted deals and discounted prices.
Moreover, T-Mobile is dealing with changes since the Sprint merger. These are T-Mobile best free phone deals:
i) Samsung Galaxy Deal—BOGO deal
Buy one Samsung Galaxy S20 series and get a second free or discounted up to $1,000.
ii) iPhone 11 Deal
Activate a new line with T-Mobile and purchase any new iPhone 11 when trading in an iPhone 7 and receive up to $700 in credits for your new phone. You must buy your new phone on a monthly payment plan.
iii) iPhone Xr Deal
Receive up to $600 off a new iPhone Xr. when you trade in an eligible device with T-Mobile.
iv) iPhone SE. Deal
Get 50% off your brand new iPhone S.E. when you add a new line with T-Mobile and save $200 on the new device from Apple.
2) Verizon Wireless
Verizon offers a free phone when you switch or add a new line to their network. Interestingly, there is no trade-in required to enjoy such an incredible deal. This company sells all kinds of phones ranging from the top flagships to discounted budget devices.
Whether you are looking for an iPhone or Android smartphone, Verizon launches new and exciting deals now and then. You will receive the discount on the phone by a series of promotional credits applied to your monthly bill. The rebates may take up to two years to earn all your savings, but the dollars would be worth it.
If you already have an adorable plan and you just need a new device, Verizon has several great deals that you can benefit. Unfortunately, many of Verizon's top deals necessitate that you switch from your existing carrier or add a line to its service.
The available phone deals include;
i. Galaxy S20+ 5G
Add a new line, sign up with an unlimited plan, and get a $300 automatic discount and $150 for switching to Verizon. Still, buy Samsung Galaxy S20 or Note10 series and save up to $1,000 credit applicable 24 months on a second one when signing it up on a new line and an unlimited plan.
ii. iPhone 11
Save $150 through switching to Verizon. Get $350 just for possessing the iPhone 11 Pro or iPhone 11 Pro Max. You'll need a new line of service and an unlimited plan, and the discount gets spread over 24 months, but it's still a lot of savings.
iii. Galaxy S10e
Adding a new phone on a new line of service requires an activation fee, but if you go for the S10e right now, your new phone goes for $20 instead of $40 with no activation fee.
iv. Samsung Galaxy A51
Today's deal at Verizon rebate you the device for $10 per month when you add a new line of service to an unlimited plan.
3) AT&T
AT$T wireless carrier has been one of the top brands in telecommunications for decades. Their nationwide network coverage is second after Verizon network. However, AT&T usually offers promo deals to customers switching from their current carrier to its system and purchasing a new cell phone through a monthly payment plan.
Besides, they rarely provide discounts on their wireless plans, but AT&T is known to give customers incentives and gifts, such as prepaid gift cards, as part of various promos, as well phone deals as highlighted below;
a) Samsung Galaxy S20 Ultra
By trade in an eligible device, you get up to $700 in credit towards a new Samsung Galaxy S20 5G.
b) Google Pixel 4 64GB
Get the Google Pixel 4 64GB for $5/month after monthly bill credits on an Unlimited plan + $300 credit with trade-in and upgrade on an Unlimited plan
c) Samsung Galaxy S10e 128GB
Buy the Samsung Galaxy S10e 128GB for $5 per month after monthly bill credits plus  $150 AT&T Visa Reward Card.
d) Apple iPhone 11
Trade-in an eligible device when you buy an iPhone 11, 11 Pro or 11 Pro Max from AT&T get up to $300 credit rebate and 50% off your iPhone 11.
e) Samsung Note10
Purchase a new Samsung Galaxy Note10 with a trade-in and get up to $300 off.
f) Apple iPhone S.E. (2020) 64GB
Get the iPhone SE. (2020) 64GB for $5 per month after monthly bill credits on an unlimited plan with a new line or $10 per month with an upgrade.
4) Cricket Wireless
Cricket Wireless is among the biggest, and most popular prepaid carriers in the U.S. This MVNO is a subsidiary of AT&T and operates on its network. Most importantly, all-in pricing on their phone deals has taxes and fees included with no credit check. The methods of acquiring a free phone include;
Buy-one-get-one free
Trade-in
Freebie deals
Cricket Wireless Phone deals:
i. Samsung Galaxy J2 Pure
Switch to Cricket Wireless and port in your existing phone number to get a Samsung Galaxy J2 Pure for free. To qualify for this discount, you'll need to sign up for a Cricket plan with minimum $30 per month.
ii. LG Escape Plus
Activate a new line, transfer your number from another carrier and sign up for a minimum $30/month plan to get L.G. Escape Plus for free.
iii. Bring your own devices
Bring your own devices to Cricket Wireless and enrol in their Unlimited Plan, you'll pay $100 per month or $25 per line with the free cell phone services for life unlimited everything.
5) Twigby
Twigby is a mobile virtual network operator that leases on the Sprint 4G LTE and Verizon network. It provides low-cost monthly rates for occasional cell phone users. Additionally, if you are buying a phone from Twigby, you can order everything upfront.
If you are bringing your phone to its network, you will require ordering your SIM card online. Once you receive the SIM card, follow the guidelines in the package to activate your SIM. If you are a Samsung fan looking for an affordable phone, miss not this deal from Twigby.
Get a new Samsung Galaxy J3 Emerge from Twigby at the discounted rate of $113 upfront.
6) Sprint
As with the other major carriers such as Verizon, and T-Mobile, Sprint provides all of the latest models from the current names in cellular technology. You can find phones from Samsung, Apple, Google, and more, as well as other data or cellular-enabled devices.
Sprint offers refurbished phones for a fraction of their original prices, making them an attractive deal for those who don't strive for the newest model. You could get an iPhone that has passed one or two generations, with high technology for far less than you would have bought a few years ago while brand new. However, Sprint cell phones can get paid:
At full price upfront
Through Sprint's Flex leasing system whereby after the lease period, you own your current phone or return it and upgrade to a newer model.
For instance, if you have a Samsung Galaxy phone or an iPhone, you'll be entitled to an upgrade after just one year of leasing, six months earlier than with other phones.
7) MetroPCS
MetroPCS, now Metro by T-Mobile is a long-standing MVNO that operates on T-Mobile's 4G LTE network and offers cheapest cell phone plans with unlimited everything. Besides, before you purchase a new phone with Metro, make sure you select the best deal possible. If there's a specific phone model you need, time your purchase to get the lowest price.
The below are the phone deals by MetroPcs;
i) iPhone 7 (32GB)
Get a new iPhone 7 (32GB) for $29.99 when you switch to Metro.
ii) Samsung Galaxy A20
Get a free Samsung Galaxy A20 through switching to Metro's $50 per month unlimited plan, which in this case is $25/month.
Bottom line
If you want to live a stress-free life, then avoid entering into long term contract when pursuing phone deals. Interestingly, there is good quality phone ranging from iPhones and androids as discussed above, that you get hassle-free without complicated terms and conditions. You can visit the above providers and choose the best phone that works for you while the stock lasts!