Top 5 AARP Cell Phone Plans Discounts For Seniors
AARP is one of the most vibrant organizations across the US, which you can ever wish to enroll. Currently, the company serves around 38 million people, and most of them have written positive feedback towards their membership. What is more intriguing is the AARP cell phone discounts that have brought about a massive increase in AARP members over the past few years. Many cell phone discounts are a limited time offer, but with AARP, you are assured of a long term discount on your cell phone plans.
There are also no long-term contracts that would bind you to AARP. You are always free to cancel your plan anytime, and no one will force you to leave. However, if you find AARP is not a perfect place for you, it would be best that you leave a review of why you left so that the AARP team may work on improvements. AARP is also not limited to only retired persons but any citizen above 18 years.
However, it has come to the fact that seniors will be more beneficial, especially when it comes to cell phone plans. This is because carriers offer AARP discounts seniors plans and not any other ordinary plans. The process of joining and enjoying AARP cell phone plans for seniors is straightforward. Also, the monthly fee charged is not expensive at all, and it varies from time to time.
Where can you buy phones and get AARP discounts?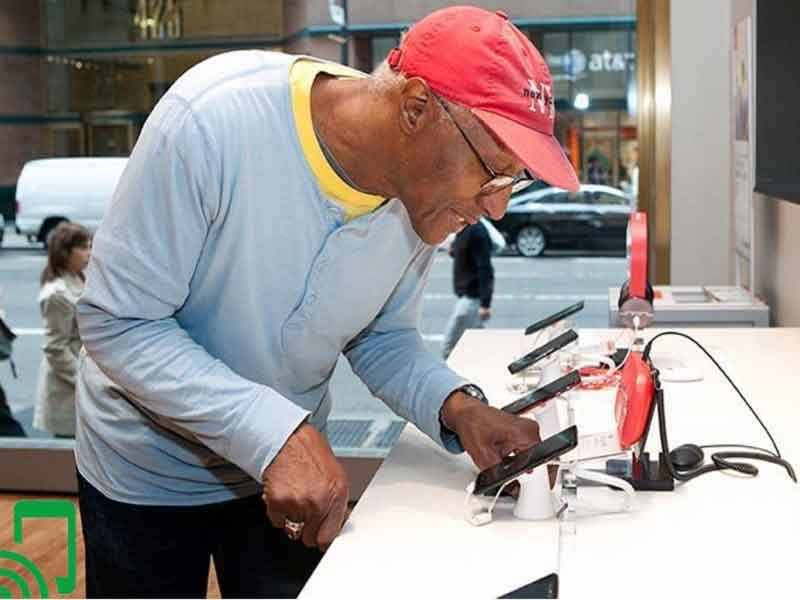 There are some stores that will accept AARP membership, while others will not.  The good thing is that a large portion of the market allows AARP membership cards so that you get a discount. This also applies to online stores.
However, the major challenge is that the discount is not constant among several stores, but for competition purposes, they may keep it that way. Some of the stores likely to give you a discount on your next phone or any accessories are the following;
Amazon
The Amazon is the biggest dealer in the online store business. You can get up to a 10% discount on selected phone accessories and in the limited offer; some phones. To verify that you are an AARP member, you will need to use a promotional code which will be offered to you by AARP
Walmart
The Walmart is a company that realized revenue of up to $500 billion just last year. They offer lots of commodities ranging from phones, home accessories, and many more. Also, here, a promotional code will be required to redeem a discount if you are an AARP member.
These are the 2 major platforms that can help to get AARP cell phone discounts. Once you have a promotional code from AARP, it will be easier to redeem a discount. For Walmart, in case you go to a retail store, all you have to do is show your AARP membership card, and you will get a discount on the selected item. Below are some of the other benefits that you get aside from discounts on cell phone plans from AARP;
Why you should join AARP
Apart from getting AARP cell phone discounts, you can enjoy a wide range of benefits from AARP.  It does not only focus on cell phones and plans only but other services that seniors will love to be part of. Below are some of the other benefits you will get to relish when you become an AARP member;
Discounts on the car and home insurance
Free financial advice- This will work perfectly after your retirement, and you would wish to invest your money or any financial services. You can also read and order free financial publications to learn more
You will be able to pay less for a drug prescription in case you are on drugs.
You get free AARP games to play in their online platform
There is an educative and practical AARP magazine which you can read to learn on things like scams targeted to senior citizens and many more
You will save money when shopping
Discounts on flights are offered
If you have read the AARP cell phone plan reviews, you may have a clue on how you can apply to them. If you are good with online platforms, you can apply via their website or visit the nearest retail store and drop a paper application.
The 5 Best AARP Cell Phone Discounts
1. Consumer cellular AARP Discounts
Consumer cellular tops our list with its extensive of plans which you can choose from. The company also offers a risk-free policy whereby you get their services for 30 months at a zero cost. They also offer a BYOP program; hence, as long as your phone is compatible with their networks, which is GSM, then you can bring it.
Once you decide for BYOP, you can buy consumer Cellular's Sim cards in their online stores or retail stores. You may also buy a new phone from their online store at an affordable price. They offer both flip phones and smartphones which use GSM network technology. Some of the brands compatible include the following;
Samsung
Apple
LG
Motorola
PH1
Razor phone
Consumer cellular also offers two types of plans;
i) Talk plan
This plan offers text and calls only. The good thing is that the texts units are unlimited whereas 250 minutes of talk time would costs you $15 per month while unlimited minutes costs $20 per month
ii) Connect plan
This plan offers data units only;
$5 for 500 MB
$10 for 3GB
$20 for 10GB
$30 for 15GB
$40 for 25 GB per month
To apply, visit their website or a consumer cellular store near you. If you wish to add data units, you may have to switch to other plans like the consumer cellular plans AARP discounts.
2. T-Mobile AARP Discounts
T-Mobile is another service provider known to offer the best network coverage as compared to other big service providers in the market. With the advancement in tech, you can make all your applications in their online platform as long as you are conversant with it.
They also have a dedicated customer care service that will help you 24/7. The phones compatible with their network use GSM technology, so if yours uses it, you can opt for BYOP. The plans available include the following;
i) Essential Unlimited 55
This is a plan for a limited time offer available to new customers only. For $27.50 you get these benefits;
Unlimited talk, text, and data
SD streaming
3G data speeds for mobile hotspot
2G mobile data in Mexico and Canada
ii) Magenta Unlimited 55
This plan is the most renowned for seniors under T-Mobile. You get the following for only $35 per month;
Unlimited talk, text, and data
SD streaming
3GB of mobile hotspot data
5GB of 4G data in Mexico and Canada
iii) Magenta plus unlimited 55
For $45 per month the user gets the following;
Unlimited talk, text, and data
HD video streaming
20GB of mobile hotspot data
5GB of 4G data in Mexico and Canada
The plans are limited to seniors above 55 only. Discounts on cell phone plans will apply once you show your AARP membership.
3. Verizon Wireless AARP Discounts
Verizon Wireless is among the big four service providers in the country, and they come with a wide range of features. They also offer reward programs similar to the AARP cell phone discount Verizon for members under the AARP. If you are an AARP member, you will get a 10% discount on their plans.
They also offer several unlocked phones in their online stores at affordable prices. The sad thing with the senior plan is that you cannot mix match with any other plan from Verizon. There are other limitations that you can learn in their FAQs.
Currently, there is only one plan designated for seniors. It is known as the Unlimited 55+ plan, and you get the following for $60 per month per line;
Unlimited talk, text, and data
Unlimited 4G LTE data
Verizon upwards reward program
Talk, text, and data in Mexico and Canada are also included
Unlimited mobile hotspot is offered but limited to speeds 600 Kbps
SD video streaming
They have a dedicated customer care service in case you have any issues. Also, you can purchase the plan directly from their website or visit the nearest store for further assistance.
4. AT&T AARP Discounts
If you are familiar with the AT&T phone deals for existing customers, then you can testify that they offer exemplary services. They offer a better discount on both plans and selected accessories in their online stores. However, there are strict regulations regarding AARP and how it is applied to every member.
For plans, you get a 10% discount if you have proofed to be an AARP member. It is also only eligible for existing customers only. You also get a 15% discount on accessories like charges, cases ear pods, and other selected goods in their online stores.
However, it would be best that you read the policies to ensure you have a clear picture of the discounts offered. The plan for seniors applies to those of 65 years and above.
For $29.99 per month, you get amazing offers, but sadly this plan does not come with any data units but rather the following;
Unlimited minutes to AT&T customers
200 anytime minutes and additional minutes are charged at $0.45 per minute
Call forwarding
Conference calling
Call waiting
Caller ID
5. Sprint Mobile AARP Discounts
Last on our list is the robust service provider, Sprint. The company offers a wide range of plans and they also have a vast array of phones which you can choose from. AARP members are also eligible to get a plan at Sprint. You will also get a 10% discount on your total bill once you show proof of AARP membership.
The application process is very simple, and you are also assured that there will be no extra fees, hidden costs, and extra taxes charged on your credit card. Sadly this plan is not available for existing customers. However, you can get other benefits from Sprint phone deals for existing customers, whereby you get cool phones and other accessories.
Currently, there is a limited time offer whereby you get a discount if you buy two lines at $35 per line per month. The offer is valid for new customers only, and it involves the ensuing;
Unlimited talk, text, and data
Global roaming for up to 185 countries
DVD-quality video streaming
Unlimited mobile hotspot
Game streaming up to 2 Mbps
Music streaming is limited for up to 500 Kbps
With Sprint, you are also assured of stable network connectivity across the country. This also applies to rural areas. If your phone is compatible, the company allows BYOP programs, and it only takes a short time for the process to be complete. Go to their website to learn more about their offers.
Do all carriers offer cell phone discounts for AARP members?
Not all carriers are in partnership with AARP to offer discounts to their customers. This applies mostly to free government phone providers since you are getting free phones and plans; there will be no need for a discount. There are also other upcoming service providers that do not offer discounts too. For now, you can apply to the service providers mentioned above.
Bottom Line
As a senior, you deserve the best plans at an amazing price, and that is why AARP is here for you. The membership is also very affordable, and you do not have to worry about being bound into a contract at all. They also have a dedicated customer care service that will help you in case you have any issues, even aside from your cell phone plans discounts under AARP. Lastly, if you are opting for BYOP, choose a carrier that your phone will be compatible with. This will help you save some bucks from buying a new phone.