The 7 Best Refurbished Unlocked Cell Phones
Nowadays, smartphones have become relatively expensive and manufacturers have looked for ways of making them affordable to the users. One of the ways is the sale of refurbished unlocked cell phones that can be used in any carrier of choice. Unlocked phone means that it gives you the freedom to switch plans or carriers as you wish. These phones are suitable for international travelers but be aware of which networks are compatible with a certain unlocked phone.
As for the refurbished phones, it means that the phone had been previously owned and sent back to the seller due to a fault and has been repaired for a resale. Many people tend to think that refurbished phones are of inferior quality you can get a quality reconditioned phone at a pocket-friendly price. Before being resold, all refurbished phones are checked and tested to ensure that they are in full working condition.
Tests that are carried out by the refurbisher include whether the battery charges, buttons and screen responsiveness, audio quality verification as well as internet connectivity to 3G/4G/5G and Wi-Fi.  According to the Data Protection Act, the seller must wipe all the data on the phone. Some refurbished phone dealers update the handset to the latest version of the operating system that supports it. Otherwise, a refurbished phone should just function and work like its new.
What Do You Consider Before Shopping for A Refurbished Phone?
Manufacturer
You should try to buy from the original company that designed the phone. Most times manufacturers have the best phones, original buyer might have returned it for no reason hence the phone is resold on their official website so cheap.
Warranty
If the refurbished phone you wish to buy is faultless, then the manufacturer or the retailer will include some kind of warranty depending on the terms. If the phone doesn't have any warranty, then there is a high probability that the phone has issues.
Where Can You Buy the Refurbished Phones?
You can buy a refurbished phone on any certified online phone dealers like the Amazon, carriers or direct from the manufacturers. Verizon has certified pre-owned refurbished phones but the selection is limited. Mostly, Verizon refurbished phones are from Samsung and customers are likely to be locked into multiyear contracts.
It is important that if you don't have enough money to buy a new phone to just buy the gadget you can afford but while doing so consider buying an unlocked refurbished phone. If you are looking for freedom with carriers, then avoid being tied by lengthy contracts and get a cheap unlocked reconditioned phone. Sprint refurbished phones are also available to customers who normally prefer using the Sprint network.
What Are The 7 Best Refurbished Unlocked Cell Phones?
1. Samsung Galaxy S9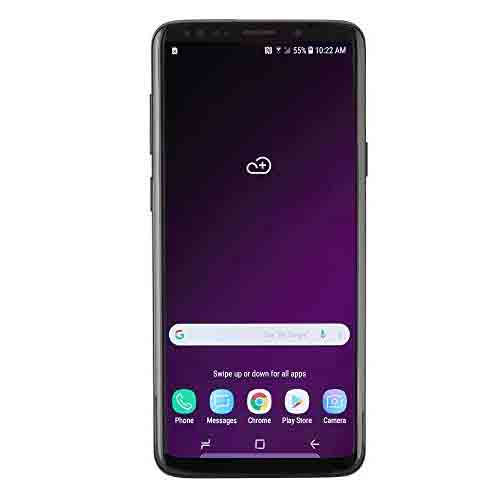 Samsung galaxy s9 has a super speed dual pixel camera with 12 megapixels rear camera and 8MP front camera that gives out brilliant and quality photos even under low light conditions. This is best camera phone for the photo lovers, galaxy S9 won't disappoint you.
Besides, it has an infinity 5.8″ display with Quad HD+ Super AMOLED with 8″ capacitive screen, corning gorilla glass 5 that gives out clear contrast. Also, the internal memory is 64GB with 4GB RAM which is expandable to 400GB for extensive storage needs.
The processing speed and overall performance is enabled by the 845 octa-core Qualcomm snapdragon and android operating system. The battery capacity is 3000mAh lithium-ion which is non-removable. It has long-serving hours that can take you through all day errands.
PROS
Intelligent scan technology
4G enabled
Fast processor
Expandable memory
It is cheap
CONS
2. Apple iPhone 8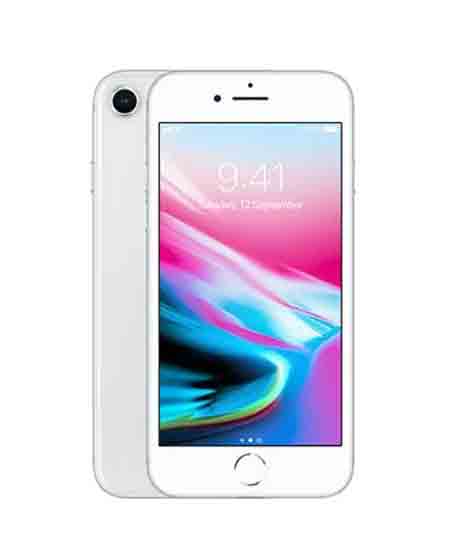 The iPhone 8 comes with amazing features with quality specs and affordable price. It captures high-quality photos and videos under low light requirements. The camera is incredible and produces photos with clarity and shoots brilliant videos.
The memory capacity packs 64GB. No hassle when it comes to file storage, you don't have to delete important files to create space. The iPhone 8 smartphone is designed in such a way that its highly resistant to dust and water.
The battery capacity is 3000mAh and it is estimated to be 80% in comparison with the new phone, the power can be sufficient for all day long. Besides, the Snapdragon 845 processor enables fast processing speed and good in device performance. The iPhone has an IP68 rating which means that it is water-resistant in up to 5 feet of water for almost 30 minutes. The refurbished iPhone 8 unlocked is highly compatible with any carrier of your choice.
PROS
High-quality phone
Good camera specifications
Water and dust resistant
Fast processing speed
Better battery health
CONS
3. Google Pixel 2 XL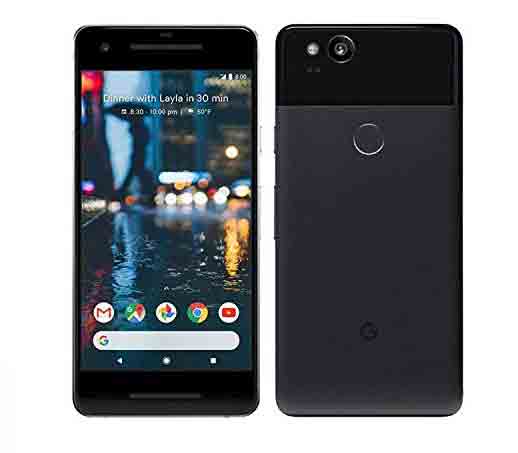 The 64 GB Internal memory and 4GB RAM provides free unlimited storage for all your photos and photos true to type. Capture your best memories with pixel and take next-level photos with HDR+ integrated into Instagram, Snapchat, and WhatsApp. The videos are steady with the help of an image stabilization system and gives incredible details even in low light with HDR+.
The display dimension is 6.0″ with high-resolution details and high definition stereo speakers dispenses an immersive sound with a better viewing experience. Besides, you can add interactive characters and emojis to live scenes with AR.
The Qualcomm snapdragon 835 octa-core processor has amazing functionality if you are connected to google it is super functional. Google photos helps you save and retrieve photos whenever your gadget gets lost.
PROS
All-day battery
High-resolution display
Good quality camera
Google photos retrieval
Quick processor
CONS
4. Samsung Galaxy S7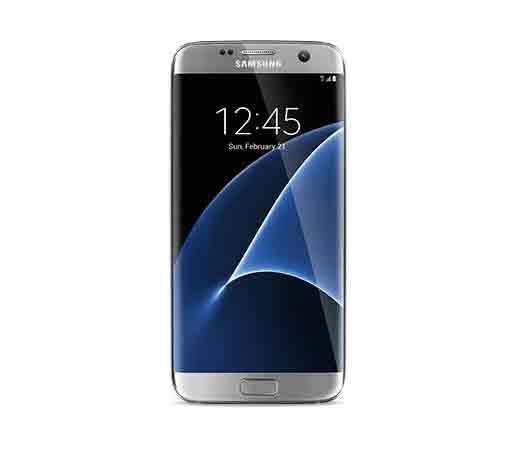 Samsung galaxy 7 is not new. However, it has been refurbished to look as if new. Amazon technicians have replaced all the non-functioning parts to ensure that the phone works just like the normal phones. To safeguard you from any inconveniences, amazon has given you a 90-day renewed guarantee whereby you can return the phone for replacement or refund if it does not work as expected. The phone comes with no headphones. However, you can buy some since they cost little pennies.
Another good thing with the phone is that it works with all GSM Networks including T-Mobile, Ultra, Cricket, MetroPCS, and many more. It can also work with all GSM international carriers. It means that you can use the phone no matter your location. The 12 MP camera is all that you need to take excellent photos. It also supports 4K videos.
The 5.1-inch QHD AMOLED screen is good for watching movies. Moreover, you can use it to watch your photos as well as typing documents. Again, the 32GB ROM is enough to help you save thousands of files. The phone has a 4GB RAM. It makes it work very fast. You can expand the storage space with a memory card of up to microSD up to 256GB.
PROS
32 GB ROM
4 GB RAM
Amazon renewed Guarantee
High-resolution camera
Supports 4K videos
CONS
5. Motorola Moto G7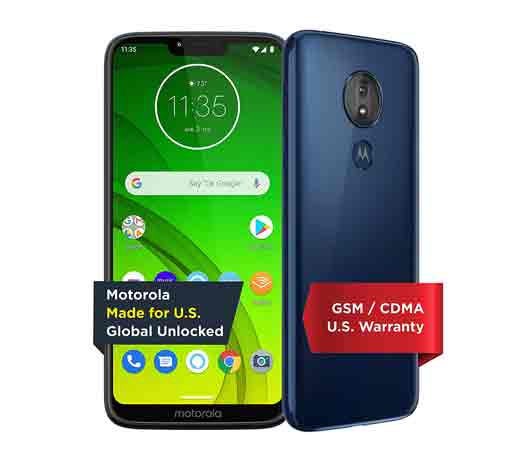 The phone has a 64GB ROM. Save all you think is important to you including photos, movies, documentaries and so on. You may even not need a memory card since the 64 GB ROM is not easy to exhaust. Moreover, the 4GB RAM makes the phone work very fast. It can handle many applications at a go. Interestingly, the phone supports dual SIM. You can use two service providers simultaneously.
If you love watching movies, then the 6.2″ screen is all that you need. You can even stream internet TV on this phone and watch comfortably. In addition, the phone is great when it comes to browsing the internet since it has 4G LTE for GSM connectivity only. On top of all this, the phone is factory unlocked.
Despite the good specifications the phone has no warranty. However, there is no probability of getting problems with the phone. The phone has a fingerprint sensor and a 3000mAh battery. It also has 12MP + 5MP cameras.
PROS
64 GB ROM +4 GB RAM
6.2″ screen
12MP + 5MP cameras
Factory unlocked
4G LTE GSM connectivity
CONS
Only works with GSM networks
6. Motorola Moto G8 Play XT2015-2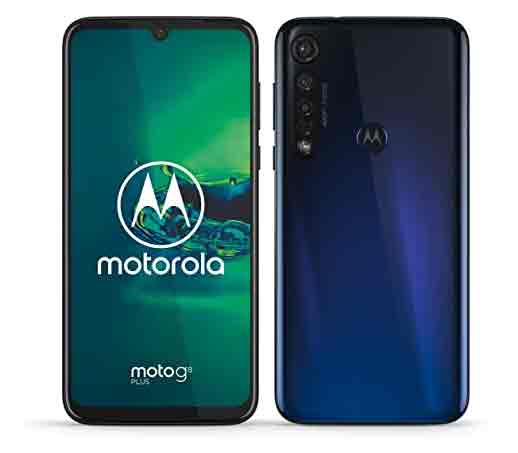 If you need a phone with a large memory, then you need this phone. The phone has a 32GB internal memory that can save a lot of items such as documents, photos, music, videos, and documentaries. The phone has a 6.2″ screen. You can use the phone to watch videos it has a resolution of 19:9.
The screen is HD+. Again, it has 4G LTE GSM connectivity that has fast connectivity for calls and internet.  You can even use it to browse on your desktop or laptop by tethering. Interestingly, the phone is factory unlocked so that you can use it with any network of your choice.
The phone has a 6.2-inch display that helps you to watch videos and photos. It is also suitable when it comes to editing documents. Moreover, it has a fingerprint sensor and face unlock for increased security.
PROS
Fingerprint sensor and face unlock
Large screen
4G LTE connectivity
Large internal memory
Works with all carriers
CONS
7. LG Stylo 4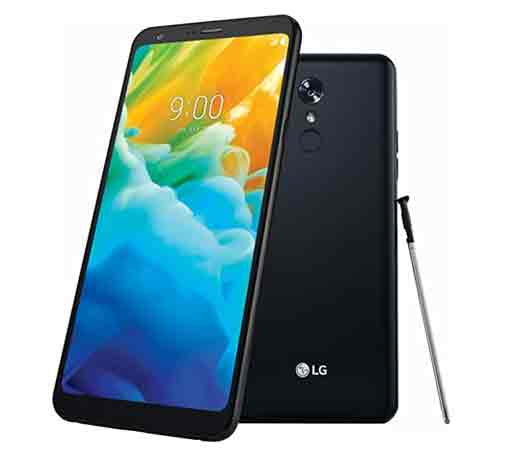 This is a GSM unlocked phone. You can use it with any carrier that supports GSM connectivity. Again, it has a 6.2-inch screen. You can watch photos, videos, and documents with ease. Moreover, save your files in the 32 GB internal. Save photos, music, documents, and videos on this phone. The phone is black and renewed.
The phone has a 1.8GHz processor speed. Again, it has an Octal-Core Qualcomm Snapdragon Sdm450 processor. This makes the phone very fast when performing activities such as playing games, typing documents and so on. Another interesting thing about this phone is that it has an Amazon Renewed guarantee that gives you a 90-day return period whereby you can get a refund or a replacement of the phone if it gets issues.
PROS
It is unlocked for all carriers
Large internal storage
Large screen display
Amazon renewed guarantee
High processing speeds
CONS
Bottom Line
Unlocked phones are the best since you can use them with various service providers. When you start looking for a phone you should look for a phone that has high processing speed as well as large RAM and ROM. Large screen phones are the best when it comes to watching movies. Moreover, you should have a phone has a large capacity battery so that it can last for long. Above all, a good phone should be long-lasting and easy to use.