CenturyLink C1100t Review & GUIDE – Is it Worth the Buy?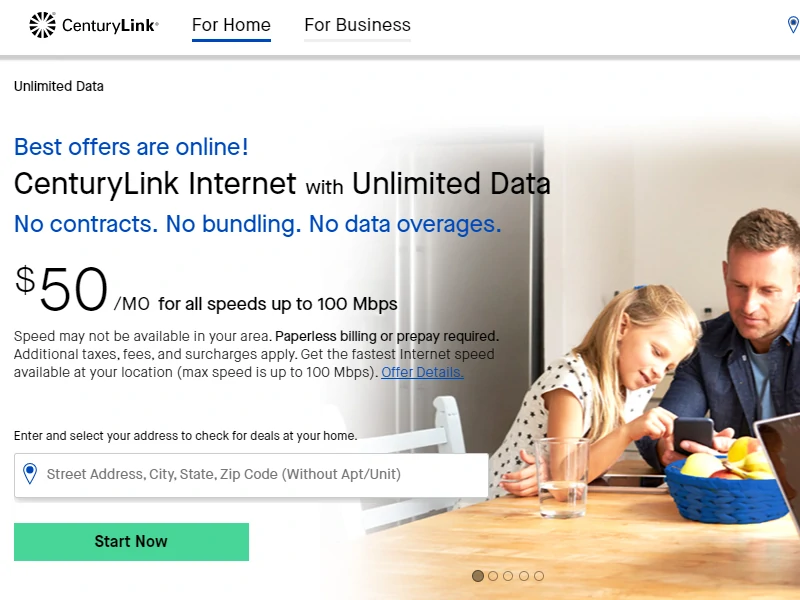 The CenturyLink Technicolor C1100T Wifi router and modem is a reliable option that supports ADSL, ADSL/ADSL2+, and VDSL2 connections, with combined rates of up to 70Mbps. 
It also has a 2.4 GHz bandwidth and supports 802.11 b/g/n networking protocols.
CenturyLink routers have been offering cutting-edge technology and creative network support since 1968.
We review one of their best modems so keep reading for more information.
Centurylink C1100t Review 
We knew CenturyLink routers had been around for a long time, and that the company has been around for several decades.
This company's extended history of service is characterized by dependability over other networks and a profound grasp of what will give an ideal range for high-speed internet.
Here's a great video breaking down CenturyLink and its services:
Quick Rundown of the System
The model we have evaluated here is an innovative network router of CenturyLink Technicolor C1100T VDSL2 modem 802.11n WiFi router.
It is one of the finest modems for CenturyLink internet services for home use, supporting ADSL, ADSL, ADSL2+, and VDSL2.
The Technicolor C1100t comes with 802.11 b/g/n networking for a high-quality network experience.
The C1100T model was marketed by Technicolor as an easy gateway for installation and comes with a self-activation system with an online CenturyLink account.
Great for the Home
The Technicolor C1100T is an excellent choice for a reliable home connection when you're on a tight budget.
The C1100T modem speed can reach up to 70MB per second on a 2.4 GHz band, making it ideal for residential internet access with a low-cost connection.
Despite the lack of dual-band signal enhancers, 70MBps internet speed is adequate and maybe even better.
It's adequate for an affordable internet plan that allows you to effortlessly browse the daily browsing demands on all of your devices, making it ideal for family internet.
Read More: Wireless Internet Home Plans. Here are some of the best plans for wireless internet you can buy!
Great Range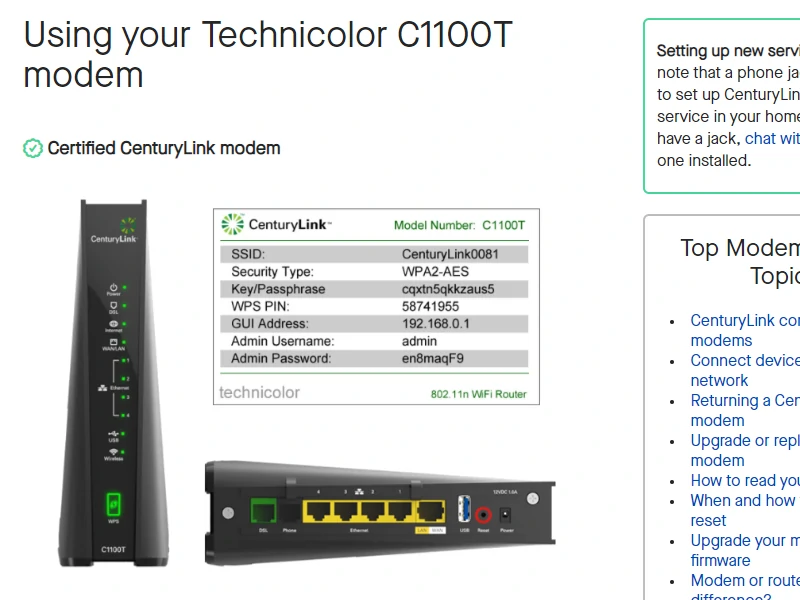 It has a nice design and a simple administrative interface with a long-reaching WiFi range that extends to three floors at steady speeds.
The modem is a small rectangular box with antennae within, and when properly set up in an open environment it can establish a large range WiFi signal.
The extremely simple-to-use Technicolor C1100T is a great area communication router with wireless internet connectivity.
The actions may be seen using the connectivity status indication LEDs on the interface, which provides easy network availability assessment.
Centurylink C1100T Modem Specs
WiFi Standard's: 802.11 b/g/n Versions
Cable Modem: DOCSIS 1.0, 1.1, 2.0, and 3.0
WiFi Speed: 70MBps at Maximums
Ethernet Ports: 4 Ethernet LAN
Other Ports: 1 USB 2.0 Master Port and 1 WAN
Power Supply: 100-240 VAC
Modem Type: DSL and Wireless Internet Router
Frequency Bandwidth: 2.4GHz band
Dimensions: 9.84 x 6.69 x 3.7 inches
Weight: 1.12 pounds or (0.5) kg
Technicolor C1100T Pros
Technicolor C1100T Modem is compatible with CenturyLink's finest service.
It's a WiFi router that performs everything with adequate speed for real-world internet browsing at the workplace, home, or workshop. 
The speed is steady, and WiFi can cover a large area without extra boosters.
As a result, the C1100T Modem is an excellent solution for simple home use.
The addition of CenturyLink broadband access through digital subscriber lines (DSL) is fantastic for the fiber-optic network, bringing greater speed to the Technicolor C1100T and allowing it to handle more customers at once.
The DSL technology coverage includes ADSL, ADSL2+, VDSL2, and GPON wireless protocols.
The C1100T Modem recognizes all these technologies and uses them to provide consumers with high-speed coverage while costing less.
CenturyLink's security features allow the Technicolor C1100T router to increase its function further and freely state all data packages.
With inspection Firewall (SPIF) safety check, DMZ protocol, connection prevention, intrusion detection, and other safety precautions this router has a lot going on.
Technicolor C1100T Cons
The positives certainly come with their negatives.
The negative is that this modem does not provide the most up-to-date WiFi technology for the most recent networking standard, 802.11ac.
It has greater compatibility for households with several 802.11b/g/n variations to enable dual-band speed.
The 2.4 GHz band has a maximum speed of 100 MBps and only transmits up to 70 MBps to slower users than the advertised speed of most modern 802.11ac routers.
There is no support for the newest 5 GHz band, which may improve overall WiFi transmission and deliver ultra-fast speeds to all connected devices.
There is also no support for dual WiFi protocols, new to current networking modems for quicker wireless access.
DSL has few constraints, does not provide the most current WiFi technology for signal strength, and is slower than new Technicolor members.
FAQs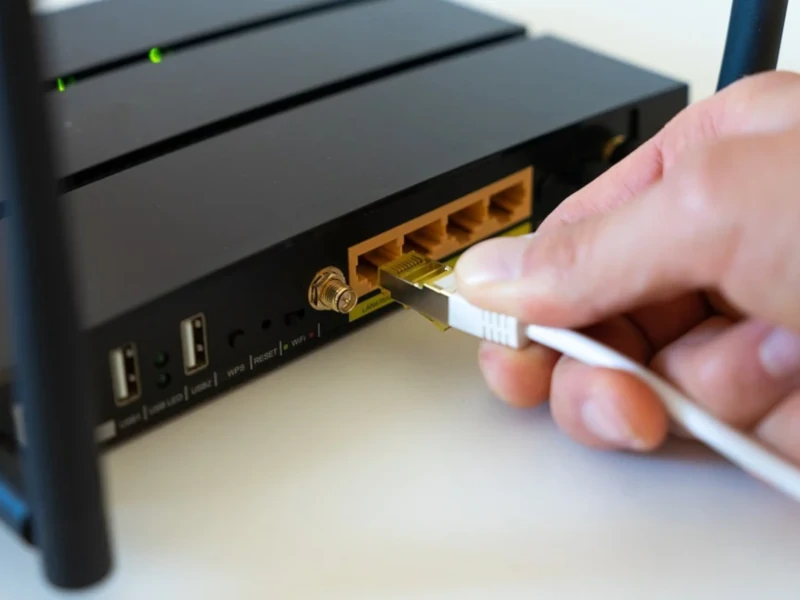 What is the Speed of the Technicolor C1100T Modem?
The WiFi speed of the Technicolor C1100T modem that we evaluated has a maximum bandwidth of 70MBps, which is enough for a modest internet connection. 
It is compatible with CenturyLink as a mix of DSL (digital subscriber line) and fiber optic internet.
It is generally available for residential internet, but not as fast as cable or fiber optic internet.
Is Technicolor a Reputable Router Supplier?
CenturyLink is a worldwide-known telecommunications firm that provides consumers with high-speed internet solutions in virtually every aspect of technology. 
They do business in fiber optics, DSL, mobile services, and television services throughout the United States. 
They are also a well-known name for home internet services.
Are Technicolor Modems Good for Long-Term Usage?
It's dependent on the kind of WiFi router you intend to purchase for your Centurylink internet subscription. 
The newer the device, the better the features, and a current WiFi router from the Centurylink brand is the best option for better internet. 
The one with a 5GHz band and faster WiFi 802.11b/g/n capability is ideal for long-term use.
Is the C1100T a Good Modem?
This modem/router performs admirably for its intended purpose.
In today's high-speed internet and the streaming world, CenturyLink's corporate engineering of its system to provide internet signals over existing telephone lines is poor and falling behind.
What is My CenturyLink Modem Password?
Your Admin Username and Admin Password give you access to the modem's settings interface, also called the Modem GUI.
Keep in mind that these are not the wireless network name, also called the SSID or your security key, WiFi Password.
This information can be found on a sticker attached to the modem.
Conclusion
With energy-saving features, a lightweight frame, and rather basic possibilities for mild online activity, the C1100T is a solid choice for the eco-conscious audience.
It can be a great option for tiny houses.