The 8 Best AT&T Cell Phone Signal Boosters
A cell phone signal booster is also known as an amplifier or repeater. It is made up of 3 main elements that form a wireless system to boost cellular reception. Usually, the dB gain is never below 7dB and can be over 10dB gain. The main aim of the cellular phone signal booster is taking the existing cell phone signal around your car, office, workstation or home and amplifying it. After amplification, the signal is broadcaster to the area with no reception or weak signal.
The cell phone signal booster boosts the 4G LTE, 3G or 2G voice signal in your car or home and enhances the internet speed, text and call quality. Every available AT&T cell phone signal booster works similarly: the signals coming from and being sent to the nearest AT&T tower are amplified by the booster. Every AT&T cell phone signal booster has 3 main parts; the outdoor antenna that communicates with the tower, a signal amplifier that's bi-directional which means it boosts the signal both the ''uplink and downlink'' paths and the interior antenna that communicates with the tower.
In a nutshell, a cell phone signal booster enhances internet speed, text and talks quality, as well as maintains reliable connection throughout. It also widens the coverage area and diminishes coverage problems.
How to know a booster is verified by the FCC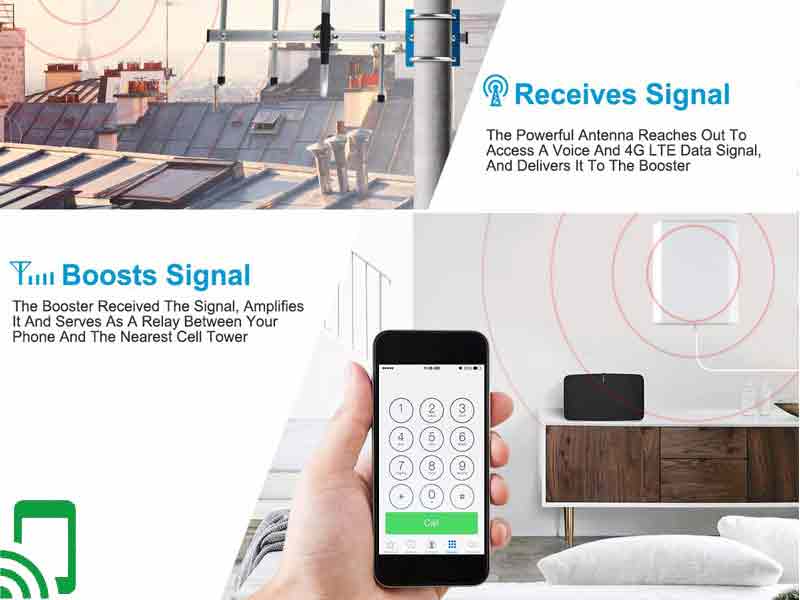 Today, both in Canada and the United States, all the cell phone signal boosters must be certified. Boosters that are not verified by the FCC may cause network interference since the decibels may exceed the recommended one. Verification of the signal boosters means that the booster works as required or indicated.
FCC (Federal Communication Commission) is a body mandated with the certification and testing of cellular boosters up for sale. If you are getting a consumer cellular phone signal booster, you should check an FCC-certified label on the package of the device.
You can also visit the FCC's website whereby they always update information regarding the boosters and how to know a verified one.
How to register AT&T cell phone signal booster
FCC requires that all consumer signal boosters be registered. Generally, the process of registration takes less than 5 minutes and is usually completed online. An online signal booster registration for AT&T contains a form to be filled out by the customer and comes with a section for FAQs.
Among the details to be indicated include the full name of the consumer signal booster owner, the full name of the operator if they differ from the device owner and contact phone number. Signal booster information must be indicated as well.
The information should be showing the device's model and make, the serial number of the device, the initial operation date as well as indicating if the device is a mobile one installed in an RV, boat, truck or car. A signal booster location also must be pointed out showing the street address, the city, and state, zip code and service.
The 8 best AT&T cell phone signal boosters
1) weBoost Home Multiroom (470144)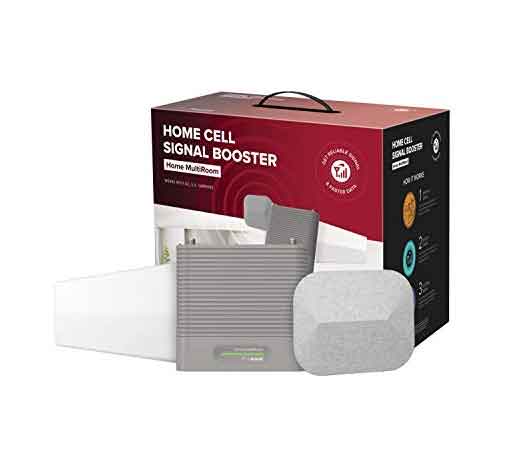 The home multi room provides enhanced cellular reception for up to 5,000 square feet or up to 3 rooms; allowing everyone to enjoy fewer dropped calls, better voice quality and faster speeds within its coverage area. Home Multiroom works with all US carriers including AT&T. It is FCC certified with a 65db maximum gain.
The outside antenna of the booster features an adjustable clamp that attaches to a rooftop vent pipe or standard antenna pole. You can also attach the antenna to the side of your home with an included mounting bracket. For added versatility and convenience, the inside antenna can either be mounted on a wall or placed on a shelf.
PROS
It is 5G ready
It comes with a 2-year warranty
Easy and simple installation
Allows multiple users at once
CONS
You must purchase a separate male to male cable
2) weBoost Connect 4G (470103)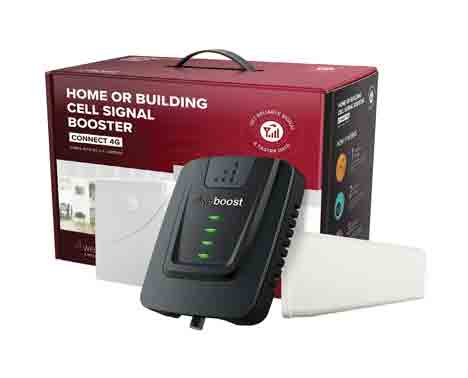 The weBoost Connect 4G indoor cell phone booster for home and office boosts your 4G LTE and 3G signal up to 32X. This gives you fewer dropped calls, higher audio quality and faster upload and downloads. The weBoost has wide signal coverage of up to 5,000 square feet.
This provides increased signal strength throughout your entire home. The Connect 4G signal booster is compatible with all US carriers. Enjoy up to 2 hours of additional talk time with weBoost connect 4G. This cell phone signal booster consumes only a small percentage of your device's battery, prolonging battery life.
PROS
Automatic gain settings
Frustration-free setup
Boosts both voice and data
3) ANNTLENT Tri-Band 2/5/12/17 Signal Repeater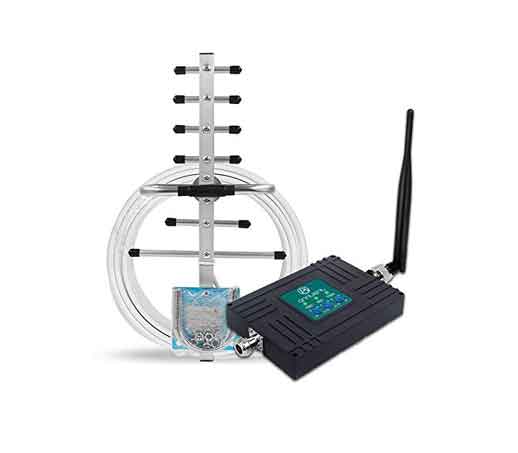 The Tri-Band booster has automatic gain control, oscillation elimination and more features. It can sense signal conditions in and around the building. This innovative technology electronically optimizes the booster's performance. It boosts 3G voice and 4G LTE data for multiple users simultaneously.
It ensures good connections for fewer dropped calls, higher voice quality, and faster uploads and downloads. This booster is compliant with GSM, 3G, 4G LTE and more. The booster kit will raise your signal strength to 32X in large coverage of 4500 square feet.
PROS
It comes with a 5-year warranty
It is FCC certified
It allows Multi-users to connect simultaneously
4) ANYCALL A Motorhome multiple Band Repeater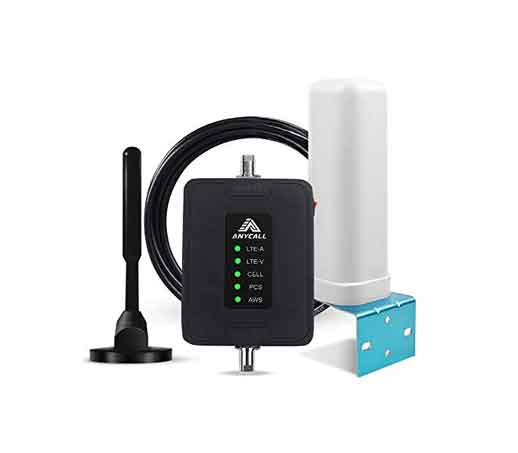 The motorhome multiple band repeater is a signal booster that has automatic gain control. The booster can detect the level of the incoming signal, and then adjust itself for the best performance to provide you with the strongest signal.
It enhances 2G, 3G voice, text and 4G data speed signals to get fewer dropped and missed calls, improve voice quality, faster uploads and downloads. It works both in the vehicle and small house regardless of whether you are in motion or stationary. The motor home is compatible with all US networks.
PROS
DIY installation
Reliable service warranty
Supports multiple users simultaneously
CONS
Quite a small signal strength boost
5) weBoost Home 4G (470101)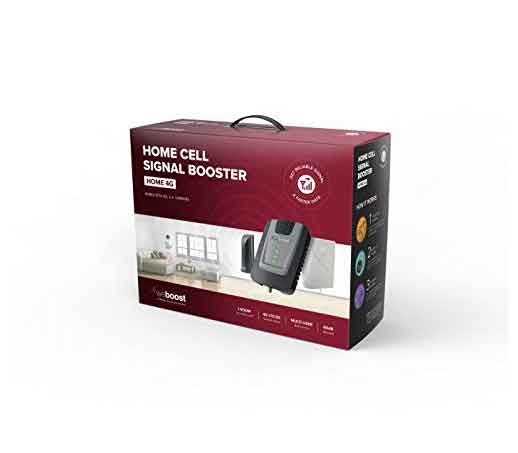 The weBoost Home 4G is a unique advancement of the cell phone signal boosters that have been designed to stop dropped calls. Boost 4G LTE and 3G cell phone signals in your home and office. It works with all US network carriers. The booster amplifies your existing signal to give you more bars and maintain fast speeds while you browse on the internet and talk on the phone. Compatible with all US carriers including AT&T.
PROS
Up to 32X stronger connection
Frustration-free set-up
Automatic gain control
Increased battery life
6) Hiboost cell phone signal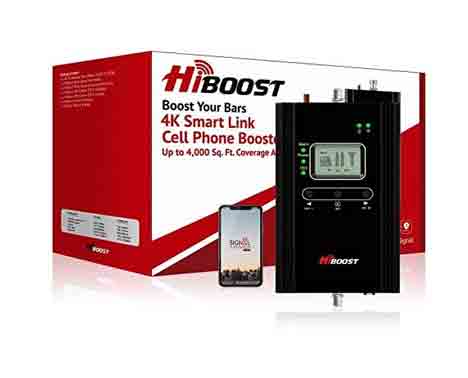 The Hiboost signal strengthens the signal to any cellular device, improves your data speeds and stop dropped calls. The Hiboost app helps fine-tune max power and see real-time data of what the booster is doing.  It also helps you squeeze every power from the booster.
It works with all US and Canadian carriers. Hiboost provides US-based tech- support online app chat, phone and email. You can contact them anytime and anywhere you need their services.
PROS
It is FCC and IC certified
Up to 4000 square feet coverage
Easy DIY installation
3 years warranty
CONS
Has a slow signal boost power
7) weBoost Connect 4G-X (471104)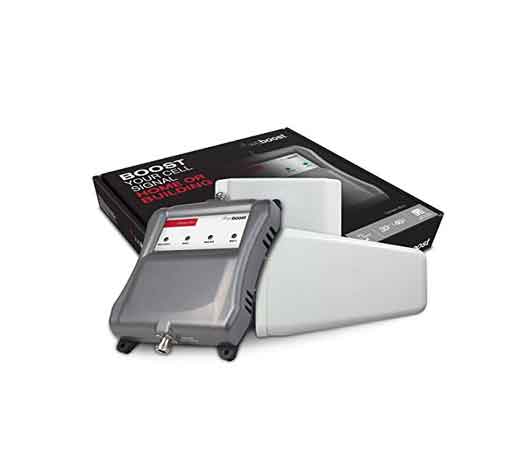 The weBoost Connect 4G-X cell signal booster is one of the most powerful residential 4G building boosters. The connect 4G-X booster increases cell signals up to 32X and enhances 4G LTE and 3G signals for buildings up to 7500 square feet.
It has a signal gain of up to 70dB. weBoost's 4G-X is professional-grade, allowing users to get better voice and data with fewer dropped calls, improved voice quality, faster uploads, and downloads. It is compatible with all US carriers.
All boosters come with a 2-year warranty. This cell phone signal booster consumes only a small percentage of your device's battery prolonging your battery life. It also gives you an extended talk time of up to 2 hours.
PROS
Very wide coverage of 7500 square feet
Frustration-free setup
Extended battery life
Automatic gain settings
CONS
It mostly boosts the 3G network
8) Cel-Fi GO X Dual Band 700 MHz Band 12/17/13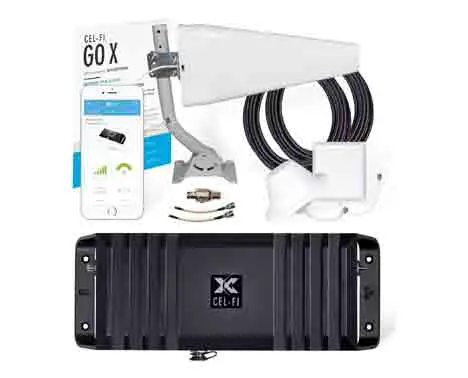 The 100dB dual-band cell phone signal boosters have automatic signal adjustments. The booster can sense the cellular environment intelligently and adjust for maximum signal performance. It has a large coverage. Once the booster is installed, you never need to adjust it again no matter how the local signal environment may change.
The directional indoor wall-mount panel antenna provides wide coverage for larger living or working areas by broadcasting signals in the direction it is pointed. The dual-band 700Mhz booster amplifies 4G LTE voice and data. It has worked for frequency band 13 and band 12/17.
PROS
Performance guaranteed
It has a large coverage
Supports all cellular devices
Bottom Line
There is no one signal booster out there. The right choice depends on your circumstances: the signal conditions, and whether you plan to use the AT&T cell phone signal booster in your home, office, car, truck or boat. The good news however is that most of the cell phone signal boosters are compatible with the AT&T network carrier. You, therefore, do not have to worry much about it.