The 7 Best Point and Shoot Camera Under $200
Before the invention of smartphones and their built-in cameras, point and shoot (PS) camera were the norm tools in photography. However, these compact cameras can deliver DSLR like results, for they have high megapixel CMOS sensors, great optical zoom, powerful processors among more. Besides, they have a wide range of price points, and you can find a great model that suits your specifications on the best point and shoot camera under $200.
Moreover, most PS cameras use the electronic viewfinder, autofocus feature for focusing, automatic systems for setting the exposure options and have flash units built-in with a small sensor and fixed lens. Shooting in auto mode enables one to take photos without the need to adjust the settings. Additionally, framing shots is easy using superior LCD features, while portability is simpler since the cameras are compact and lightweight.
However, if you're searching for something more advanced and versatile, you'll need to expand your budget to the video cameras under $500 or more. You don't need to break a bank for the priciest point-and-shoot camera won't exceed the prices of the most high-end DSLR and mirrorless cameras. Otherwise, available at varying price points with numerous styles and colors, you're sure to find the best and affordable PS camera, as discussed in this article.
Why Should You Own A Point and Shoot Camera?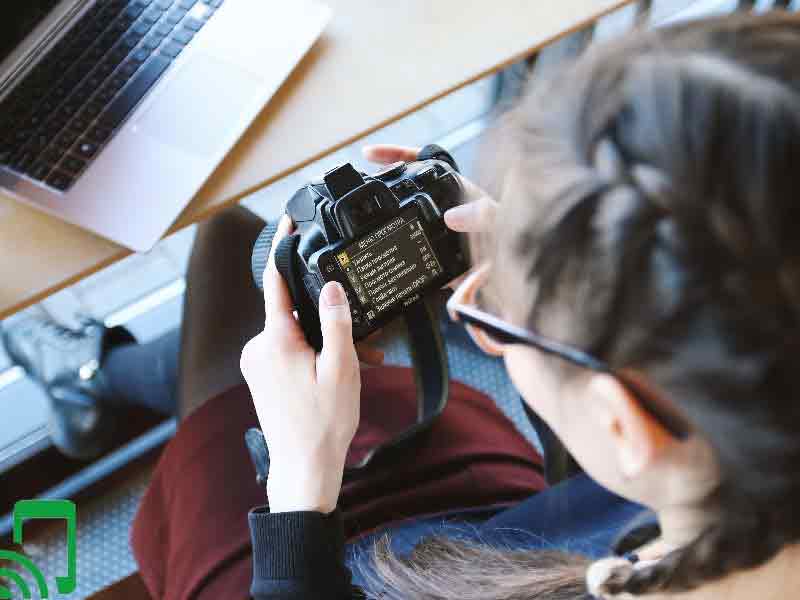 Weight. Most point and shoot cameras are very lightweight. You do not need extra bags, tripods, or other accessories to carry around. You can simply slip the camera into your pocket and carry it anywhere
i) Fixed lens
All point and shoot cameras come with fixed lenses. You don't sweat in trying to adjust and change lenses.
ii) Price
A point-and-shoot camera is always going to be cheaper to purchase and maintain than other digital cameras.
iii) Better Framing & Quiet Operability
Digital point-and-shoot cameras are built to operate quietly. In some cases, you won't even notice you've taken shots because of how silently they work. Framing your shots is also easier because of their LCDs. There are point-and-shoot cameras that enable users to rotate screens out, allowing shots to be taken from various angles.
What Are The 7 Best Point and Shoot Cameras Under $200?
1. Canon PowerShot ELPH 190 Digital Camera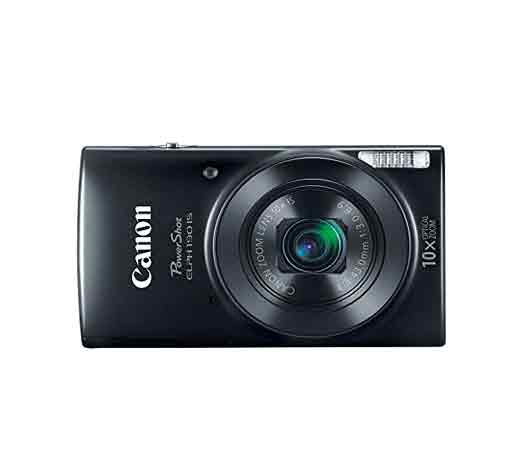 Capture every beautiful moment with the Canon 20MP CCD sensor that combines with the DIGIC 4+ image processor to deliver stunning image quality with minimal noise, even when there's not a lot of light. Besides, the 10x optical zoom with an optical image stabilizer helps you capture images with flexibility and ease even under shaky conditions.
However, you can easily share and transfer the fun moment to friends and relatives using the inbuilt Wi-Fi and NFC technologies. You can also capture video memories in high quality with 720P HD recording. The smart AUTO mode analyzes the image and figures out the ideal settings to help you capture eye-opening pictures, and if you want to add some personal flair, scene modes make it easy to add the look of different filters and lenses.
PROS
High-resolution images and videos
Wireless connectivity
Low light performance
Noise and blur-free images
Slim and stylish design
2. Canon PowerShot SX420 Digital Camera- Red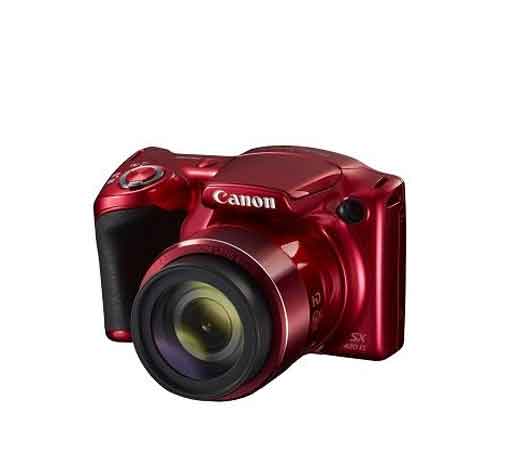 Enjoy every day precious moments with the powerful 42x Optical Zoom with Optical Image Stabilizer for outstanding optical performance while capturing far off moments and ensuring you get clear and virtually noise-free images whether you're shooting near or far.
Canon PowerShot SX420 is among the digital camera under $200.Besides, the smart AUTO intelligently helps you select the proper settings for the camera based on predefined shooting situations. Moreover, the 20.0 Megapixel sensor with DIGIC 4+ Image Processor helps deliver stunning image quality with crisp resolution and beautiful, natural images.
You can conveniently use the camera menu functions using the 3.0-inch LCD with a wide viewing angle for clear display as well as easy sharing, shooting, and playback. However, PowerShot SX420 IS camera lets you record highly detailed 720p HD video at up to 25 frames per second with clear sound.
PROS
Longer battery life
LCD screen
Powerful optical zoom
Lightweight
High resolution, blur-free images
3. Canon PowerShot ELPH 360 Digital Camera + 32GB Card – Silver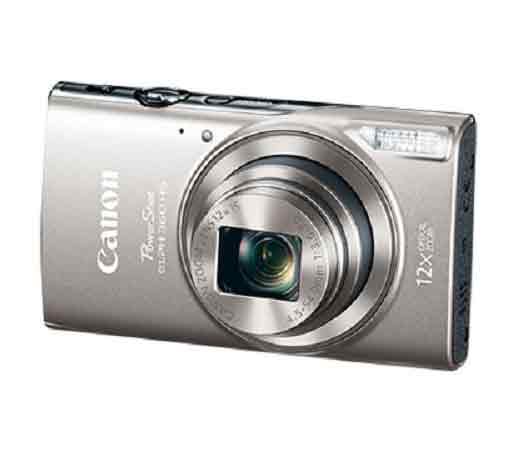 Canon PowerShot ELPH 360 HS Digital Camera is tiny, versatile, and comfortably fit in your pocket. The camera has a 3.0-inch LCD screen to help you navigate easily within the menu for faster operation. Besides, the 20.2 Megapixel high-sensitivity CMOS sensor helps you deliver outstanding imaging performance the same as the cheapest DSLR camera 4K video with a complex light-capturing design and reduced noise.
It's capable of rapidly capturing and moving image data to the processor, enabling fast continuous shooting and autofocus. You can record unforgettable video clips at 1080p Full HD resolution for steady and crisp results. However, the camera's versatile 12x Optical Zoom that ensures spectacular shots are within your reach. You can share memories with friends and family easily thanks to built-in Wi-Fi and NFC wireless connectivity.
PROS
Full HD resolution
Lightweight and portable
Low light stunning image quality
Enabling 3″ display
Effective image stabilizer
4. Kodak Pixpro AZ401RD Point and Shoot Camera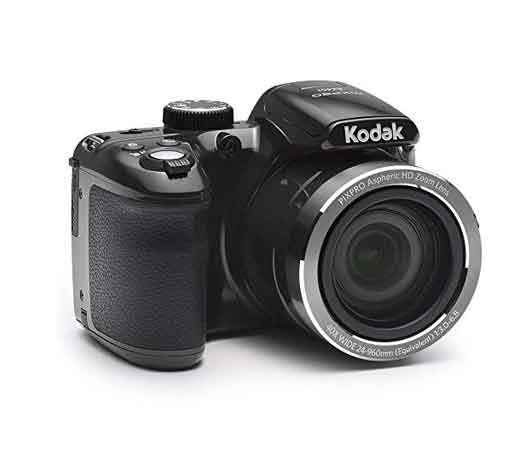 Get detailed images with the 16MP that's ample resolution to crop, zoom, or enlarge your photos following your photography demands. However, whether you're in the moment or modifying your work later, the broad 3-inch LCD screen ensures that you end up with just what you're looking for. You can easily shoot, playback, and easily use menu functions for better performance.
Besides, the powerful 40x optical zoom lens gets you the shot you need, whether you are shooting near or far off moments. You can capture everything in your peripherals with the 180° Panorama feature and expect clear, crisp results. Interestingly, you can rely on HD video with 720p resolution for the quality you need when capturing fast-moving moments.
PROS
Wide-angle of view
Immersive display
Powerful optical zoom
Crystal clear images
Cheap
5. Canon PowerShot ELPH 180 Digital Camera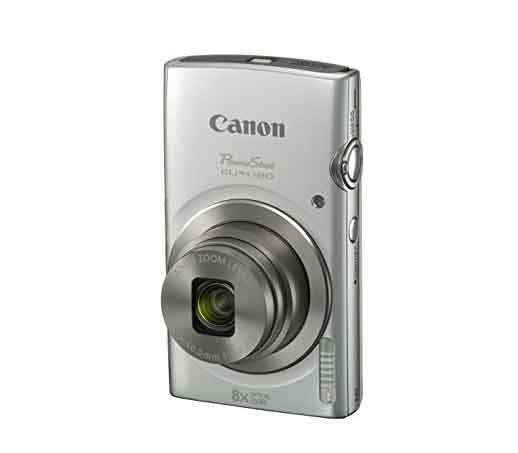 ELPH is a convenient point-and-shoot camera featuring a 20.0-megapixel CCD sensor and DIGIC 4+ image processor. The sensor and processor also offer notable image quality for stills shooting as well as HD 720p video recording at 25 fps.
Besides, the 2.7-inch LCD screen offers image playback and live view monitoring, and a lot of shooting features are available to select exposure settings intelligently and creatively adjust the look of imagery. Additionally, the 8x optical zoom lens covers a wide-angle lens to telephoto perspectives to enable you to shoot in a variety of locations.
On top of that, this lens gets supported by Digital image stabilization, which helps to minimize the appearance of camera shake for sharper handheld shooting exercise. The camera comes with 32 GB 320x Class 10 High-Speed SDHC Memory Card.
PROS
High camera resolution
Intelligent battery saver Eco Mode
Large and clear LCD
Affordable
Lightweight and portable
6. Canon PowerShot ELPH 190 Digital Camera -Blue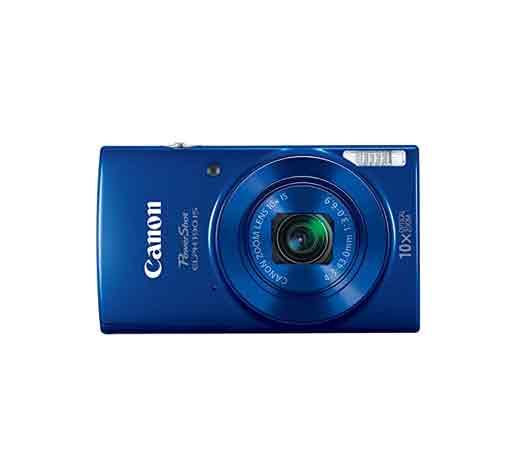 Canon PowerShot ELPH 190 is a compact and user-friendly camera that will fit into your pocket and come along with you wherever you go. Besides, the camera features a 20.0 Megapixel sensor and DIGIC 4+ image processor. The sensor and processor work together to provide remarkable image quality and sensitivity to ISO 1600, as well as the ability to record HD 720p videos at 25 fps.
However, the 10x optical zoom lens enables you to work with a range of different subjects, including things that are distant or near. Plus, the intelligent image stabilization system compensates for the effects of camera shake to deliver sharper blur-free photos. The camera's built-in Wi-Fi and NFC facilitate wireless transferring of photos and movies to compatible mobile devices.
PROS
Slim and stylish design
Highly portable
Fantastic camera features
1-year warranty
Comes with complete accessories
7. VIDEOSKY Digital Vlogging Camera-Silver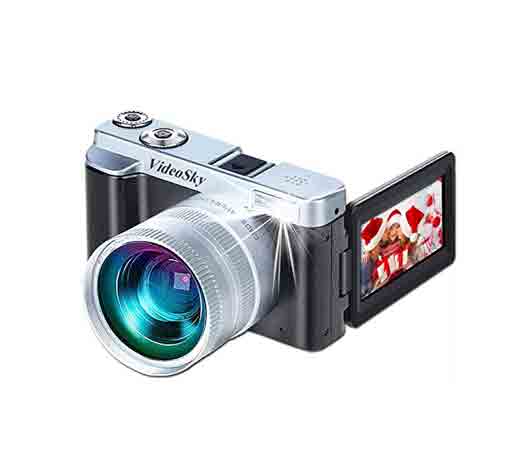 VideoSky digital vlogging camera is a video camera with external mic input and supports FHD 1080P video recording at 30 frames per second with a 24MP sensor and 16X digital zoom. Also, it can capture more exciting pictures and videos with the detachable 1.35X super wide-angle lens and macro lens, from a wider and more beautiful landscape.
Besides, the built-in flash of the WIFI digital video camera helps you to capture clear images, even in dark environments. However, the 3-inch IPS screen can be rotated to 180°, making it easy to shoot pictures and video at the corners by digital vlogging camera.
This digital video camera for vlogging comes with two rechargeable batteries prolonging the shooting time than other digital cameras. Other notable features include webcam, anti-shake, face detection, smile capture, beautiful face, auto power-off, USB 2.0, and HD output.
PROS
High-resolution images and videos
Wi-Fi enabled
Cheap
Supports external mic
Full HD video
CONS
Not suitable for professionals
Bottom Line
Are you tired of draining your smartphone battery while taking shots at vacations or during events and ceremonies? Well, there are affordable shoot and point cameras that you can find in the market and save you the frustrations. These cameras are highly portable, and you can carry them around without tagging along with other accessories like tripods.
The usability is simple and delivers great imagery like most 4K DSLR cameras. If you are an amateur photographer or you require something for capturing great moments, point and shoot camera is the ideal choice.