The 6 Best Nest Thermostats for Multiple Zones
A Nest Thermostat, also know as a Nest Learning Thermostat is a smart thermostat that is developed by the Nest Labs. The Nest Learning thermostats are designed by Ben Filson, Tony Fadell, and Fred Bould. Basically, a Nest thermostat is an electronic programmable WI-FI enabled and self-learning thermostat that helps to improve the heating or cooling of your business or home so that you may be able to conserve energy. Nest thermostats for multiple zones function in such a way that one thermostat may be programmed to control the temperature in various zones in your home.
Thermostat technology has been built to tackle the problem of huge electricity bills in your household. This is made possible through controlling the heating and cooling of each room separately. You can cool the places that are used more frequently in the house, and those that are used less often as the guest rooms do not have to be heated hence reducing energy consumption in the home. Smart zoning implies that you can control the temperature of the places that are frequently used in the house. It also means that you can do the controlling from anywhere, you do not necessarily have to be in the house to do so.
The voice assistant technology is also a dominant feature in most of these thermostats. Honeywell Multi-Zone thermostat allows you to set different temperatures for different rooms in your house to your preference since not all the rooms require the same temperature. Thermostats have been a considerable relief to the energy bills in the homes. It is about time to tun in the thermostat technology.
How Nest Learning Thermostats Work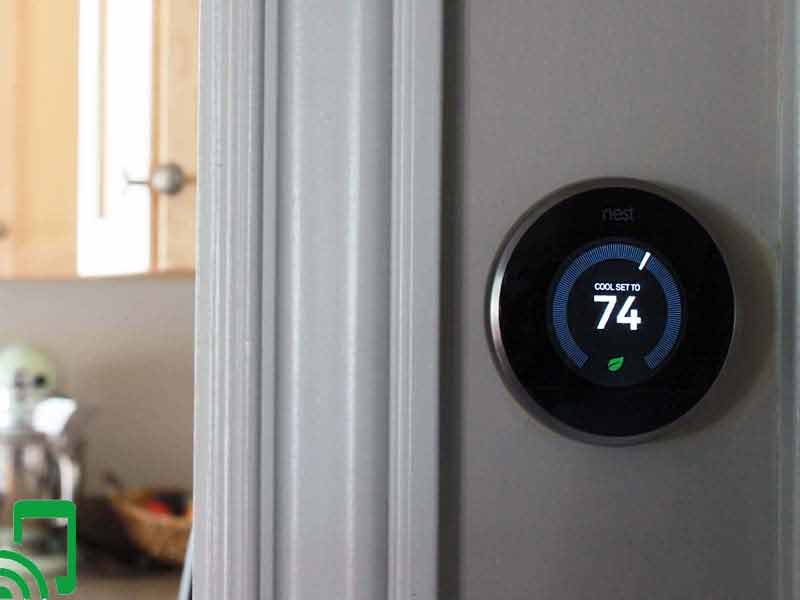 Your home's HVAC (Heating, Ventilation, and Air Conditioning) system is the central system for your home's heating and cooling regulation. You can control your home's HVAC through a thermostat. A Nest Thermostat programs itself by learning your schedule during the week. This includes your desired temperature for specific days and times during the week, as well as behavior patterns. It creates a program for your HVAC after it has learned your weekly pattern.
Controlling your HVAC system helps you save a lot on energy bills that account for about half of the bills in the house. The thermostat will switch the systems on and off based on the temperature it detects in the room. All you have to do is to select your heating and cooling options and set your desired room temperature.
How to tell if your system is Nest Thermostat Compatible
HVAC systems are not built the same way in every home. However, most of them are compatible with Nest Thermostats. It is therefore advisable for you to check the compatibility of your systems right before purchasing the Nest Thermostats. To check your system's compatibility, you can use the online compatibility checker before purchasing your Nest Thermostat.
The Nest Thermostat installation instructions on the Nest app could also give you a custom wiring diagram that you can use for installation. The Nest app can easily be installed on your phone through the google play store or apple store.
The 6 Best Nest Thermostats
There are very many thermostats in the market. Ever since the development of thermostat technology, many companies have come up with various products that suit their consumer's needs. In this review, we will look at the Nest Thermostats that are powered by google.
1) Google T3007ES Nest Thermostat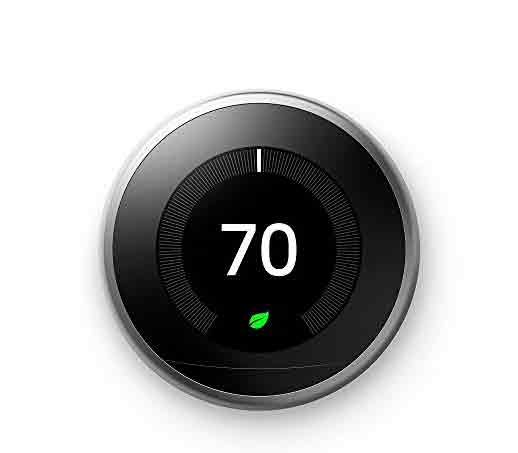 Google T3007ES Nest thermostat is a 3rd generation smart thermostat. It is stainless steel and works with as a smart thermostat with built-in alexa for voice control. With the auto-schedule feature, Google T3007ES learns your temperature schedule and programs itself within one week.
The home/away assist automatically feature works by automatically turns itself down when you are away to avoid heating or cooling an empty room. The Nest Leaf that appears when you choose a temperature that saves energy guides you in the right way. The thermostat is also WI-FI enabled hence allows you to change the temperature from your tablet, phone, or tablet.
PROS
Has the Auto-schedule feature
It has a fast setup and installation
It also has remote-control technology
Nest leaf for energy saving
CONS
The battery life is not long
2) Google, T4000ES Nest Thermostat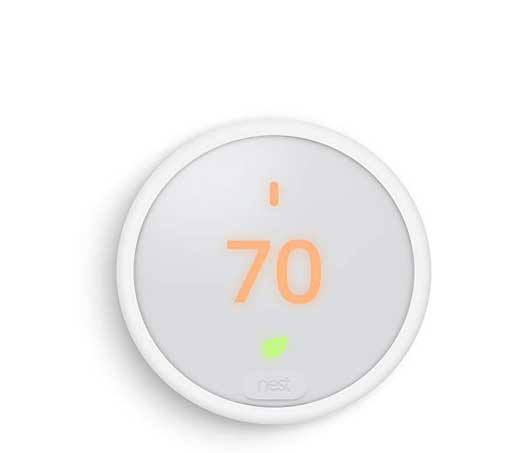 Google, T4000ES is smart thermostat for multiple zones. This thermostat E has a simple design and a frosted display that blends into the background easily hence fit for any home. The home/away assist turns itself down when you are away, so you do not have to waste energy heating an empty room.
You can use the Nest app to change the temperature from anywhere. The Nest leaf helps you save energy right from day one. You can also check the Nest app for your history to see how much energy you use around the house and why. You may add voice control to your device by combining it with an Alexa device.
PROS
It has a frosted display
It works with Alexa for voice control
It has the home/ away assist feature
It allows you to check your energy history
CONS
The installation is not as easy
3) Google, T5001SF Nest Temperature Sensor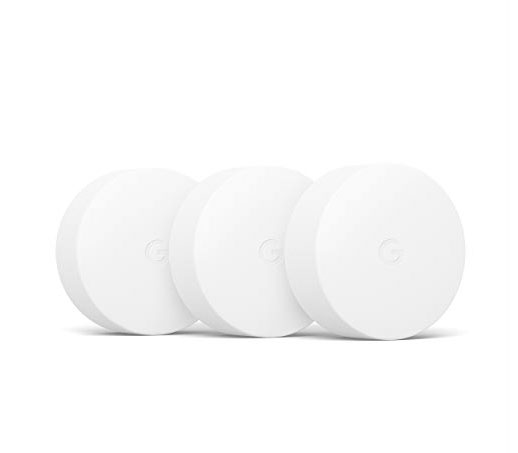 The Nest Temperature sensor through the nest thermostat will help you know which room is the most comfortable in your house. It works with Nest Thermostat E or the 3rd generation Nest Learning thermostat for optimal heating or cooling results.
You can create a that helps you make sure a particular room has the exact temperature you want. It is straightforward to set up; all you need to do is place it on your shelf or wall. The Nest app lets you quickly glance to see what the current temperature is in a room. The programming is also very easy to do and to adjust.
PROS
It is easy to set up and install
It allows you to create a schedule
Works with Nest Thermostat E
It has an app for control settings
CONS
It is not compatible with Alexa
4) Google, T3032US Thermostat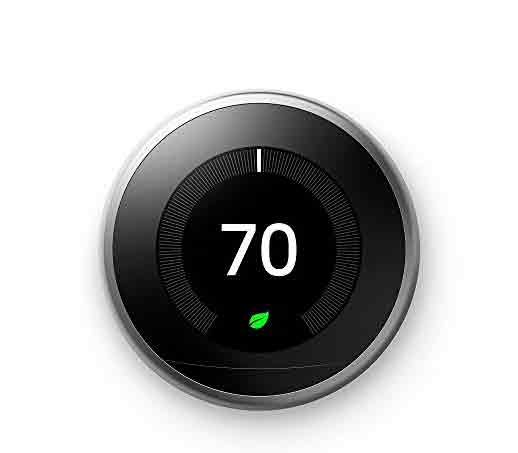 A 3rd  generation smart thermostat that is WI-FI enabled hence you can connect to WI-FI to change the temperature from your phone, tablet, or laptop. No more confusing programming with the Google, T3032US as it learns your temperature schedule and programs itself automatically.
The Nest learning thermostat helps you save energy with the Nest Learning Leaf.  You can also check your energy history on your phone to see how much energy you used and why.
The home/away assist feature automatically adjusts the temperature after you leave. Remote control also enables you to change the temperature from anywhere hence saving energy by reducing consumption.
PROS
It is WI-FI enabled
It has a remote-control feature
Fast set up and installation
Automatic schedule feature
CONS
It has short battery life
5) Google T3017US Nest Thermostat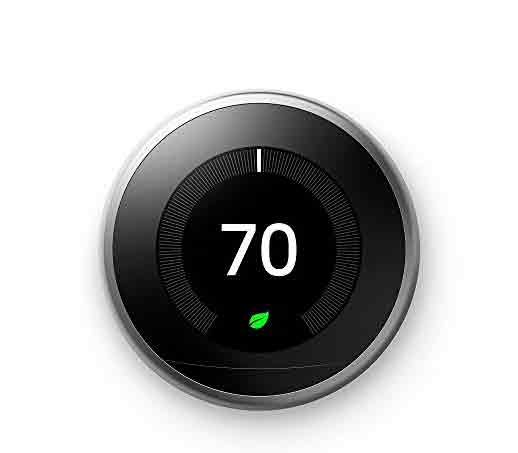 Smart thermostat feature of the Google T3017US learns how your home warms up and keeps an eye on the weather to get you on the temperature you want and when you want it. The Google Nest thermostat automatically turns itself down when you are not in the house to avoid heating or cooling an empty room.
You will see the Nest Leaf when you choose a temperature that saves energy. The auto-schedule learns the temperature you prefer, and it programs itself automatically. It also works with Alexa for voice control.
PROS
It is WI-FI enabled
Has the home/away assist feature
It is energy saving
It is a smart thermostat
CONS
The setup is not easy
6) Google T3018US Nest Thermostat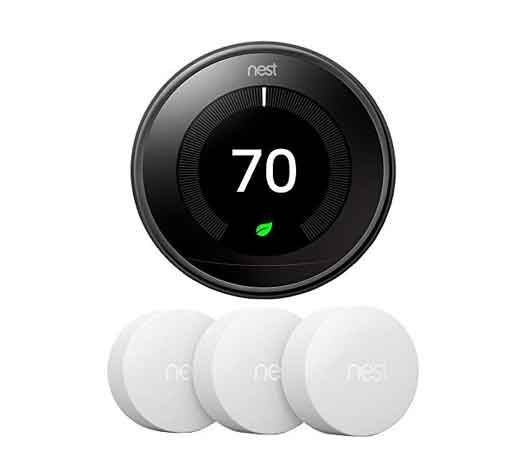 Google T3018US thermostat has a thinner, sleeker design with a bigger and sharper display. With far sight technology, it lights up when it sees you coming and shows you the time or temperature from across the room. The device also works with Alexa for voice control settings.
The remote-control feature lets you turn down the heat or turn on the more relaxed right from the comfort of your couch. It also has the auto-schedule feature where it learns your schedule within a week and automatically adjusts to it. It does not use batteries, so you do not have to worry about short battery life.
PROS
It has a thin and sleek design
Has far sight technology
It works with Alexa
It is energy- saving
CONS
It needs a C wire adapter to work
Bottom Line
A Nest Thermostat is the solution to the high energy consumption on heating and cooling in the house. The thermostats will let you control the heating and cooling for multiple zones in your house. Whenever you are, you can track what is happening at home from your iPad, tablet, or smartphone.
You can also stay in control of your home when you are away as the Nest thermostat technology is built to automatically adapt to the home/away, a feature that automatically turns off the heater when you are away to enable you to save on energy bills.
Some are even wireless video doorbells with monitor for added security. There are also telephone thermostats that connect both the heating and cooling system to your phone. Great technology right at your doorstep!