How to Unlock a TracFone – A Complete Guideline
In the current regime, nobody would ever wish to have a locked phone. The locked devices have very many limitations which the greatest of them all is being tied down to a single service provider. Locked phones were issued to people in the perspective of creating affordable options for people to acquire smartphones. However, this main perk has gone down over the past few years since people wish for more flexibility with regards to switching carriers. This brings us to the main question as to whether you can unlock your TracFone device.
TracFone is one of the best service providers across the US and even in some parts of Scandinavia. They are known for their no contract cell phone plans, TracFone plans for seniors and many more. Aside from being a very reliable network, TracFone has had some ups and downs with regards to the Bring your own phone program. About five years ago, all their devices were locked to their network. The devices used a TracFone sim card which would only work with the phone designated to be used. This was a major downfall to many people since some did not get stable network signals and they could not be able to switch to any other services providers.
Also, at that time, the FCC had not set convenient policies for people to TracFone bring their own phone when they wanted to switch. If you still have a TracFone locked phone, you could easily unlock the device and this article will explain the complete process. Most people buy unlocking codes from the net only to end up not working and there is no refund!! But with our guide, you will be able to unlock the device very easily using an FCC approved process. You will also learn on how you can get legit unlocking codes and be able get the power to have your phone fully unlocked! Read ahead to learn more!
How to know if your TracFone device is locked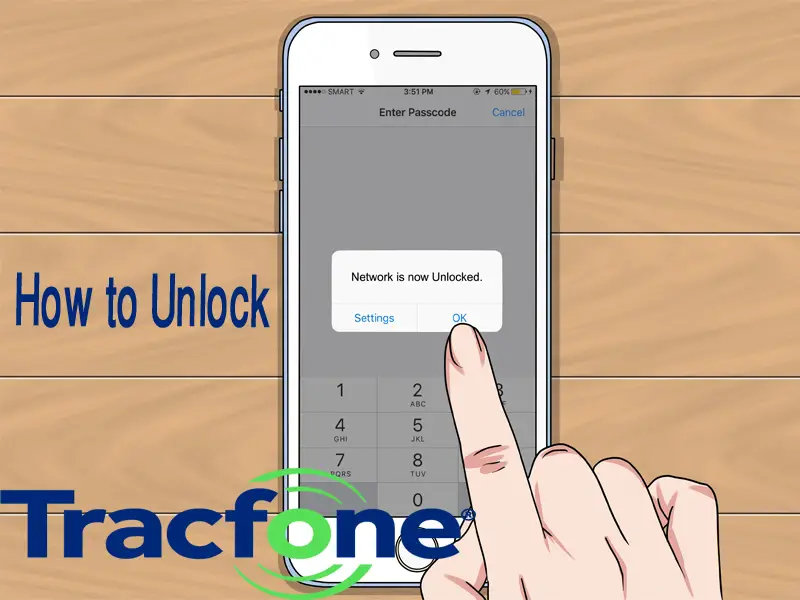 Locked devices cannot be known just from the physical appearance. Also, most people think that devices with TracFone's name at the back are locked. However, this is not the case.
All locked devices are tied down to a single network. As for the TracFone locked phones like the Flip phone for seniors, they all use on specific sim card which will only work on the pres-elected phones by TracFone.
If you want to know whether your TracFone is locked, try using a different sim card from other service providers like T-Mobile and AT&T. If the device is locked, you will receive a prompt telling you to key in the network password.
If the device is unlocked, you will not receive such a prompt. This feature is only available to smartphone devices. If your phone is a flip phone, then you can refer to TracFone's community forum or contact customer care to check whether the device is unlocked.
Why are phones locked?
Phones are mostly locked to one service provider so that all services rendered to the device come from that provider. The services range from unlimited mobile hotspot plan, and other services related to communications.
This is more beneficial to the company since customers are fully dependent on their services and this helps in boosting the economic graph of the company. This has changed with the new FCC rules that allow service providers to unlock eligible phones.
In some cases, aside from TracFone's, most devices are locked if you got received financing from the company. This is a good option since you can easily unlock the device once you complete the full payment of the device.
Step-by-step guide on – how to unlock a TracFone
Below are some simple steps you can follow for your TracFone to be completely unlocked.
Step 1: Check eligibility
If you received the phone through financing, ensure to clear all your pending arrears with TracFone. You can do that by calling the customer care service and they will tell you your arrears. You can also login to your account and navigate to the financing option.
Step 2: Request for TracFone to unlock your device
If you are not facing financing issues or your phone came unlocked already by TracFone, then TracFone can easily unlock your device in several simple steps.
They will go through their system to see if you are eligible and if everything goes smoothly, the unlocking process will begin.
Step 3: Get a sim card
Once your device is unlocked, you will need anew sim card to test whether the process is fully completed. The new card can be obtained from a new service provider that allows the bring your own phone services. You can buy the card once you have started the application process and your device has already been approved in the new network.
Step 4: Reboot your device
After you have the sim card, reboot your phone then remove the old sim card from your phone and insert the new card from your new service provider. After that power up your phone.
Step 5: Enter the unlock code
The unlock code is more of the network password. If your device qualifies to be unlocked, you will get the unlock code from TracFone's representative. Once you key in the code, your device will now become fully unlocked.
Bottom Line
Having an unlocked phone gives you a lot of perks especially having the ability to switch service providers easily. The other cool thing is that once the device is unlocked, it will never be locked again. So, this gives you a limitless ability to opt in and out of service providers if they do not impress you.
If you have any questions, feel free to contact customer care and they will be able to assist you on the process. If you don't wish to unlock your device from TracFone, you can consider buying an unlocking code.