How to Get Free Phones for Hearing Impaired
According to statistics, for every two people out of 1,000, both of them have hearing disabilities. In total, roughly 6,00,000 people in the US are either deaf of they have a hearing problem. This has resulted in the development of the best telephones for hearing impaired in order to communicate effectively with other people.
Researchers have also come with tailor-made headsets to help people who have issues related to hearing disabilities. Also, some brands like the iPhone have modified some of their latest models of phones to help such people.
This article will guide you on some of the carriers that offer the best clarity phones for hearing impaired, hearing aid compatible cell phones, and other phones related to hearing loss.
Does the Government offer free phones for hearing impaired people?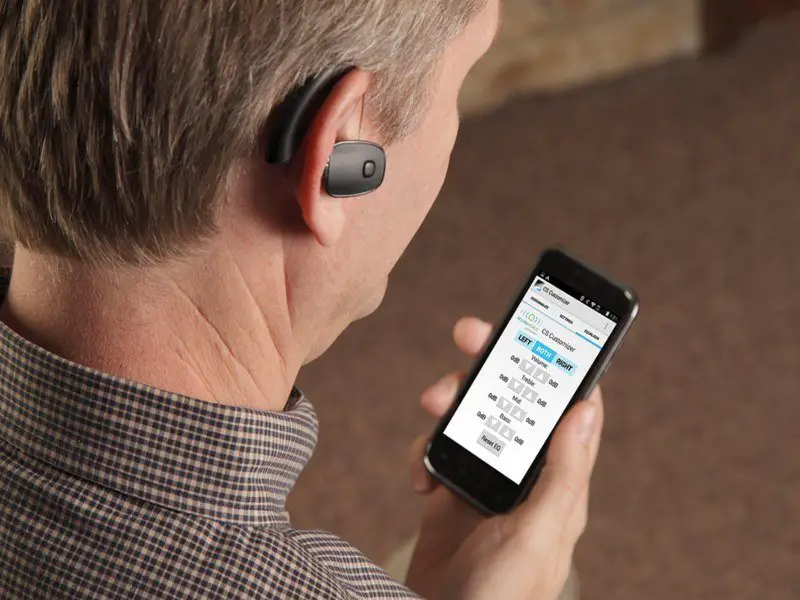 The Government has worked closely with all the States in the US with the aim of ensuring people get the best free phones for hearing impaired. However, each State has different eligibility criteria for one to get the telephone. The eligibility is different from the regular free government phone whereby one has to be part of the lifeline assistance program and income to be 135% below the federal guidelines.
For one to get a free cellphone for hearing impaired, he or she needs to be aware of the Telecommunications Equipment Distribution program. This program provides free and low-cost cellphones to eligible citizens across the US.
The aim is to help them accommodate the need to use a cellphone despite having hearing disabilities.  The program is carried out under the guidelines of Hearing Loss Association of America. Some of the eligibility criteria to consider include the following;
Verification of hearing loss by a professional -if you have been verified, you must submit documents to show proof for that condition
The poverty level or financial Status- The Government will have to inquire more about your financial Status with regards to the place you live, the salary you get, and you must show documented proof.
These are just some of the necessary things the Government may be looking for. If you qualify, they will loan the device for you, and it will be surcharged to every landline's bill. However, the good thing is that you don't have to pay any interest either for deferred payment or other related issues.
Also, the phones are not offered by carriers like AT&T or Verizon, but they are offered in several designated offices for the Government within the State you are in. If you desire to get one, feel free to visit them for assistance.
Read More: AARP Home Phones for Seniors. Here are our recommended AARP landline phones for seniors!
How do you choose a hearing Aid compatible phone?
There are several factors which can make you choose a device to cater to your hearing problems. The factors come about through health condition, age, or a different condition. However, there are three primary reasons which may make you find it hard to hear conversations by the hearing aid compatible cell phones;
If you are using one ear- One ear limits you to using a single communication line because you may not understand speeches clearly. In a scientific view, the brain perceives the speech clearly when you hear with both ears, and if that is n that, it will be very difficult to interpret the message.
The phone signals are totally different- phone signals are quite different. Your hearing problem and the phone you use may be quite different; hence, you will not be able to get the intended message.
How are your visual cues?- Visual cues are what people use to fill in the missing information they may not have heard in a phone call he conversation. However, if you have hearing disabilities, you may not be able to use visual cues appropriately.
What are some of the options for phones to hearing-impaired persons?
Hearing-Impaired persons can choose a device which suits their hearing condition appropriately. However, to do so, you need to understand the types of phones you will choose from if you have hearing disabilities. There are five types of options or a variety of phones which do a great help in helping those with hearing problems communicate efficiently. I will guide you through each
Amplified phones
Captioning phones
Text-to-Voice Teletype
Video relay service
Video calling
1) Amplified phones
Amplified phones have similarity to the homes phones with regards to being cordless or not. However, the difference is that they can increase the audio to aid people with hearing problems effectively. They also can improve the ringer tone so that the person will be able to get the intended message effectively. It serves best for people with mild, moderate, and severe hearing loss.
As for increasing the sound, amplified phones can increase it between 15 dB and 25 dB for the earpiece. As for the ringer, Amplified phones increase the tone up to 75 dB. Below are some of the best five amplified phones which you can check out;
Clarity XLC3.4
Geemarc Ultra
Clarity Amplified photo phone
Panasonic KX
Panasonic Clarity
These devices can be found on Amazon at very affordable prices. You can also check them out at Wall-Mart and if you have any queries feel free to visit their website.
2) Captioned phones
I believe you have watched movies at one point and there were texts running below the screen which show what the person is saying. The same case happens to these captioned phones. However, for captioned phones, they provide real-time words being spoken by the person calling you.
This means you don't need to put the earpiece on your phone to get the intended message. Also, you have the option of reviewing the message even after the call has ended. This is the best phone for hearing impaired seniors. Also, if you are deaf, or your hearing capabilities are shallow, this is the phone for you.
For you to use this device, you are required to have a standard electrical power, high-speed internet and obviously, telephone service.  Also, there are several States which can offer these captioned phones for free. You can visit the nearest State offices for further details. Lastly, below are some of the best-captioned phones for hearing impaired persons;
CaptionCall
Hamilton CapTel 840i
Hamilton CapTel2400i
Clarity ClearCaptions Ensemble
Hamilton CapTel 880i
3) TTY (Text-to-Voice) hearing impaired phones
Text-to-voice is one of the best advancements in technology to aid people who have hearing aid problems. It allows the user to interact effectively with family members, friends, etc. in a unique way. The person with this device can receive calls, which is then typed out inform of words making the hearing impaired person get the intended message effectively.
Also, if a person sends a text, the phone will convert it to audio. This is what makes the difference between captioned phones and Text-to-voice phones. It is also quite similar to the Voice-carry-over devices which enable the person who is hearing impaired to use their voice while responding to conversations and the message he receives will be in the form of texts.
This technology has dramatically used AI to enable hearing-impaired people to communicate efficiently. Also, the decoding of the message is quite fast, and the delivery time is quite quickly too.
If you wish to get one TTY phone, you can visit the TEDPA (Telecommunication Equipment Distribution Program Associate) site for assistance. I have also compiled the five best TTY phones;
Clarity Dialogue III
Ultratec Uniphone
Ameriphone cordless phone
Ultratec Minicom
Ultratec Supercom
4) Video Relay Service
This is the best option if you have excellent visual capabilities, but you cannot hear properly.  This is an internet-reliable service that incorporates the use of sign language, and the operator uses video conferencing equipment.
This type of communication enables the user to not only listen to the intended message but also to see the person communicating as well. If you did not get the message, the sender could retype it, and you can read it with ease.
It is best for people with severe hearing loss because it provides adequate visual information to make the conversation easier to understand. This service does not require a special device, but you need a specific online service which you can use to communicate. Some of them include; Purple communication, Sorenson VRS, and Spring Relay.
5) Video chatting or calling
This is the best effective way of communication since it does not involve a third party like the video relay service. However, video calling uses applications like Hangouts or Skype to pass the intended message. It is available on both smartphones and even computers.
This is one of the most digital ways to pass communication to hearing-impaired persons. You can check these apps at Play Store for android users and apple store for iPhone users.
Bottom line
The development of phones for hearing impaired persons has brought about drastic changes with regards to communication. The five mentioned options above can be very useful to enhance communication between the hearing impaired. Also, Verizon Wireless is an active company when it comes to offering these services.
The AARP cellphone discount Verizon and Verizon phones for hearing impaired are some of the best products which use the digital forms of communication for hearing impaired people. Lastly, ensure to visit a professional doctor to determine the level of your hearing impaired, and they will guide you on the best options to use with regards to telephone communication.