The 7 Best Cheapest 4K Cameras for Filmmaking
If you are a filmmaker then you can agree that the term "4K video" is like a song to your heads most of the time. In the field of filmmaking it quite a broad field to adventure and getting the right equipment is a hassle. As a photographer, you might desire to broaden your field of profession and you begin video shooting. Also the content creators such as the YouTube, twitch and others and not forgetting the bloggers and for you to have an audience you need the right camera for the job. Getting the cheapest 4k camera for filmmaking can be a hassle considering the various stores selling them.
Though various ideal camera phones have superior camera features and can shoot 4k that you can share with your peers, the phone got its disadvantages. The phone cameras have a fixed lens that has small sensors thus limiting your performance and versatility. If you are an enthusiast or a professional photographer you might encounter some clients that would want videos, then you will need a camera that will both jobs. You can opt for the best Mirrorless camera under $1000 that will help you in both filmmaking and photography.
Also, if you are a beginner then you can agree with me that getting the right camera, to begin with, can be a strenuous job. No need to worry as you is in the right place as you will the best professional cameras for beginners. In this guide, I'll take you through the cheapest 4K camera for filmmaking that can aid in your profession. Also, I'll take you through some of the features that you need to consider while buying a camera.
What does it mean by the term "4K Video"?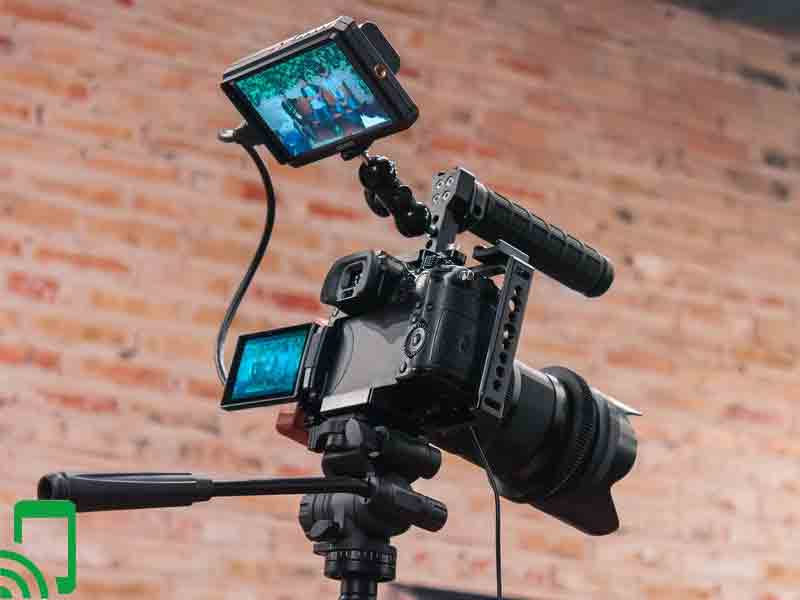 When you hear the term "4K video" what rings in your mind? Well, it refers to video recorded with a horizontal display resolution of 4000 pixels. The number might vary when used for TV broadcast but the horizontal pixel count lands around 4,000. The digital video formats commonly use the vertical resolution to describe the specific format.
What is the benefit of shooting in 4K?
Due to the massive resolution of 4000 pixels, it allows flexibility in editing. For instance, you can crop the recorded footage by 200% and still maintain a full HD resolution. Also, you can pan, crop and zoom into the footage which won't affect the end product resolution.
Although the added advantage that it comes with, you will require a large amount of storage while shooting in 4k, unlike the 1080p videos. If you create an hour-long video then in 1080p you will require 23GB, unlike the 4k recording it will require about 45GB!
What factors do you consider in a 4K camera?
Below are some of the factors that you need to consider while buying the cheapest 4K camera for filmmaking.
i) Manufacturer
Before you buys the camera check out the brand name of the camera so that you can look it up on the website for more information. Also, you check out if the company can offer customer service anytime appropriately to avoid any inconveniences.
ii) Image Sensor
You need to consider the image sensor as it is where the image is converted from light to electrons. If you get a camera that has a larger sensor you will capture better images.
iii) Connectivity
Currently, wireless connectivity has become a key component in most of the video cameras. You need to have that has strong connectivity so that you can control the camera remotely via Wi-Fi or you can transfer your pics in your laptop via Bluetooth.
iv) Zoom
A solid zoom gives the video a dramatic touch and emphasis on the subject up close and zooming out the surrounding area. Some of the cameras have different zoom; Digital zoom and optical zoom so you need to be careful about one to choose.
v) Audio
A good 4K video with horrible audio is unwatchable so you need to get a camera with good audio recording. You can get a wired mic that can make a significant difference in audio quality.
Top 7 4K camera for filmmaking
1) Rosdeca 4K Camcorder video camera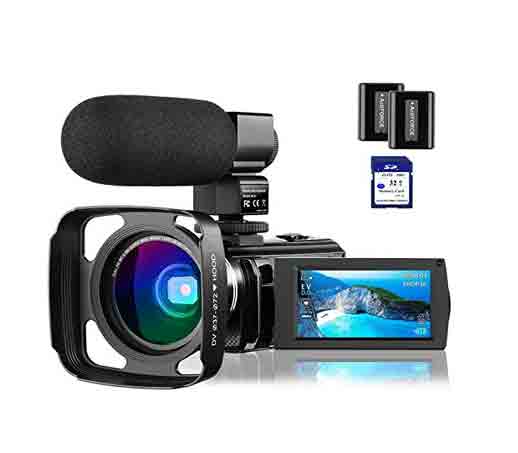 Being among the best camcorders under $100, it has a rating of 4.5 out of five stars with 183 customer ratings hence it is a high-quality product. The 4K camcorder comes with a 13MP sensor and has maximum pixels of 48.0M thus letting you capture high quality and vivid videos.
The camera support 16x digital zoom and pause function so that you can capture every detail in the surrounding. It comes with a 3" IPS touch screen that can rotate up to 270 degrees that's superb especially for video bloggers. It has a unique hot shoe function that you can attach an external microphone.
PROS
It supports 16x digital zoom
External stereo microphone
Good wireless connectivity
An IR Night Vision
A wide-angle lens
CONS
The digital zoom has no autofocus
2) Yeehao Camcorder Video camera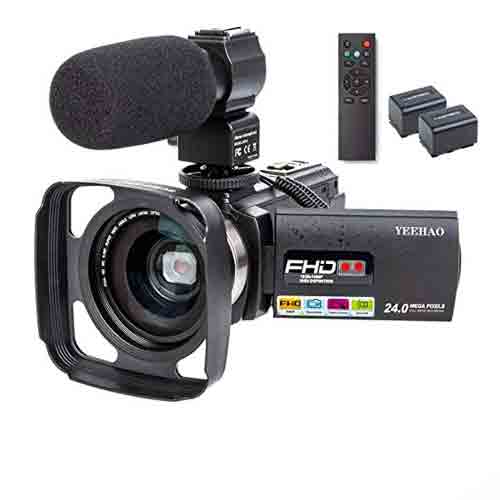 It comes with an external microphone that adopts X-Y stereo pickup technology providing you with clear and stable sound image localization. Also, the microphone has a hot shoe that can be used to connect to other equipment such as as as fill light. It has an inbuilt battery that's rechargeable and the charging interface is a mini-USB.
The camera comes with a professional 0.39X super 2-in- 1 wide-angle lens and can be used for big scenery such as landscapes, building among others. Also, it comes with a lens hood that can block the excess light and protect the lens from accidental damage.
PROS
Excellent external microphone
A wide-angle lens and lens hood
A rechargeable inbuilt battery
Good in capturing big sceneries
Comes with a remote control
3) Alsone Camcorder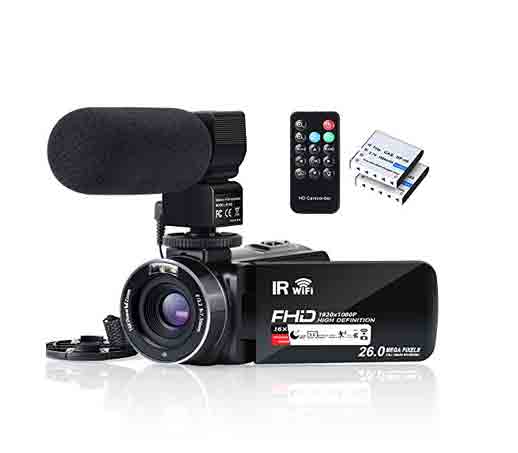 A full HD 1080p with 26.0 MP picture resolution cameras and it comes with a 3.0" display with a 270-degree rotation that's ultra-clear. It has an 8 megapixel CMOS image sensor that allows you to capture vibrant and extremely realistic images and videos.
It supports an external microphone that enhances sound recording volume and reduces noise. It supports slow motion, video capture, motion detection, and loop recording. You can control the camera remotely as you download the YKJ app in Playstore or Appstore and you can connect the camera.
PROS
IR night vision
Loop recording
An external microphone
You can remotely operate it
Multipurpose video camera
4) Panasonic 4K Video camera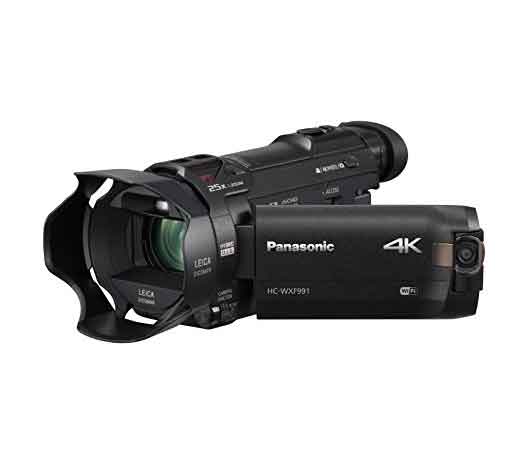 Enjoy ultra-sharp 4k ultra HD recording and in-camera editing for 1080p displays. It comes with an electronic Viewfinder EVF that emulates a semi-professional recording experience and a dedicated HDR button that enables quick mode changes.
It comes with an exclusive high dynamic range mode that reduces the overly high contras look created by overexposed and underexposed shooting conditions. It comes with a Leica Decoma Lens optical 20x zoom and 5 axes hybrid optical image stabilization and an image sensor that's of BSI MOS sensor. It has an inbuilt twin camera and Wi-Fi mobile features for easy transfer of files.
PROS
Ultra-sharp 4K Ultra HD recording
An exclusive High dynamic range mode
Inbuilt twin camera
4K cinema in-camera editing and effects
Electronic Viewfinder
CONS
Doesn't have a neck strap
5) Ordro AC3 Video Camera 4K Camcorder HD 1080P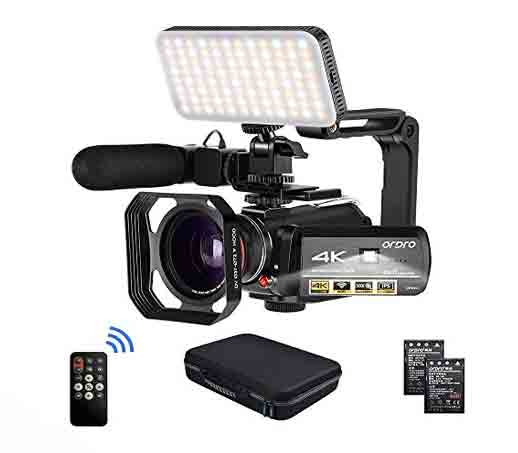 The camera supports 1080p with a MOV video resolution thus you can capture high-quality videos and photos. It comes with a 3" touchscreen that supports 270-degree rotation and 16x digital zoom so that can focus on the subject excluding the unnecessary surrounding.
It comes with a slow-motion feature of the video camcorder that allows you to capture amazing slow-motion footage and supports 2x video recording. If you are a blogger or YouTuber then this is the ideal camera as it comes with a USB output so that you can easily transfer your videos on your pc.
The camera allows you to charge while still, you can record videos and it comes with an IR night vision thus you can capture quality pictures whether day or night.
PROS
IR night vision
You can charge while recording
USB and TV output
Loop recording enabled
Two rechargeable batteries
CONS
Sound quality is better without the mic  in windy situations
6) Canon Video Camcorder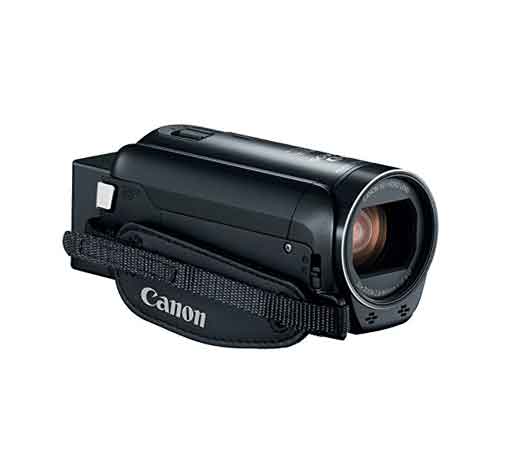 It comes with an impressive 57x advanced zoom that allows you to create videos with dynamic variety, and it's less likely to disrupt the action you are shooting. Also, you can activate the manual mode as the advanced zoom that takes the camcorders telephoto power from 32.5mm to 1853mm for amazing flexibility in shooting.
It comes with a sophisticated Super range optical image stabilizer that helps correct camera shake and quickly thus video taken at long focal length can be sharp and steady.
PROS
Optical image stabilization
Lightweight, portable body
Touch panel LCD
Full HD CMOS sensor
Fast and slow-motion recording
CONS
It doesn't have a manual audio control level
7) Aabeloy Video camera Camcorder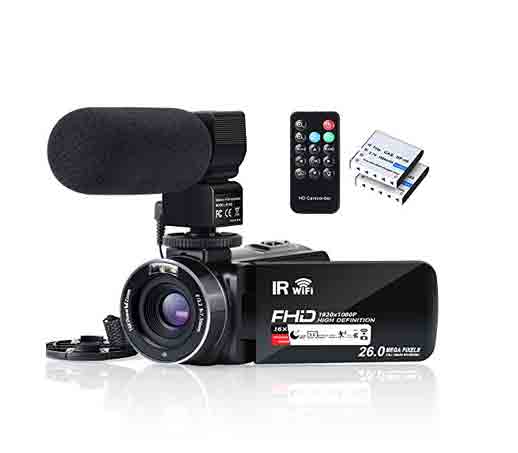 You can record videos at 1080p@30fps resolution and maximum it supports 26M JPEG image resolution. The digital camcorder can be connected to a microphone to reduce noise and deliver sound as it adopts X-Y stereo pickup technology for clear and stable sound image localization.
You can connect your camera to your smartphone via Wi-Fi connection for easy transfer file handling and transferring. It has an IR night vision letting the camera shoot HD image videos and works perfectly in the low light conditions and the darkness. It comes with a lens hood that blocks excess light and a camcorder lens from accidental damage.
PROS
Wiede-angle lens
Strong Wi-fi connection
Captures high-quality videos and images
Multi-purpose camera
It supports interval video and interval photography
CONS
Doesn't include an SD memory card
Bottom Line
From the article above you have seen the cheapest 4K camera for filmmaking offered in the market currently. I hope answered your burning question and will follow some of the tips while buying your camera. Though there various stores, I recommend you go to Amazon.
Not only is it a top-leading online store but also you can get a significant discount on the products. Also, they deliver on time at your doorstep at an affordable price. Feel free to leave your opinion in the comment section as we will highly appreciate it.