The 7 Best Vlogging Cameras Under $300
Over recent years, cameras have evolved to offer many new cool features of which some we saw only in Sci-fi movies. Many current cameras offer cool features like image stabilization, Large LCD with high resolution, and so much more. Currently, you can shoot a movie with a camera and get a high-quality output and have minimal editing phrases. The best vlogging camera under 300 is some of the cameras bringing in a new wave of high-quality video and photo outputs.
If you intend to start vlogging, the camera quality is something you should have a keen focus on. With a great camera, your fans will get high-quality images and videos in your vlog sessions, and it will yield massive growth in your channels. There are many video cameras with external Mic input that vloggers tend to use and always have the best output.
However, many vloggers love to start small to grow their channel and generate revenue, after which they can buy better gears. From this article, we will review the best vlogging cameras under 300. We will also demystify some F.A.Q.s when it comes to choosing the best camera, depending on your niche in vlogging. To learn more, read below for greater insights.
What to look out for when buying a Vlogging camera
Before you buy a vlogging camera, always consider the following:
i) Image stabilization
If you are a travel blogger, this is compulsory in any camera that you use. Make sure the camera comes with image stabilization to avoid deterrence during filming while walking.
ii) Wide-angle lense
Many cameras now come with a wide-angle lens that delivers better viewing angles when compared to normal lenses. Always consider this as a necessity, and luckily, all our listed cameras have one!
iii) Amicable display
The camera should have a small display, which gives you an output of your images and videos. Make sure to choose a camera with a high-resolution display for better viewing.
iv) Extra accessories
The camera should come with extra accessories like batteries and L.E.D. lights, which will, in turn, provide better image and video outputs.
v) Warranty
The camera should have a warranty such that if there are any damages, you can easily be compensated. Also, lookout for a money-back guarantees and refund policy.
The 7 best vlogging cameras under 300
1) GoPro HERO7 Black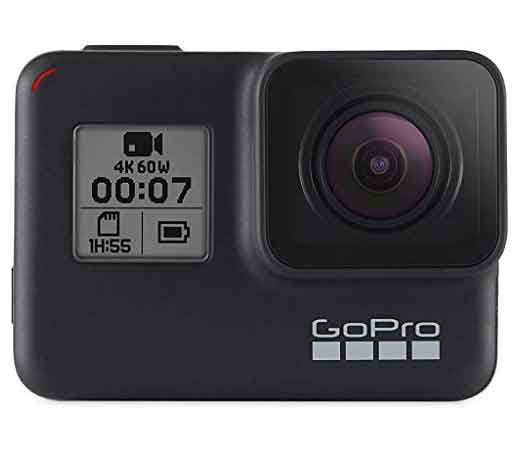 GoPro Hero is a great option if you are looking for a minimalistic set-up for vlogging. The camera comes with a base package, but you can choose an option with extra battery, super suit, and a bite mount. It offers great image stabilization without the Gimbal, which delivers high-quality image footage.
You can also increase camera speed up to 30x to get better image recording. The live stream feature clocks at 720p, and you get hyper smooth image stabilization. It is rugged and hence assured of minimal to zero damages in case it falls.
The camera is also waterproof. For a better digital experience, you get voice control to use simple commands like "GoPro, take a photo," and such.
PROS
4K video recording
Long battery life
It is rugged
Simple set-up
CONS
Streaming stabilization is not that perfect
2) Panasonic Lumix FZ80 4K Camera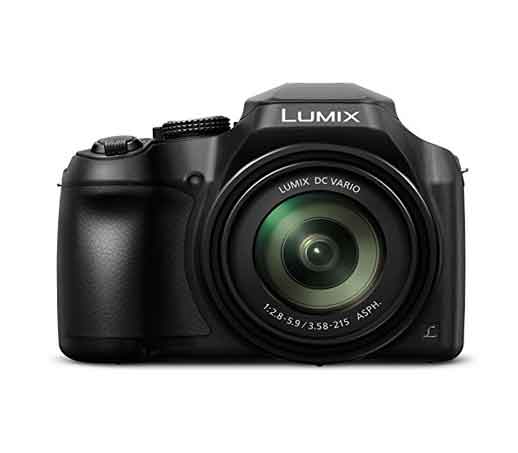 This may not rank in the best vlogging camera under $200, but it has many cool features. The camera offers a high-resolution LCD that offers dot viewfinder in the bright display. The camera comes with an 18.1 Megapixel M.O.S. sensor, and it includes a 60X zooms DC Vario lens for better image stabilization.
The camera also offers 4K QFHD video recording capabilities filmed at 30 Fps to ensure you get the best moments. The camera also offers low light performance that lets you capture stunning images at night without any night light.
The camera allows WIFI connectivity and also features USB charging at reliable speeds. The camera also has a comfort grip and a high-resolution viewfinder.
PROS
Friendly user interface
Great image stabilization
4K video recording
USB charging is reliable
CONS
Lacks voice commands input
3) Panasonic Lumix ZS50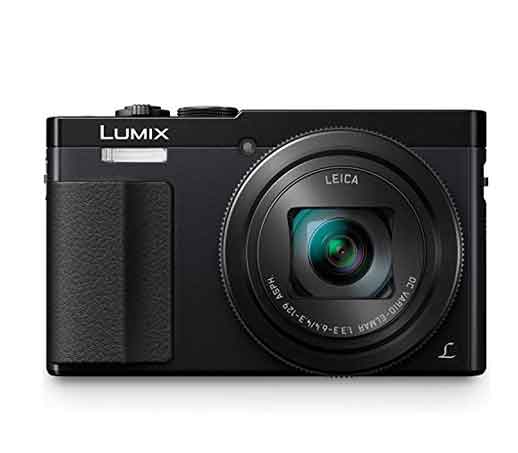 From a simple User interface to great image stabilization, this is an ideal camera for vlogging. It comes in 2 options of either a stand-alone camera or a camera with a battery pack. The camera uses a LEICA lens that offers up to 30X zooming, which is perfect for taking microimages.
It has a stunning low light – sensitivity M.O.S. sensor, and even in low-light environments, it works perfectly. The camera comes with LiveView finder, which is perfect when light conditions make the LCD seem dimmer.
The camera comes with a control rig for easy adjustment of the lens. I.T. also has great image stabilization with the HYBRID O.I.S. that minimizes blur and ensures high-level images.
PROS
Time-Lapse Recording is efficient
Image stabilization with HYBRID O.I.S
Capture more details with Macro shots
Long battery life
4) Canon PowerShot SX530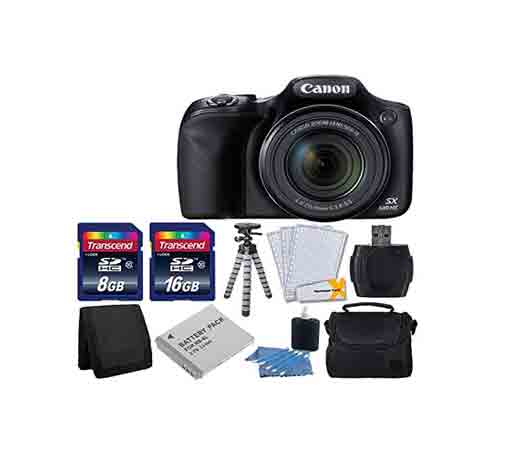 Canon PowerShot offers many cool features for vlogging, and one commendable feature is the battery life. PowerShot comes with a stunning camera quality of 1080p and also includes a movie dedicated button. Inside the kit, you get a replacement Lithium-ion replacement battery, camera, and a 3 piece cleaning kit. It also offers Hi-speed SD card reader.
The camera comes with a great LCD with screen protectors. The camera offers a power optical zoom of up to 50x and the screen resolution of 461 000 dots, which allow you to view images from any angle. The camera has a 16.0 MP sensitivity CMOS sensor that works perfectly with the DIGIC 4 image sensor.
PROS
Perfect image sensor
Easy to use
Fast processing of images
4K video recording
5) Canon VIXIA HF R800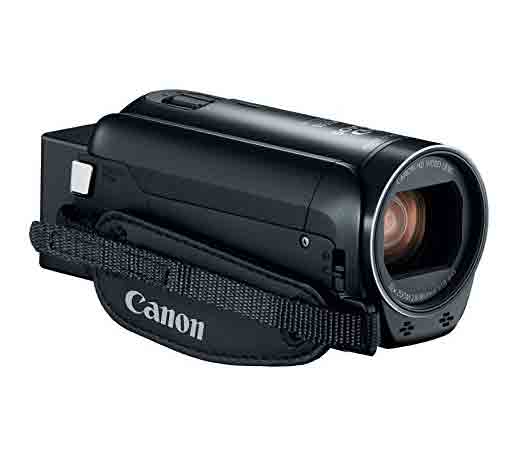 If you are looking for a small camera (can fit in your hand), this is the perfect option. The camera is sold in two tiers: one comes with a camcorder only, and the other entails a case and Card. It has a perfect image stabilization, which is aided by the perfect image stabilizer so that even videos taken at long focal length offer perfect stabilization.
It also has a full HD CMOS sensor that you can capture your images in 1920 x 1080 resolutions. The camera has a 57x advanced zoom in with minimal to zero noise on the image. It uses a DIGIC DV image processor that is noise-free, even in dark areas.
PROS
Has a full HD CMOS sensor
Offers stunning Image stabilization
57X advanced zoom is available
Fast image processor
CONS
The LCD screen is unreliable
6) ORDO AC3 VIDEO CAMERA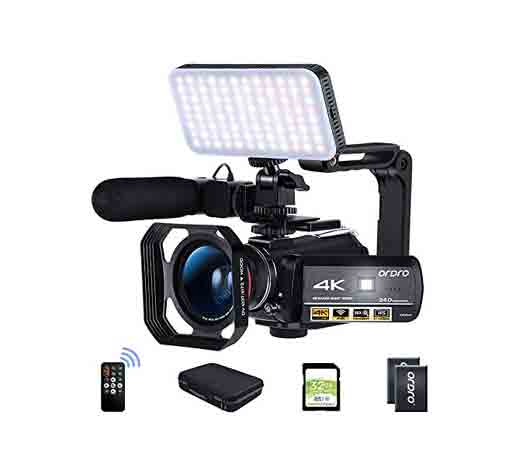 Are you looking for a point and shoot camera under $300, then this is a great option but slightly above that price. It comes with many cool features like 1080 60FPS video recording, wide-angle lens, 64 GB SD card, and so much more. The camera has an intuitive touchscreen that offers 71% NTSC-wide color space and is also scratch-resistant on daily impact.
Infrared night vision is also available, and it brings a clear view of images. The camera supports WI-FI connectivity. It has a portable carrying case that offers resistance against water, pressure, and shock. It also has a mesh bag inside; hence you never have to worry about it cluttering other accessories. Inside the package are two batteries that last for a long time.
PROS
Friendly user interface
Stunning camera quality
Perfect image stabilization
Microphone is available
CONS
Hard to pair the camera with WI-FI
7) K.O.T. Camcorder Video camera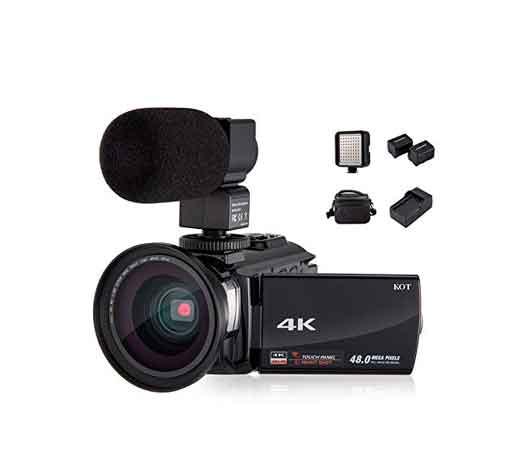 This is a great camera that offers many great perks. It comes with a 3.0-inch touch screen that shows pictures and videos in H.D. The camera comes with a wide-angle lens that allows you to shoot a large area of the scene in a short-range of the shooting distance and also ensures a clear image with great depth of focus.
It is also compatible with an external Microphone that offers clear and stable sound image localization. The camera also offers L.E.D. video light to offer static, dynamic objects and improve the quality of shots, and you can adjust the brightness with two gears depending on the scenes.
The camera supports up to 128 GB SD/TF card but is sold separately. It can also function as a PC C.A.M. whereby you can connect it with a USB cable.
PROS
Simple to set-up
Can work as a web Cam
It supports 128 GB SD card
Touchscreen is amazing
CONS
4 PCS AA battery sold separately
Bottom line
Having the right camera for your vlogs is essential.  You will be assured of consistent growth due to high video quality. The vlog cameras mentioned below are a great option if you are looking to get started with vlogging or upgrade your current vlogging camera.
The cameras offer many cool features like image stabilization, so whether you are a tour, chef, or any other type of vlogger, the cameras got you covered. Feel free to choose one that suits you today!