The 7 Best Hearing Aid under $100 Reviews
The sense of hearing is one of the five essential senses that assist human beings in day-to-day activities. Being unable to hear is so embarrassing more so when things concerning you need your participation. The good news is that scientists have utilized technology to come up with hearing aids. There are many of these devices, and in most cases, you can find the best hearing aid under $100 at online shops such as Amazon. A battery usually powers the devices and perfectly fit to the ears in a way that they can be mistaken for wireless ear pods.
You might have been suffering from a lousy hearing problem, or if not you, one of your relatives. Rejoice as you are at the right place where you will get the correct information concerning the best suitable hearing aid to help you. This article will take you through the best hearing aids for profound hearing loss. You will get to know how to choose the best fit for you or your family member. Moreover, you will understand how they work.
Before you start using these devices, you need to visit an audiologist. The specialist assists in determining the nature of your hearing problem before recommending the hearing aid device to purchase. You are not supposed to buy any medical device without proper guidance from an expert. When it comes to hearing aids, the problem may even become worse. Understanding the nature of the hearing aids is vital.
How Do Hearing Aids Operate?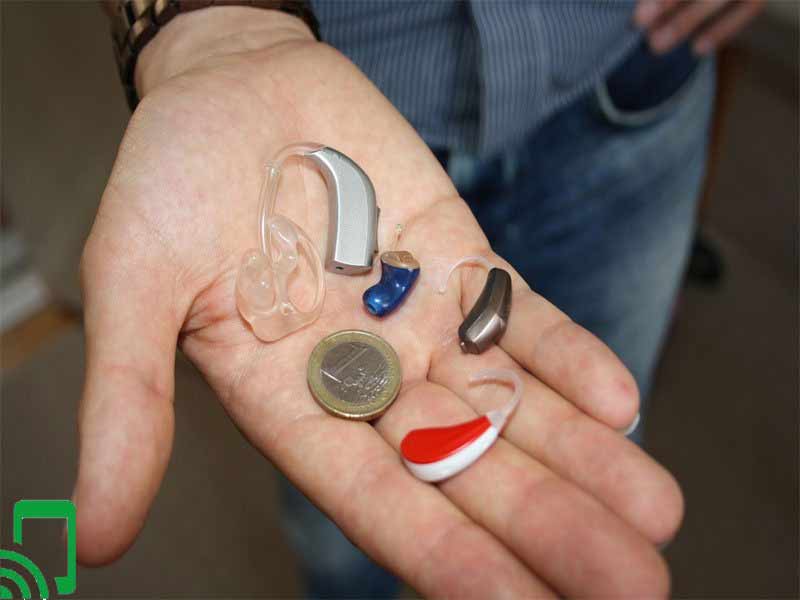 Of course, you know that the hearing aid devices assist in making you capture the environmental sounds. Most importantly, you get to hear what other people are saying.
Your hearing problem can be brought by damage to sensory cells due to loud sounds, disease, aging, or because of aging. Now, when you wear a hearing aid device on your ear, it magnifies sound vibrations in the ear. The surviving hair cells detect the sound vibrations and convert them into neural signals that get relayed into the brain.
Hearing aid devices have different specifications, depending on the intensity of the hearing problem. There are different types of hearing loss.
Which are the common types of hearing loss?
The most common levels of hearing loss include the following.
i) Mild hearing loss
With this problem, you can hear loud sounds. However, you cannot listen to sounds that are quieter than 25 – 45 decibels. You may not need a hearing aid at this stage as you can at least concentrate on discussions in your meetings and effectively participate in conversations with your friends.
ii) Moderate hearing loss
At this stage, you cannot hear sounds below 40 -75 decibels. You cannot hear normal sounds unless they are very loud. It means that you cannot participate in discussions. If you happen to listen to people speaking, the sounds appear as if originating from several miles away.
iii) Severe hearing loss
It is worse as you cannot hear sounds below 75 decibels. You cannot involve in a phone conversation no matter how loud the caller shouts.
iv) Profound hearing loss
At this point, you need a hearing aid. You are unable to hear sounds below 90 decibels. Most times, you will need to communicate by sign language to those people who cannot speak louder.
How do you choose the most suitable hearing aid?
When looking for hearing aids, you should look for hearing aid compatible cell phones as well. The two go hand in hand. To ensure that you get the most effective hearing aid device possible, you need to do the following things.
i) Consult an audiologist
An audiologist will do some examinations to determine your level of hearing loss. After that, they will recommend the most suitable hearing aid for your problem.
ii) Cost of the device
The devices come from different manufacturers. Check the most pocket-friendly devices but with the right specifications for your issue.
iii) Warranty
Get a device with the best warranty. You need time to test whether the device will function for a long time. Some vendors give up to three years of warranty time. In case it fails, then you can return and get another one.
iv) Compatibility with phones
There are hearing aids that are compatible with cell phones. You should consider such phones as listening to phone calls become easy. There are hearing aid compatibility iPhones that are there to help you.
To prolong the life of your hearing device, you need to take good care of it. The following are the most important things you need to do.
Keep the device in a cool and dry place. It will protect it from moisture and destructive heat.
Remove your hearing aid when using hair gels and sprays.
Switch it off when not in use.
Replace old batteries frequently.
Keep the device away from children. They might destroy it.
The 7 Best Hearing Aids Under $100
I have compiled a detailed list of the best seven hearing aid devices that cost below $100.
1. Britzgo Digital Hearing Aid Amplifier Bha-220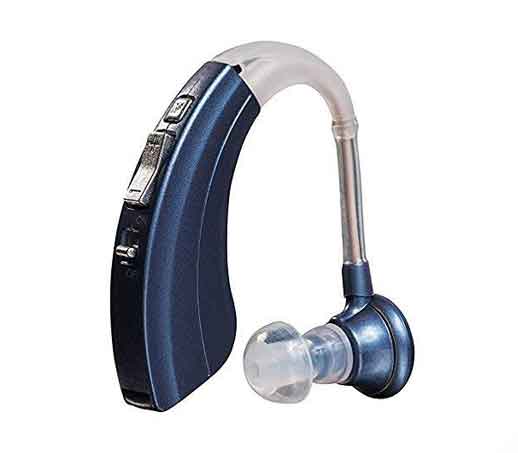 This device has a long-lasting battery that can go for 500 hours. The FDA has approved it. You can adjust the device to function in either ear. Moreover, you can switch from a high to low tone and vice-versa. The device easily fits into the ear. It measures 3 by 1 by 5 inches.
PROS
A long-lasting battery of up to 500 hours
Good power consumption
It has a tone control function
Fits perfectly into the ears
CONS
The product currently gets shipped within the US
2. Britzgo Digital Hearing Aid Amplifiers Qty 2 BHA-220D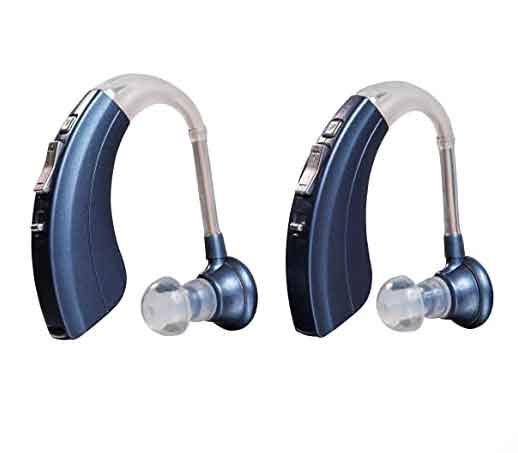 The device comes with a one-year warranty. The batteries last for long. They can go for up to 500 hours. With the device, you will never miss a single word. Live a healthy life like the other people surrounding you.
PROS
The long-lasting battery of up to 500 hours
Super clear sound
Can be won in either ear
It is adjustable to suit the environmental noise condition
CONS
It has a Short warranty period. One year may not be enough to test the device
3.  iAid Digital Hearing Amplifier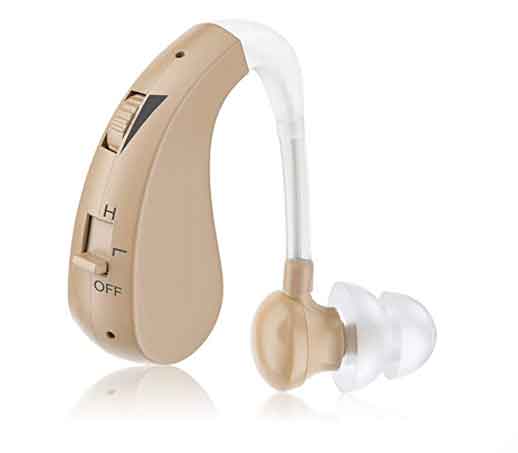 iAid is FDA approved. It comes as a pack of two pieces. The battery can last for long. It can go up to 500 hours. It has noise reduction capabilities. The device comes with a cleaning kit. The gadget fits perfectly into the ears. The button is easy to control to choose the best among the four modes. Adjust to the preferable tone.
PROS
Easy to use
Has a long-lasting battery
It is FDA approved
Easily adjustable to the environment
One year warranty
CONS
4. Britzgo Digital Hearing Amplifier BHA-203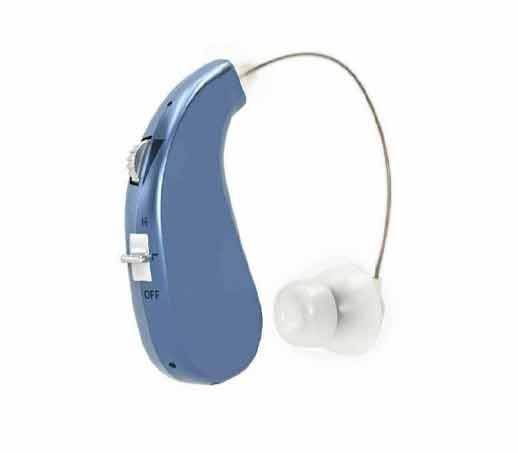 The package comes with two devices. It helps you to enable hearing by both ears. It comes with a rechargeable battery that can last for 35 hours of continuous use. The device has two modes. You can switch between soft mode and sonority mode according to environmental sound conditions. The device measures 7.7 by 6.6 by 1.4 inches and fits perfectly. It weighs 8 ounces.
PROS
It has long-lasting batteries
It's easy to control
Has environmental adaptation
Comes as a pair
CONS
The design is not pleasant
5. Coniler Hearing Aid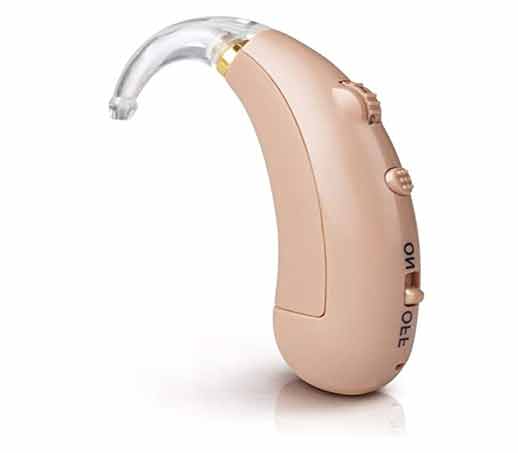 The device is specifically for adults and seniors. The hearing aid can fit in both ears. Coniler is suitable for noise reduction capability. It has three modes of operation. It is easy to use, as the buttons are strategic and labeled. The battery is rechargeable and can last for two days. It comes with a one-year warranty. The device can reduce background sounds for clarity. It weighs 3.52 ounces.
PROS
Long-lasting battery
Ability to reduce background noise
It's easy to use
Has a one year warranty
CONS
Not attractive
6. R&L Hearing Amplifiers 18A, Digital Sound Amplifer Device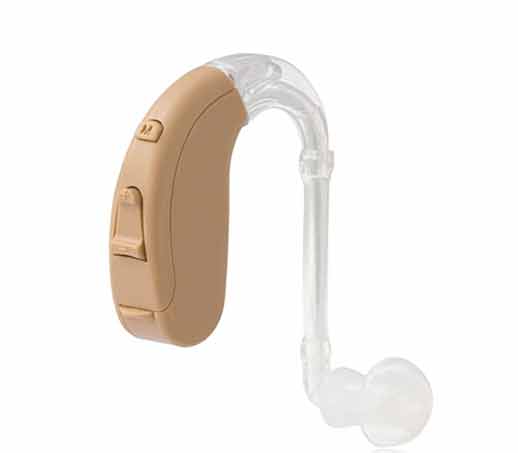 The device is more suitable for adults and seniors. It can perfectly fit in both ears. The device is rechargeable. The battery takes four hours to charge fully and can last for three days of continuous use. R&L is easy to use. You can adjust the volume using your finger while the device is already on your ear. It has 45 days money-back guarantee and a one-year warranty.
PROS
Long-lasting charge of up to three days
Easy to use
One year warranty
High-quality sound
CONS
Not waterproof
7. Aioze Invisible Hearing Aids for Seniors Rechargeable with Noise Cancelling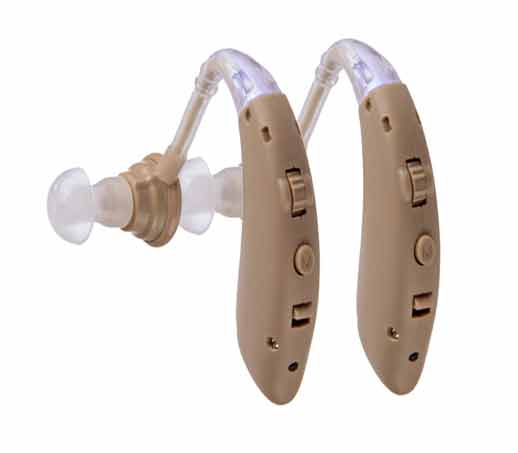 Aioze is specifically for seniors. It has a built-in rechargeable battery. It comes with four adjustable modes. Moreover, it has a built-in digital noise reduction chip. You can wear it all day with comfort since it is very light. Again, it is easy to use. Capture every bit of sound by using an Aioze hearing aid. The device measures 6 by 3.8 by 1.7 inches.
PROS
Noise reduction capability
In built- rechargeable battery
It is easy to use
It has four adjustable modes
CONS
It is not waterproof
Bottom Line
You now have the right information on hearing aids amplifiers. The devices are of considerable significance to those with impaired hearing capabilities. You can participate in a conversation and make the necessary contribution. If you or your relative has a hearing problem, then you have the right knowledge on where to get the devices and the things to consider.