The 6 Best 7.1 Home Theater Systems
The Jazz Singer. This was the first recorded film with fully synchronized sound. The earliest films in history were black and white, under a minute long and with no recorded sound, but today, most people cannot imagine enjoying their favorite blockbuster and drama movies without sound. Today, you don't need to go to the cinema to experience the full range of sound effects in a film. With a home theater system, you can have this experience at home. You can walk in a store and get yourself some of the best 7.1 home theater systems for the full cinematic experience.
What is a home theater system, you may ask? A home theater system is a home entertainment audio-visual system that seeks to reproduce a movie cinema experience. A typical home cinema consists of the following components. A video and audio input device-one or more source devices are needed. The principal source device will be some sort of movie player where high-resolution media formats are preferred. Audio and video processing devices- the input signals are processed by either an AV receiver or a pre-amplifier from where t is forwarded to the output stage. Audio output this consists of a stereo amplifier and speakers for stereo and surround sound. If you think this sound expensive, no need to worry, you can opt for some of the best soundbars under $100 at your local store.
A 7.1 home theater system is an 8-channel surround audio system where the cinematic experience is delivered through 7 speakers and the subwoofer which is an improvement to the 5.1 configurations. Your 7.1 home theater system can be set-up by buying the components separately or by buying a much cheaper home theater in a box package that comes with all the components apart from the video display device. If a 7.1 system is a bit much for you, you can also create a cinematic experience with some great soundbars for the money.
The comprehensive guide to choosing the best home theater system for you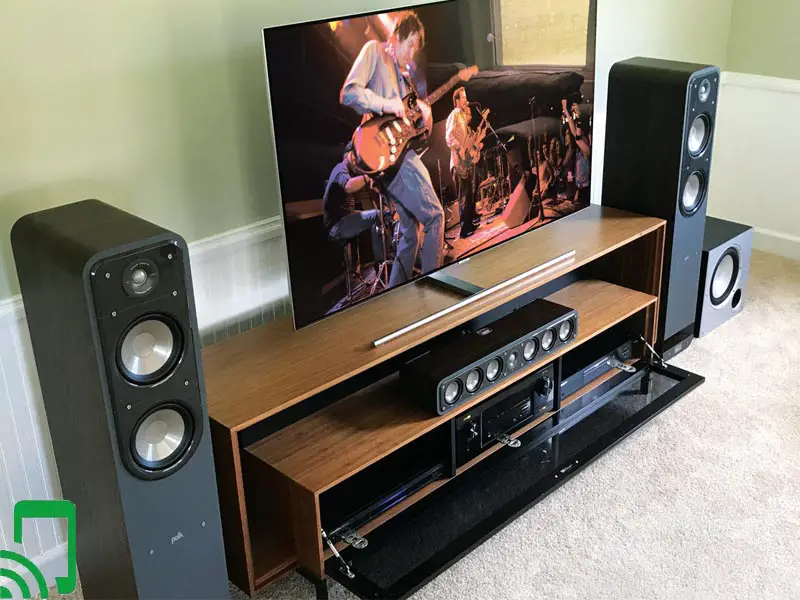 Here is a guide on the factors to consider before setting up your home theater system for maximum efficiency.
i) The Set-up space
The room properties are vital to get maximum satisfaction from your wireless home theater system.  A large room with vaulted ceilings will need different configurations when compared to a smaller room. The floor and wall materials are also key as they will determine whether you need to use acoustic treatments or consider carpeting.
If the room is a dedicated home theater, you may consider using floor-standing speakers, but if it's also a kid's playroom, wall-mounted speakers will work for you. Of course, you also need to invest in comfortable seats with remote holders for your room.
ii) The video display device
The main point of a home theater system is to watch movies and videos. Therefore, the video display device is one you must give serious consideration. HTIB systems do not typically come with a television/projector so you will have to invest in this separately if you didn't already have it.
A 4k TV Will offer great resolution or you can get a smart device that connects you to your home network and allows you to stream shows from Netflix, Hulu or other sites.
iii) Wired vs wireless
Do you want to dispense with all the cabling accompanying electronics? Wireless surround speakers for TV may be just what you are looking for. While this system isn't truly wireless, it does significantly reduce the cablings around the room since it is only connected to the power outlet. Wireless speakers can be more expensive than traditional ones though, so if you are working on a tight budget, wired speakers work just as well if not better.
The 6 best A/V receivers for 7.1 home theater systems
1) Sony STR-DH790 7.2-CH surround sound home theater AV receiver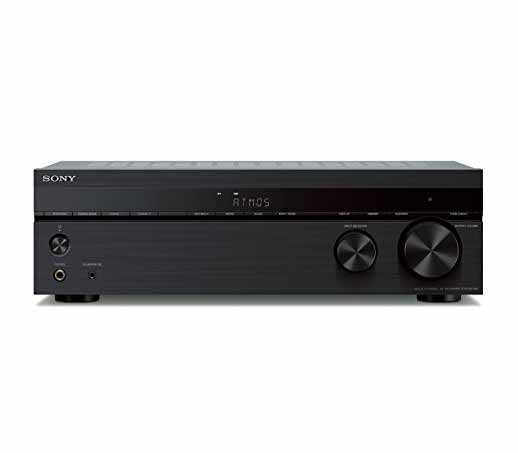 The Sony STR-DH790 is an entry-level AV receiver that pumps out 145 watts per channel. This system offers a myriad of connectivity options including 4 analog inputs, one digital optical and one coaxial. Unfortunately, this device doesn't have ethernet or Wi-Fi connectivity but it does support Bluetooth, so you can easily stream content from your smartphone and tablet.
The Dolby Atmos and DTS X deliver 360 degrees of multi-directional, immersive object-based surround sound. Advanced auto-calibration analyzes and adjusts the audio for optimum sound in every room and with the 4K HDR support, you can enjoy your movies in the best resolution out there.
PROS
The Dolby Atmos and DTS-X ensure 360 degrees immersive sound
4K video support
Good sound performance
Bluetooth with AAC
Affordable entry cost
CONS
No networking or AM radio
No Wi-Fi or ethernet connectivity
2) Yamaha RX-V683BL 7.2-Channel MusicCast Av receiver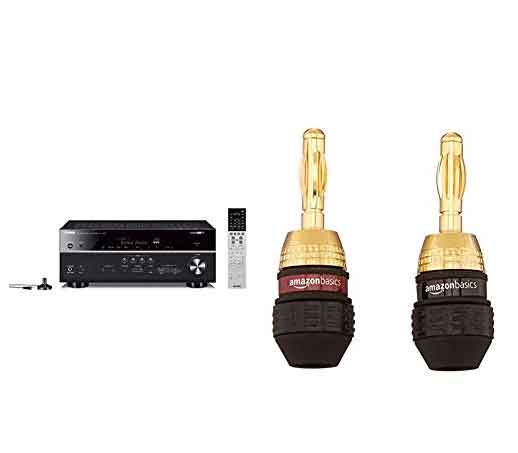 This is a 7-inch-tall receiver with 7.2 channels that supports a variety of configurations including 7.1, 5.1.2 and 5.1. It has a power output of 90 Watts per channel, which while not being the best out there, will probably be enough for you.
The 7.2 channel surround sound has Dolby Atmos and DTS:X for a 360 degrees immersive sound experience. You can also enjoy 4K video with a 60-fps pass-through for a clearer, more colorful watching experience. The built-in Wi-Fi direct feature will allow you to stream music directly from your smartphone or tablet via the AV controller app which allows you to control the receiver as well.
PROS
Dolby Atmos and DTS:X for immersive sound
Support for 4K video
Wi-Fi Direct feature
MusicCast app provides a lot of other connectivity options
Affordable
CONS
Not all HDMI port support HDCP 2.2
Not many analog ports
3) Denon AVR-S750H receiver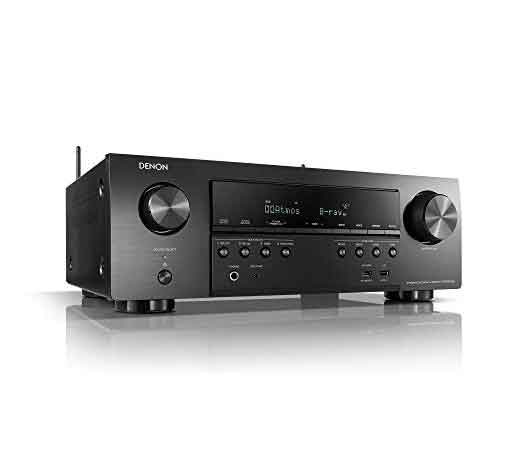 The Denon AVR-S750H is a 7.2 channel stereo receiver that delivers 75W of power per channel. Connectivity options for this receiver include connection to the internet using an ethernet cable or a built-in Wi-Fi adapter, connection to Bluetooth devices, Amazon Alexa and Airplay2, 6 HDMI inputs and 1 output.
The Audyssey Dynamic Volume monitors the volume of program material moment-by-moment and automatically adjusts it, maintaining the desired listening level for all content and the Audssey multi-room correction ensures optimal listening experience according to the acoustics of each room. With 4K video passthrough at 60 fps you can now watch all your videos in amazingly high definition.
PROS
4K passthrough at 60fps
Dolby Atmos and DTS:X
Easy set-up with award-winning on-screen set-up assistant
Full voice compatibility with Amazon Alexa
Wi-Fi and Ethernet connectivity
CONS
Few HDMI outputs
No front wide channel support
4) Harman Kardon AVR 2700 7.1-Channel AV receiver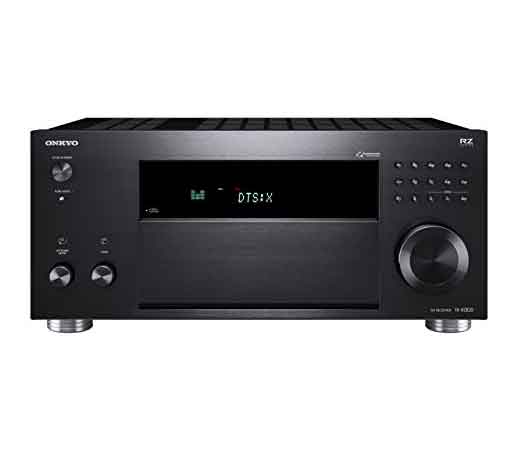 This is a 7-channel amplifier with 100 Watts of power per channel. This device is internet ready to play music from a compatible networked device. You can listen to music from your Apple device with Airplay and the USB input on the front panel allows you to connect a USB memory device.
Connection support on this device includes; HDMI ¼ audio/video switching: 8 in, 1 out; 1 component video input, 2 analog stereo audio inputs, 3 digital audio inputs and composite video switching: 2 in,1 out. Another great plus is that the free Harman Kardon remote app lets you use your device as a Wi-Fi remote.
PROS
4K video passthrough and upscaling
Wi-Fi direct
100-Watt power per channel
Dolby and DTS surround sound modes
Ethernet and USB ports
CONS
Few HDMI outputs
Configurations are not easy to navigate
5) Onkyo TX-RZ820 THX-Certified 7.2-Channel 4K network AV receiver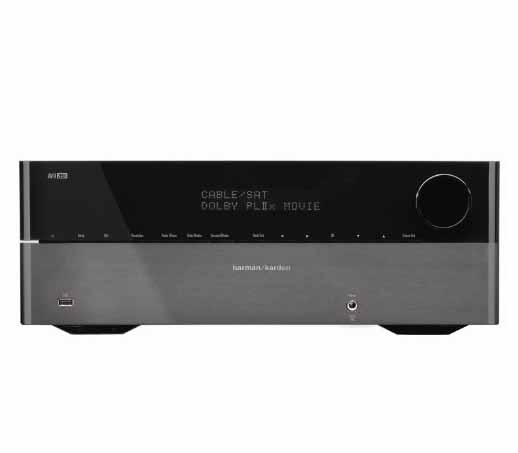 The Onkyo TX-RZ820 THX is a 7-channel amplifier with a power output of 130 Watts per channel. It supports seven speakers though it has 11 speaker outputs allowing for flexible speaker configurations. Other connectivity options for this receiver include; HDMI audio/video switching (7 in, 2 out), 2 composite video inputs, 6 analog stereo audio inputs and USB port for connection to USB storage devices.
This receiver has built-in Wi-Fi for listening to music from a networked device, ethernet port for internet connectivity and you can also use Apple Airplay to stream from a connected Apple device. Dolby Atmos and DTS:X provide for a 360-degree immersive surround sound experience.
PROS
Onkyo Controller app to control streaming from your wireless device
4K passthrough at 60fps
11-speaker output supports a variety of configurations
Dolby Atmos and DTS:X for great immersive sound
Wi-Fi direct and ethernet support for Wi-Fi connectivity
CONS
No multi-channel input
6) Pioneer Elite VSX-LX104 7.2-CH network AV receiver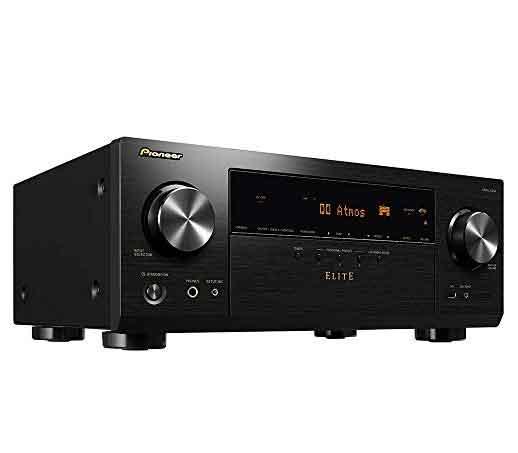 The Pioneer Elite VSX-LX104 has 7 channel amplifiers with 80W of power. It can be connected to the internet using the ethernet port or its Wi-Fi direct feature. Music can be streamed wirelessly from a phone or tablet using the Bluetooth feature, SONOS and Airplay 2. There are 6 HDMI inputs with mini-jack and USB input on the front panel.
The receiver has 4K passthrough at 60p and 4K upscaling at 30p for clear videos and with Dolby Atmos and DTS:X you can enjoy the multi-directional sound from the comfort of your home. With the custom microphone, MCACC auto room tuning automatically compensates for differences in speaker size, level and distance and equalizes response.
PROS
4K passthrough
Dolby Atmos and DTS:X for an immersive experience
Works with SONOS
Wi-Fi direct for internet connectivity
4K upscaling
CONS
Does not work with Amazon Alexa
Final Thoughts
Today, unless you are enjoying a silent film, you no longer have to watch a film with no recorded sound or with subpar sound effects. You also no longer need to leave the comfort of your home to have the full cinematic experience. With these 7.1 home theater systems, you can enjoy your favorite movie, on your favorite couch in your comfortable clothes with your friends and family around you.