You can all agree with me that owning a house without a good security system then you won't live in peace at times. Nowadays, package thieves have become rampant, and sometimes you lose a valuable asset sent to you, and in the end, the thieves get away with it. Having a poor outdoor camera can't get the evidence to help capture the thieves hence at times you hit a dead end. If you have been hitting a dead end then worry more as you are in the right place. To curb such nuisance thieves, you need to get the best cheap outdoor security camera that comes with exclusive features to keep your home safe.
Back in the days, you had to subscribe to professional and expensive security services such as ADT to get an outdoor wireless security camera system with DVR. The dynamic technology has provided a platform for various rising innovations in security hence improving both indoor and outdoor home surveillance with ease. Home security is a necessity and an important investment to keep you and your family secure. You may opt for an expensive security system -not that they are bad- some of them aren't performing their tasks efficiently. To avoid such expenses, later in the article, I'll guide you through some factors that you can consider as you go shopping.
The ideal features that fascinate the security systems are that it comes with advanced motion detectors. Once motion is sensed, some of them sound a loud alarm and you get instant notification with a video alongside it. If you are a busy individual some companies offer professional monitoring that you can opt for as once any motion is detected police are sent to your residence fast. In this article, I'll take you through some of the best cheap outdoor security cameras and the various features it offers. Let's dive in.
Factors to consider while shopping for a home security camera
Although most of the cameras have the same functionality, there are factors that you need to consider as you go shopping for a security camera. You can all agree with me that the market is saturated with various models of home security and if you aren't careful you might end up with a fake product. Here are some factors that you need to keep in mind as you go shopping.
i) Instant alerts
When motion is detected, the home security systems pushed notifications to your smartphone anywhere anytime. You need to get one that instantly records once motion is detected and you get the video and send it to the police.
ii) Storage
Although some of the cameras come with memory card slots many people are opting for cloud storage. Some companies offer cloud storage at a cheaper price if you are on a tight budget you can opt for a memory card stick.
iii) Motion detectors
You need to get advanced motion detectors and place them at a strategic place to avoid false alarms. Also, get one with settings that you can adjust the notifications to avoid false alarms.
iv) Battery power
You need to get the best battery powered outdoor security camera Wi-Fi to keep your home secure. If you live in an area where there is a power outage, some robbers can take advantage and break into homes. Ensure you get wireless rechargeable cameras to avoid such incidents.
Wireless or Wired security camera systems?
A wireless camera uses Wi-Fi to store the footage and it is battery powered or cable. The wireless camera system can help you save on your power bill as the wireless rechargeable cameras have long battery life. Wired security cameras are powered by a cable connection and can be used to record and store video recordings.
Unlike the wired system, the wireless camera systems are convenient especially if you relocate most of the time as you can install the camera system yourself. The advantage of the wired camera system is that it is powered all the time unless there is a power outage but you need a professional to set it up for you.
Top 7 Best cheap outdoor security camera system
1) Arlo Pro 3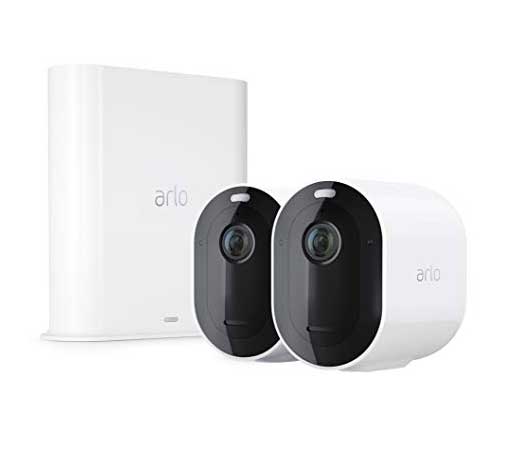 Arlo Pro 3 is easy to install in minutes and to keep an eye on your home whether day or night. Arlo Pro 3 lets you zoom in on objects and see clear details and colors. It comes with an integrated spotlight that lights up the night and scares off unwelcome guests. I
t comes with a color Night Vision letting you watch over your house during the night or you can switch it to black and white. You can keep an eye on what matters comes with a wider field of view of up to 160 degrees. You can tweak the settings to create activity zones and focus on important areas like the front door or backyard.
PROS
Instant notifications
Cloud storage
Bright spotlight
Color Night Vision
CONS
Short-range
2) Vava Wireless Cam Pro

Viva Wireless Cam Pro lets you monitor the residence of your home 24/7 in crystal clear 1080 Full HD smooth streaming all day and night. It comes with advanced motion detectors and detects human movements and sends you an immediate alert via the VAVA Home app on your smartphone. It is a completely wire-free security camera and you can install it anywhere in minutes.
You can mount the camera with various fuss-free installation methods: magnetic wall mount, desktop mount, and stand mount. It is a certified 1p66 waterproof camera system for outdoor installation and surveillance in even harsh weather conditions.
PROS
Advanced motion detectors
Cloud storage
A certified IP66 device
Easy in install
Instant mobile alerts
CONS
No Wi-Fi installation
3) JideTech Wi-Fi Security Camera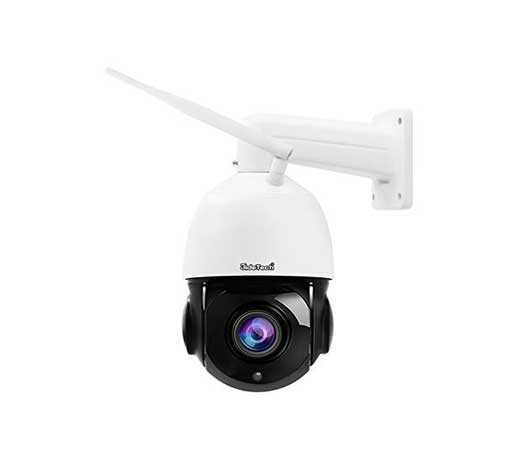 It comes with an image sensor that adopts a 5MP that provides a 20x optical zoom and 1920p Super HD images with a 100ft view distance. It comes with an enhanced SDM Array IR Night Vision and the camera achieves an amazing 400ft view distance in darkness. The camera can rotate 355 degrees horizontally and 90 degrees vertically delivering a seamless live view.
It comes with an improved smart motion detection tracking function and avoids false alarm and you get real-time notifications to your phone and a picture. It comes with two-way audio and remote recording and you can spook off the intruders and talk to the delivery man.
PROS
Remote recording
Precision motor
Smart alarm
20x optical zoom
Advanced motion detection
CONS
Bulky design
4) Kittyhok Wireless Security Camera System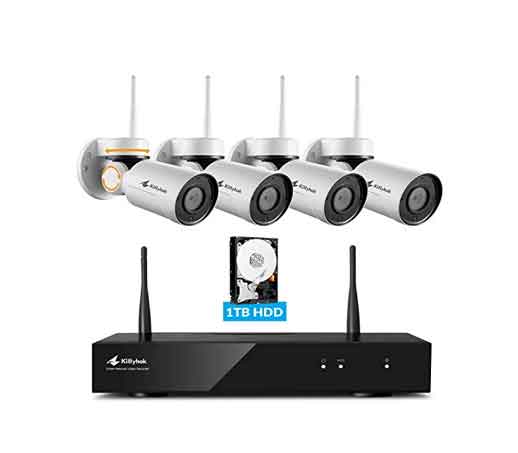 It comes with a free app that you can control the cameras to pan 180 degrees and tilt 35 degrees via mobile device or PC Plus the camera's 65 degrees view the cameras covering everywhere. It comes with an 8CH PTZ wireless security camera system with a full HD 1080p display providing a faster video stream. The camera comes already paired to the NVR out of the factory true plug and play.
The cameras can stream videos to the base unit with its in-built Wi-Fi hassle-free to your existing home network. It comes with Camera Wi-Fi Relay technology closer to NVR with a good signal that acts as a Wi-Fi repeater.
PROS
Ample storage
Motion detection
An inbuilt Wi-Fi NVR
Plug and Play
Remote Control
CONS
Average picture quality
5) Arlo Ultra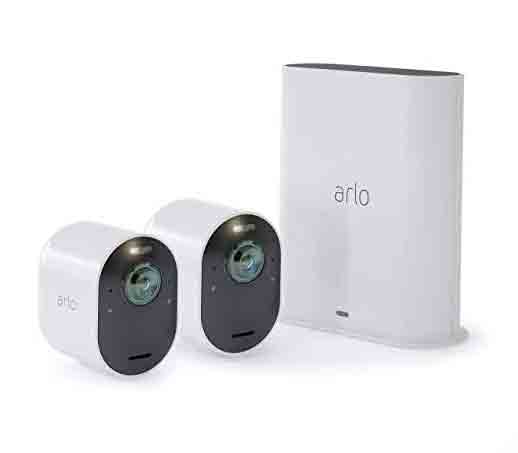 Arlo Ultra lets you zoom in giving you sharp details on Arlo's Ultra 4K and HDR advanced image quality technology. It comes with an integrated spotlight that lights up to ward off intruders. It comes with an enhanced night vision letting you see the video in color unlike the traditional black and white.
It comes with a 180 degrees view with a wider angle lens that has auto image correction reducing the fisheye effect. It comes with AI-enabled alerts for people, packages, vehicles, and animals all on your smartphone.
PROS
Cloud storage
Rich notifications
Integrated spotlight
A wide view
Enhanced night vision
CONS
You require an add-on subscription for high resolution
6) Swan 16 Channel 12 Camera System

The swan camera system is compatible with Alexa enabled devices such as Echo Spot, Echo Show, and 4K Fire TV. Also, it is compatible with Google Assistant and Chrome cast and you can live stream from multiple cameras and multiple sites.
It comes with a professional-quality DVR security system that detects moving warm objects such as cars and people. The DVR system is intelligent and it triggers recording and push notifications and reduces false alarms.
PROS
Bright warning lights
True detect heat
Weatherproof design
Motion detection
Alexa enabled
CONS
Poor mobile app
7) Ring Floodlight Camera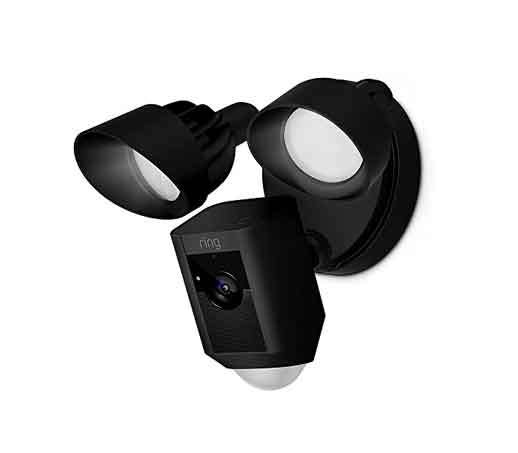 You can connect the Ring Camera with Alexa and enable the announcement to alert the individual when motion is detected. Ring Floodlight camera lets you see, hear, and speak to visitors or intruders courtesy of the in-built speaker and microphone.
It comes with a siren that you can activate the camera via your phone, tablet, and PC. You can watch over your residence in HD videos and check on it any time with a live view and on-demand video and audio.
PROS
Integrated siren
Two-way talk system
Motion-activated alerts
Ultra-bright LED floodlights
Advanced motion detection
CONS
Short-range during the night
Wrap up
As you have seen above, some of the home camera systems are the best no monthly fee home security system. The camera comes with superb features to protect you and your family at an affordable price. Like all other computer systems, the camera system is liable to hackers and can be used to spy on you. To avoid such incidents, ensure that you come up with a unique password and you can opt for a password manager to generate a password.
We as a team help our esteem readers to get the ideal product and services after extensive research. I hope I've answered your question and you can choose the ideal cheap outdoor security camera. Feel free to share your thoughts about the camera systems.