Farm security is essential for ensuring you get the perfect yield of your farm product. In the past, scarecrows would be used, and it was effective against birds and other animals that may try to destroy the product. However, with time, theft of farm products by humans has been on the rise, and this has spiked the need to get farm security cameras to ensure your product is safe.
There are many types of farm security cameras to choose from. Some use electricity; others have a battery, motion sensors, and many other cool features. However, all of them will do you good to ensure your products are safe against theft or anything unusual. These cameras can also send real-time feeds to your phone if they are among the outdoor security cameras with WIFI.
Choosing the right Camera seems like a hefty process, but it is quite simple once you list out the kind of services you need the device to work on. This article will give you insights into the seven best farm security cameras systems in the market. We will also go through some tips on choosing the best camera system for you. To learn more about the farm security cameras, read below.
How to choose the best farm security camera system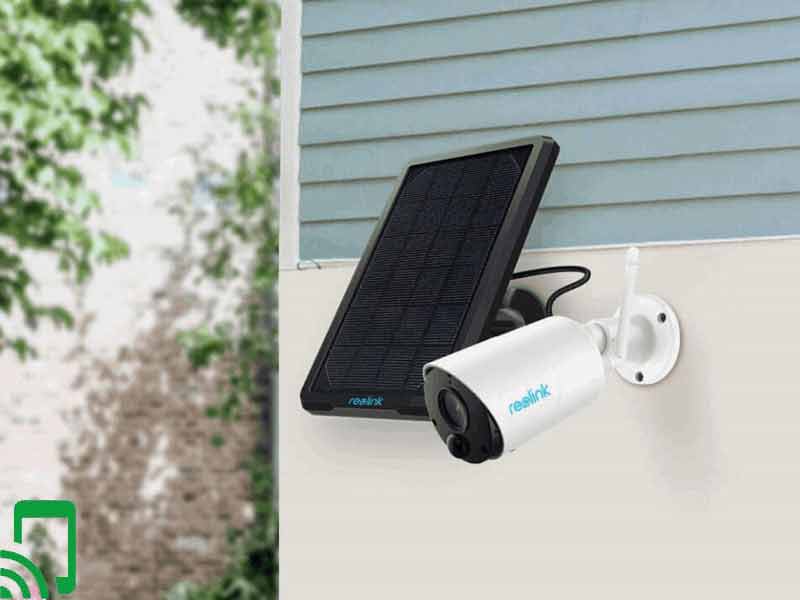 Looking to get the best camera system, here are some tips for you:
i) Camera lenses
You should consider a camera with right lenses that are able to give you clear footage of far and beyond. It is also recommended for the Camera to have varifocal lenses that can be manually adjusted to provide you with a perfect viewing area and even zooming is achieved.
ii) Lighting
The Camera should have perks like night vision to ensure you always get real-time updates at night on what is happening on your farm. You can also consider a camera that will work correctly with night light whereby there will be no image deterrence.
iii) Camera form factor
This refers to the style or design of the Camera. There are 4 common types of camera form factors that you can choose from. The bullet, dome, box, and Pan/Tilt/Zoom camera. Bullet cameras are known to be a good option that covers a wide area and have a shield that protects the lens against rain. The other cameras except for the Pan/tilt/zoom are perfect for indoors.
iv) Rechargeable vs electric
In a farm, you may need to use a rechargeable security camera it wirelesses charging so as to get 24/7 security updates. A battery camera may also be effective in areas where electricity is not reliable.
The 7 best farm security camera systems
1) Ring Spotlight Cam Battery HD Security Camera
Offer
Ring spotlight cam gives you a wide range of features you will love. The device allows you to connect with Alexa, which in turn gives you announcements when something is detected to be in motion. The Camera provides you the power to see, hear and speak to visitors from your phone, PC or tablet. You can also record your videos for up to 60 days, share the videos and photos with a Ring protect plan.
The Camera comes with a rechargeable battery pack that assures you continuous coverage when there is no power. Ring spotlight cam allows you to monitor the farm in 1080P HD and also includes a night vision and live view. The Camera also comes with a lifetime theft protection which is more of a warranty. If the Camera gets stolen, it will be replaced for free.
PROS
Free camera replacement
HD video recording
You can reviews recordings for up to 60 days
Alexa integration
CONS
Short life for the rechargeable battery
2) Reolink 8CH 5 MP PoE Home security camera
Offer
Second, on our list of some of the wireless security camera system with DVR is the Reolink. It comes with plug and plays a Poe system which offers 60 ft networking cables that ensures you have a smooth installation process. The Reolink Camera also features a stable wiring and digital signal that ensures the Camera never loses quality if there is a faulty cable.
The users will never worry about poor signals that are likely to be caused by faulty coaxial cables. The device also comes with HDD storage and remote playback since it is pre-installed with 2 TB HDD. The HDD gives you a chance to record the videos for up to 10 days without overwriting. The users can also add an external 4 TB HDD via the Camera's e-SATA port.
PROS
Stunning HD display
Ample 2 TB HDD for recordings
Camera quality cannot be easily damaged
It is easy to operate
CONS
Not simple for DIY installation
3) OOSSXX security camera
Offer
This Camera comes with very cool features that are efficient for your farm. The device is waterproof and also provides protection against light. It is a good camera for tough weather conditions and you are assured that the farm is surveyed 24/7. The Camera also comes with a free app from App store that allows you to watch live footage from any location via your Android/IOS, PC and Tablet.
The Camera comes with motion sensors which give you a real-time update via email in case there is any movement. However, the sensor is effective when you minimize the detection area to prevent false alarms. You can also listen to sounds with a built-in microphone in the Camera.
PROS
Motion sensors are available
Free replacement
It is waterproof
Remote viewing is available
4) Blink XT2 Camera
Offer
All-new Blink Outdoor – 2 camera kit with Blink Mini
This bundle contains the all-new Blink Outdoor – 2 camera kit and Blink Mini.
Blink Outdoor is a wireless battery-powered HD security camera that helps you monitor your home day...
Blink Mini is an indoor, plug-in security camera with 1080 HD video, motion detection and two way...
The Blink XT2 security Camera comes with a wide range of features to ensure you gets that modernity touch to your security. The Camera comes with 2-year battery life, and it uses two AA lithium batteries. The device also offers motion recording, which is accurate and minimal on false alarms. The Camera comes with 2-way audio that lets you talk to visitors straight from your smartphone or tablet.
You also get free cloud storage that lets you keep hundreds of clips with no contract or monthly fees. The Camera works with Alexa, which offers integration on arming and disarming your system, view live streams and motion clips. It records at 1080p HD and offers night coverage too.
PROS
Easy DIY installation
Works with Alexa
Customizable motion detection
Free cloud storage
CONS
Motion recording consumes a lot of battery
5) XVIM 8CH Security camera
Offer
XVIM is a true definition of the high-end farm security camera system. IT comes with eight pcs of HD 1920p cameras that offer a wide range of perks. The cameras come with 2.0 MP with IR cut of up to 100 ft and also use NIght vision. They also feature metal housing and have an IP66 waterproof capability. You also get 24/7 real-time monitoring with the IR cut filter that ensures you get a true colour condition.
The Camera comes with the simple remote access that can be done by downloading their App on Android/iOS; hence you can remotely monitor the Camera at any time. It also comes with a 30-day moneyback guarantee, 60-day free replacement and 1-year of service warranty.
PROS
Live recording through a computer monitor
It comes with 8 pcs
Simple installation process
Friendly user interface
6) Arlo Pro- wireless home security camera
Offer
Arlo Pro is a great battery powered outdoor security camera. It offers a wide range of features from HD recording and so much more. The Camera works with Alexa for voice control and has a built-in microphone to ensure you hear what is happening on the outside. It comes with rechargeable batteries that support fast charging and lasts for a long time.
The Arlo Pro Camera has a fixed focus ranging from 200 to infinity and operates at a temperature of 4 degrees. It is weather-resistant, so you can place them at any place for the indoors or outdoors. You can view recordings from your phone tablet or PC by the help of the Android app or iOS.
PROS
Simple to set-up
Long battery life
Easy to change the viewing angle
Cool design
CONS
Not perfect for bad weather
7) Swann Home security camera system
This one home security camera offers many cool features to ensure your home is safe. It comes with an eight-channel DVR – 4581 surveillance camera system. The Camera has a sturdy construction and provides protection weather in rain snow hit of bad weather condition.
Each camera has a 90-degree viewing angle and night vision is set up for up to 100 feet in black and white and up to 32ft for color viewing. You also get free video storage via the cloud and you can still the recordings through a 1TB hard drive with no additional costs.
The Camera is also able to detect heat and has perfect motion sensing detection. The cameras work with Alexa enabled smart devices and google assistant.
PROS
Good for any weather condition
1 TB free storage
Alexa and google assistance integration
Safe from cable damages
CONS
Hard to customize viewing angle
Bottom line
Cheap wireless security cameras have become easy to access around the US. This article has listed the best farm security cameras which you can consider since they are of great quality. All the devices come with a warranty so you can get fixes and replacement in case there are any issues. Feel free to visit the Amazon links listed on each product to learn more!