Qlink Wireless is a leading service provider of Lifeline Program and the fastest growing mobile network virtual operator in the united states. Besides, the Company offers free cell phone service to eligible lifeline beneficiaries. Qlink Wireless offers qualifying subscribers with monthly data, minutes, and unlimited texting. Hence, you may want to familiarize yourself with what kind of phones work with Qlink Wireless, to stay connected with people and news around the globe regardless of your income.
However, if you are a member of programs like SNAP and Medicaid, or your household income falls within the federal poverty guidelines, you are most likely to qualify. Additionally, the Company provides prepaid mobile phone services, including messaging, wireless voice, and data services. Luckily, there are no monthly bills, no credit checks, no surcharges, and no contracts. It's crucial to note that Qlink Wireless operates as a Mobile Virtual Network Operator under the sprint network.
In everyday life, essential communication technologies provided by smartphones are a necessity for every citizen. Fundamentally, there is a dire need to wirelessly connect to family, friends, co-workers, job opportunities, and emergency services. Therefore, if you've strongly bonded with your smartphone, it can be mentally disturbing once it gets lost, broken, or stolen. For this reason, free government phone and Qlink Wireless lost phone policy can help you get a replacement phone if the misfortune occurs.
What Is the Qlink Replacement Policy?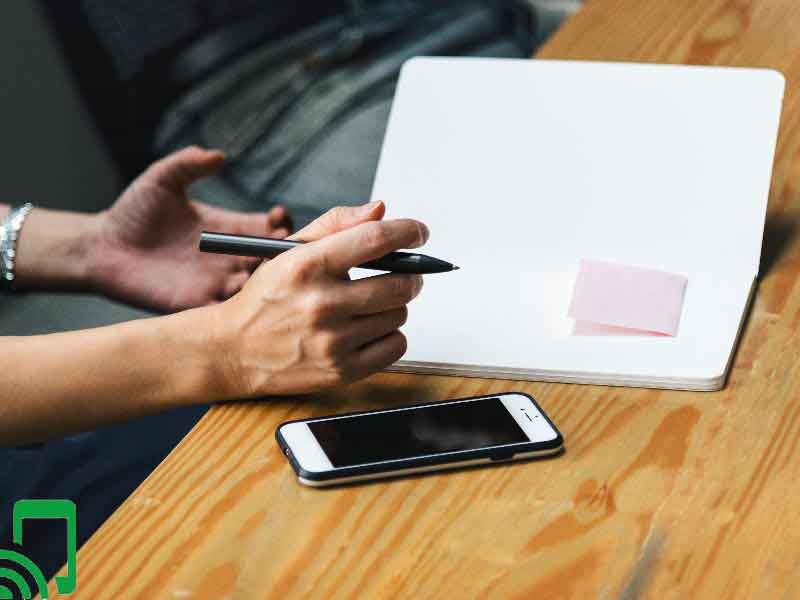 For any lost or stolen Qlink Wireless phone, you may visit the www.qlinkwireless.com website and request a replacement. The policy only allows only one replacement phone per customer. Besides, the replacement phone will be in the form of a refurbished unlocked phone. Verify first whether the phone is lost as all reported lost and stolen phones would be permanently deactivated.
Moreover, the Qlink replacement phone will include only 10 minutes of lost airtime. For any additional minutes that you may have on your lost phone, they will not get replaced. The replacement process takes a few weeks, and you may be required to provide a small replacement fee.
If a phone is lost or stolen while in transit to the client before the customer gets it, the lost phone and minutes may become replaced onetime courtesy in Qlink's sole discretion.
Does Qlink Wireless Have Upgrade Phones?
Qlink is one of the renowned developing free government cell phone providers in the United States. They offer an assortment of designs and models to choose from. Once you qualify for the lifeline program, you get issued with an ordinary phone.
Besides, you may want to access exceptional services that are not a part of the issued phone. Therefore, eligible Lifeline assistance subscribers can upgrade to any devices available at Qlink wireless phone upgrade available at their recommended online stores.
Is Bring Your Own Phone Program Applicable at Qlink Wireless?
For you to bring over your existing phone and use it with the Qlink network, you need to make sure that the phone is one of the Qlink compatible phones.  If you are opting to bring your own phone that was not purchased directly from Qlink Wireless carrier, you need to cross-check to see whether the phone is compatible before buying it, transferring your number, or canceling your current carrier.
What Benefits Does Qlink Wireless Offer to Its Customers?
Qlink Wireless ensures that tens of millions of Americans receive quality wireless services at reasonable rates. The Company wirelessly connects people to the current trends of the world, regardless of their income. The success is achievable by consistently offering reliable, economical, and high-quality Qlink wireless free phones and services to eligible low-income individuals in the United States.
On top of that, the Company offers lifeline benefits including unlimited monthly minutes, free unlimited texts, free voicemail, and caller I.D., and 3GB free monthly data for limitless freedom on the internet accompanied by constant communication. Besides, the Qlink Wireless data plans come with no credit check, no contract, no fees, and zero bills. Still, customers may buy more minutes once their free monthly benefits get exhausted.
Does Qlink Wireless Offer Free Government Phones?
Qlink wireless, in collaboration with the U.S. federal government, offers Qlink free government phones. For anyone receiving government benefits such as Medicaid or Food Stamps. Besides, the approved provider of the Federal Lifeline Assistance program offers phone upgrades and replacements with the option of bringing your phone to their network if you don't qualify for the lifeline program.
The phone ranges from mid-range budget smartphones to high-end models such as the Samsung Galaxy series. Also, the carrier offers refurbished iPhone, L.G. models, latest Samsung brands, and Google Nexus phones.
However, Qlink wireless is unique in such a way that only smartphones get offered and not old age gadgets. Interestingly, this article addresses this question of what kinds of phones does Qlink wireless have? The following are some of the smartphones that Qlink wireless has;
The 6 best Qlink Wireless smartphone
Offer
LG Stylo 4 is compatible with AT&T, Sprint, T-Mobile, and Verizon network. Besides, maximize your view with a 6.2″ Full Vision edge-to-edge display. With LG Stylo 4 you can capture stunning photos with an advanced 13 M.P. camera with LED flash and 5MP wide-angle selfie camera.
The L.G. Stylo 4 features a high-capacity 3300mAh battery built to last. Included 3 G.B. of RAM and 32 G.B. of internal storage with the option to add up to 2 T.B. of microSD expandable storage.
PROS
Creative stylus pen
High internet connectivity
Facial recognition and fingerprint sensor
Fast charging battery
Affordable
2. Samsung Galaxy A6 Plus
Samsung Galaxy A6 is a dual sim factory unlocked smartphone that has fantastic features. The storage capacity has 3GB RAM for supporting applications and 32GB internal storage that expandable to 256GB via a micro SD card.
The 5.6-inch Super AMOLED HD display offers an immersive viewing experience with a resolution of 1480×720 pixels. Besides, the camera has a high-quality 16MP rear camera with LED flash, and the 1.6GHZ Octa-core processor enhances the functioning of the smartphone.
PROS
High-resolution display
Wi-Fi enabled
4G LTE connectivity
Factory unlocked
Powerful processing speed
3. Motorola Moto E4, XT1764 16GB GSM unlocked
Enjoy every beautiful moment with Moto E4 6 M.P. front-facing camera and 8 M.P. rear-facing cameras with flash. Also, experience the best of Android 7.1 Nougat with a split-screen view, Google Play Store, Google Maps, Gmail, and Google Assistant for hands-free voice commands.
The brilliant 5″ H.D. display with water-repellent screen offers a broad seamless view. Other features include 2800mAh replaceable battery, fast 4G LTE speeds, 1.4 GHz Qualcomm Snapdragon 425 quad-core processor, 2 GB RAM with 16 G.B. internal memory and support for up to 128 GB microSD card.
PROS
Massive battery capacity
Cheap
Durable water-repellent design
Expandable memory
Captures low light photos and selfies
4. Motorola Moto G6 Play, 32GB
Motorola Moto G6 Play is an unlocked smartphone compatible with AT&T, Sprint, T-Mobile, and Verizon network. The phone packs excellent specs, including 4,000mAh battery that serves 36hours under a single charge, 10W rapid charger that gives you hours of power in just minutes, 13 M.P. rapid-focuses, rear camera and 5 M.P. front-facing camera with LED flash.
Also, it has a 5.7″ HD+ Max Vision display with an 18:9 aspect ratio, fast 4G LTE speed, 1.4 GHz Qualcomm Snapdragon 427 quad-core processor, 3 G.B. of RAM, and 32 G.B. of internal storage with the option to add up to 128 GB via a microSD.
PROS
Comes preinstalled with Amazon Apps
Long-lasting battery
Fingerprint unlocks
Has a solid camera
Sleek, quality make
Offer
Samsung Galaxy A10e 32GB A102U GSM/CDMA Unlocked Phone - Black
With a long lasting battery, the Galaxy A10e gives you more time to post, talk, text and share with...
Keep more with 32GB of built in memory; Expand your memory up to 512GB with a Micro SD card
Enjoy an edge to edge view on a 5. 83" Infinity display
The above smartphone wireless voice, data, and messaging services are compatible with most major U.S. GSM and CDMA networks. However, support for specific features and services such as VoWiFi and hotspot, vary by the wireless service provider.
You can keep more with 32GB of built-in memory, and still expand your storage up to 512GB with a Micro SD card. Besides, enjoy an edge to edge view on a 5. 83″ Infinity display and capture crisp, clear photos with an 8MP rear camera and a 5MP front Camera.
Moreover, with a long-lasting 3000mAh battery, the Galaxy A10e gives you more time to post, talk, text, and share with friends and family.
PROS
Large memory capacity
Long battery life
Low price
Infinity display
Captures incredible photos and videos
CONS
Has carrier compatibility issues
6. LG G6+
Offer
Are you tired of constant low battery power? LG G6+ is the perfect choice for you. The 3300mAh battery capacity can last for up to 2 days of seamless phone use with fast-charging capabilities. Besides, watch videos and scan social media on the big, bright, high-definition 5.7-inch H.D. display screen.
You can capture sharp, well-lit photos with both the 13 M.P. and wide angle rear 13 M.P rear camera and 5 M.P. front cameras with front-facing LED flash. Interestingly, you have enough space to store your photos, videos, and games using the provided 128GB internal storage that's expandable externally with a memory card.
PROS
Affordable
Facial recognition selfies
High definition screen
Long-lasting, fast-charging battery
Robust performance
Bottom Line
Qlink wireless is among the best-ranked MNVO carrier in terms of offering lifeline services. In comparison to other lifeline service providers, this carrier provides the best cell phone deals to the eligible members as well as to non-members.
Besides, Qlink wireless has expanded its coverage, allowing bring your own device for anyone who doesn't qualify in the U.S. government-assisted programs.
Irrespective of your earnings, you can enjoy the best consumer-friendly telecommunication services at Qlink wireless carrier. The above information will help you to identify the best phone that will serve you right whether you need a free government phone, a replacement, or an upgrade phone.