If you do daily work out either in the morning or in the evening, then you can agree that having the best headphones playing your favorite songs is an excellent motivation to maneuver any obstacle. The only problem is that if you have a wired one you the cable gets tangled up quickly, which is quite irritating. No need to worry anymore as you is in the right place. Today I'll review the best wireless headphones for working out in the market.
A wireless headphone is an ideal option as it comes with various features that you will love. If you engage in vigorous exercises during work out no need to worry about the earbuds getting spoilt due to sweat. The waterproof wireless earbuds are superb. It prevents one from going back to the store to get a new pair every day; thus, you save a few bucks. Enjoy superior treble and rich bass while enjoying your favorite audio-books and songs while at the gym.
In this article, I have noted the best noise-canceling headphones under $200, which is excellent if you are on a tight budget. Not only have I stated the pros and cons of the products but also the unique features of each headphone to give you a better picture of the product. You can also check out the best Bluetooth handset for phone calls if you receive frequent calls while at the gym. Read ahead.
Is it worth getting a wireless headphone?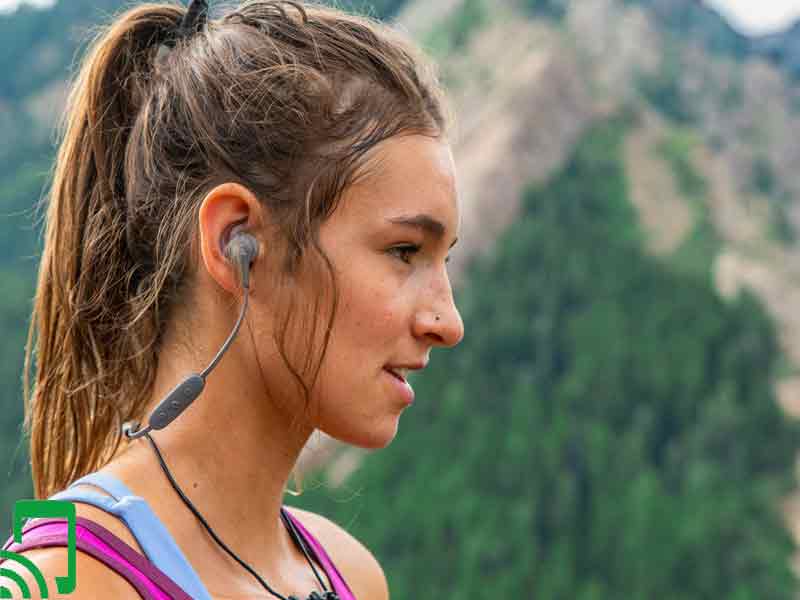 Getting the right headphone can be strenuous considering the false advertisement and the rise of counterfeit products in various stores. Having an excellent wireless headphone the right choice as you will enjoy the premium sound quality.
Also, you won't be replacing them any time soon as they of high-quality. Unlike the of wired headphones, the wireless ones are water and sweat proof, thus, and you can take your work out to the next level.
Top 7 best wireless headphones for working out
1. Jabra Elite Active Earbuds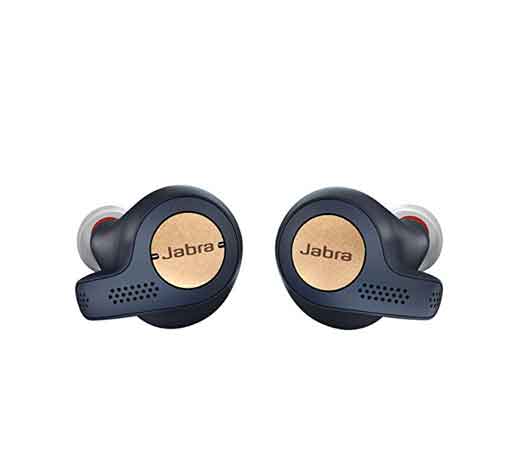 First up is the Jabra Elite Earbuds. The Elite Active earbuds have a secure fitting design for enhanced in-ear stability when you're active. The earbuds are both water and dust resistant; hence, no need to worry about replacing any time soon.
It comes with an integrated motion sensor that can help you track fitness and performance during your workouts. Enjoy long hours of your favorite songs as the earbuds have an uptime of 5 hours on a single charge. The earbuds are compatible with Apple and Android OS; hence, nobody is left out.
It comes with Jabra 3rd generation real wireless stability, which ensures no drop calls and listens to music without audio dropout. Lastly, It comes with a two-year warranty. Feel free to check out the link below for more information.
PROS
No audio dropouts
It is compatible with both Apple and Android OS
You can access your digital assistant
True wireless stability
It has a snug and secure fit
CONS
It has a short wireless range
2. AfterShokz Aeropex wireless headphones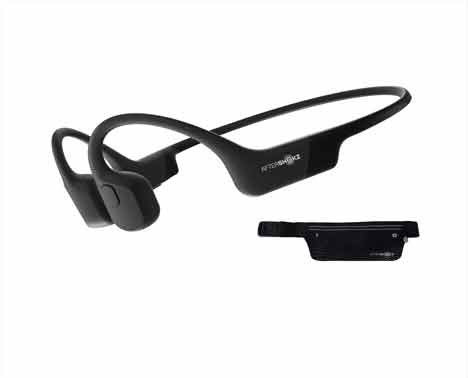 If you are a swimmer and you looking for the ideal waterproof wireless earbuds, then AfterShokz is the best option you can get. The AfterShokz Aeropex bone conduction headphones come with a swim cap so you can be a professional swimmer you dreamed of becoming.
Unlike other headphones that send sound through the ear canals, it comes patented with bone conduction technology, which delivers audio through the cheekbones to enhance awareness and comfort while you listen.
It comes with an internal storage of 4GB, which you can load over 1,200 songs and dive into the workout without the need to have your phone around. Enjoy eight continuous hours of premium audio while training that keeps you motivated throughout. Check out the link below for more information.
PROS
Enjoy eight hours of play
It is IP68 rated
It has a comfortable, secure design
It comes with an internal storage of 4GB
You can adjust the volume and tracks as the touch of a button
CONS
It isn't Bluetooth compatible
3. Sennheiser CX Sport Bluetooth Headphone

If you are on a tight budget, you can get the Sennheiser CX sport Bluetooth headphones. Sennheiser proprietary transducers, designed in Germany, deliver a balanced and clear sound with dynamic bass capability. No need to worry about sweating while working out as the headphones are sweat and splash design that ensures no replacement of headphones every time.
Enjoy longer hours of your favorite tunes as the headphones have a battery life of six hours, which you can charge entirely in just ten minutes. The headphones allow pairing of up to eight devices and can run simultaneously on two devices.
You get to choose between four sizes of ear adapters and three sizes of ear fins, which enables you to get the right pair for optimal wearing comfort and excellent passive reduction of external noise. Check out the link below for more information.
PROS
Superior sound
Easy to install and configure
Experience optimal wearing comfort
It is sweat and splash resistant
You can pair with eight devices
CONS
The headphones come loose during a workout
4. Bose SoundSport Headphones

Bose is a well-established company that produces high-quality audio equipment for its existing customers. Currently, the headphones have a rating of 3.8 out of five stars and 4,014 customer ratings. The truly wireless sport headphones come packed full of technology that makes the music sound clear and convincing.
The earbuds have an IPX4 rating, as it is both sweat and weather resistant. It offers on with three different pairs of Stay Hear and sports tips that provide a comfortable and secure fit. Enjoy up to 5 hours of play per charge plus ten hours with the included charging case.
Connect your earbud with the phone via Bluetooth and change the settings through the Bose Connect App. If you lose your earbuds, no need to worry as you can track with the app "Find my buds" feature. Being among the best Bluetooth headset for phone calls, it comes with an integrated dual microphone that you can use them during calls. Feel free to check out the link below.
PROS
Superb audio quality
Enjoy long hours with comfortable earbuds
The mobile app is efficient
It comes with the "Find my buds" feature
A convenient Bluetooth connection
CONS
It has issues with video syncing
5. Jaybird X4 Wireless Bluetooth headphones.

Enjoy eight hours per charge of your favorite songs and audio books, which will sustain you throughout the day. Jaybird headphones are sweat and waterproof, which is ideal for gym and fitness workouts in all weather conditions.
The comfortable, versatile design runs over your ears for a secure, sport-specific fit and even under more relaxed situations. It comes with interchangeable, thermo-reactive foam tips that provide durability and rich sound.
Enjoy uncompromising sound quality with a customizable EQ through the Jaybird app, where you can save your settings. It allows one to manage phone calls, control, and listen to music. Check out the link below for more information.
PROS
It is sweat and waterproof
Enjoy a comfortably versatile design
Premium sound
It has a custom EQ via the Jaybird app
You can manage your phone calls and music
CONS
It has a long cord connecting the earbuds
6. Sennheiser HD 650

Currently, it has a rating of 4.6 out of five stars and 817 customer ratings; hence, it depicts how the headphones are of high-quality. The specially designed acoustic silk ensures precision damping over the entire frequency range and helps to reduce THD to an incredible 0.05%.
The headphones have highly optimized magnet systems for minimum harmonic and intermediation distortion. The high power neodymium magnets deliver maximum efficiency with a frequency response of up to 10,4100Hz. The lightweight aluminum voice coils ensure a swift transient response.
The headphones have an exceptional natural, a spatial, and accurate sound, which you will love. Lastly, it comes with a two-year warranty. Feel free to check out the link below for more information.
PROS
A lightweight aluminum voice coils
High power neodymium magnets
An improved frequency response
It comes with a two-year warranty
Superior treble and rich bass
7. Shure SE535

To finish off the list is the Shure SE535. Currently, it has a rating of 4.0 out of five stars and 354 customer ratings; hence, it a high-quality gadget you should get. It has three high-definition drivers that deliver spacious sound and rich bass for cinematic audio in a convenient and portable package.
The detachable cable system enables multiple connectivity options for long term device compatibility. The sound-isolating design blocks up to 37 dB of external noise for immersive listening. The over-the-ear, secure configuration keeps earphones intact and the cables out of the way for long comfortable wearing.
Lastly, it powerful Bluetooth 5.0 connection that you will enjoy without disruptions while at the gym. Check out the link below for more information.
PROS
It has three high-definition drivers
A detachable cable system
Superior audio and rich bass
The noise-isolation blocks up to 37dB of ambient noise
Superior Bluetooth 5.0 connection
CONS
The cord is less versatile
Bottom Line
From the article above, you have seen the many ideal wireless headphones for working out. The headphones come with mind-blowing that is worth buying. No need to worry about replacing headphones again as the headphones are sweat and waterproof so that you can perform the vigorous exercise without any worry.
I highly recommend you get these products from Amazon as they deliver the product in time and safely. Also, Amazon provides the products at your doorstep at a low shipping fee.